The Texas Coast and Pinterest Dreams
Posted April 4, 2016 by Prairie Wife - 3 comments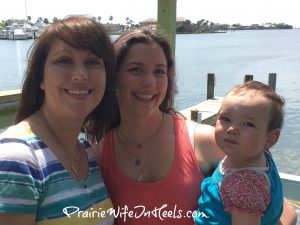 I mentioned last week that I was headed to the Texas Coast to spend the long Easter weekend with my big sis Texas Two Steppin'. It was all I truly wanted for my birthday, and The Cowboy happily obliged me. I just needed some time with my sister. She offers a certain strength and level-headedness (apparently that's not a real word but you get what I mean) I just can't seem to get from anyone else. As a Cancer survivor (twice over) she knew the stress I was feeling. While we certainly didn't dwell on my  Preventive Mastectomy (25 days and counting) she did offer me some great advice, and words of wisdom that shows she gets me better than anyone else. We haven't always been this close, but I sure am glad we are now…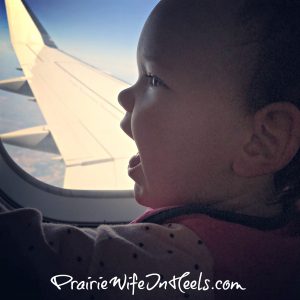 LittleMissH was able to make the trip with me. Not only was she free but, she is Texas Two Steppin's goddaughter. It was her first time on an airplane, though it wasn't my first time traveling with a toddler. It was so nice just to have one kid to keep an eye on! LittleMissH loved the airport and the plane rides and I really couldn't have asked for better behavior. Just look at this picture, it captures so well her excitement over everything!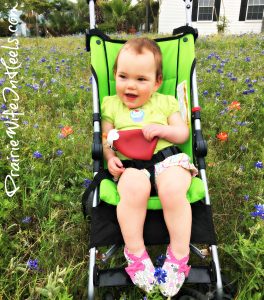 We spent a lot of time with Texas Two Steppin's grand babies, who are sooo cute! There were long relaxing hours lounging around outside enjoying the lovely Texas Coast weather. We took an hour or so to go for a walk and had a wonderful time looking at all the stunning houses. I've already got a plan to drive down with the Cowkids next year for a beach vacation. The town of Rockport, TX is simply wonderful…I really can't speak highly enough about the laid back atmosphere, wonderful boutiques, delicious food, and friendly people!
While at the Coast I met one of Texas Two Steppin's good friends, Sandy. She is hopefully a future Prairie Wife but, I felt like I immediately had to share with you her stunning rental house. My sister kept on talking about how Sandy had taken Pinterest to the next level. Not only did she pin hundreds of amazing decor ideas…she actually did them…IN REAL LIFE. Her rental is full to the brim of beautiful murals, paintings, drift wood projects, and charming personal touches that all combine to make it the cutest little Texas coast getaway I've ever seen! Take a minute to look at the pictures of her rental property below…and tell me you aren't suddenly longing for a beach vacation?! If you are interested in renting her coastal cottage just email us at prairiewifeinheels@hotmail.com and we can connect you with Sandy!
The first thing I noticed when I walked in was how light and airy this little condo is! Just look at that driftwood fish she made…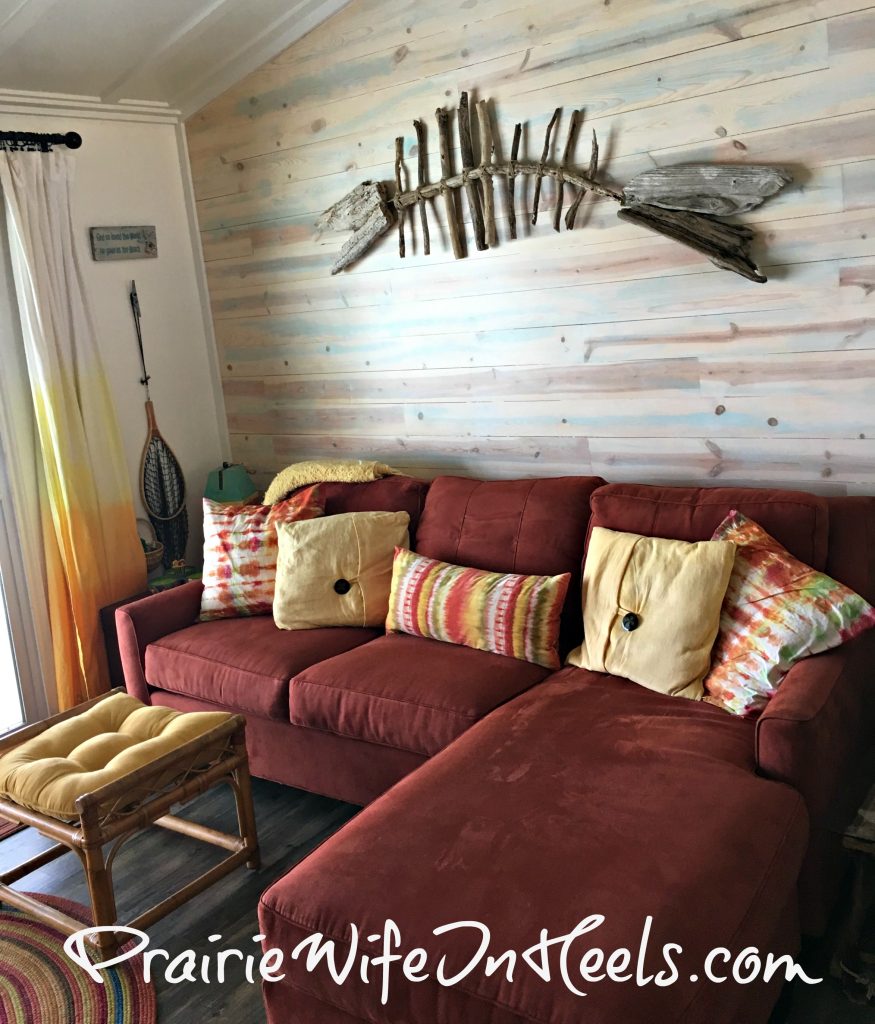 This bar and TV set up is perfect for those nights you want to relax with friends but, don't feel like going out! Did you notice the fish carved into the bar?
This kitchen is the perfect mix of efficiency and style!
This bedroom is so relaxing…I can just see myself curled up with a good book after a day playing in the ocean with the Cowkids!
With two full bathrooms there is plenty of room for the whole family! Just look at the octopus sink, and the parrot painting Sandy created.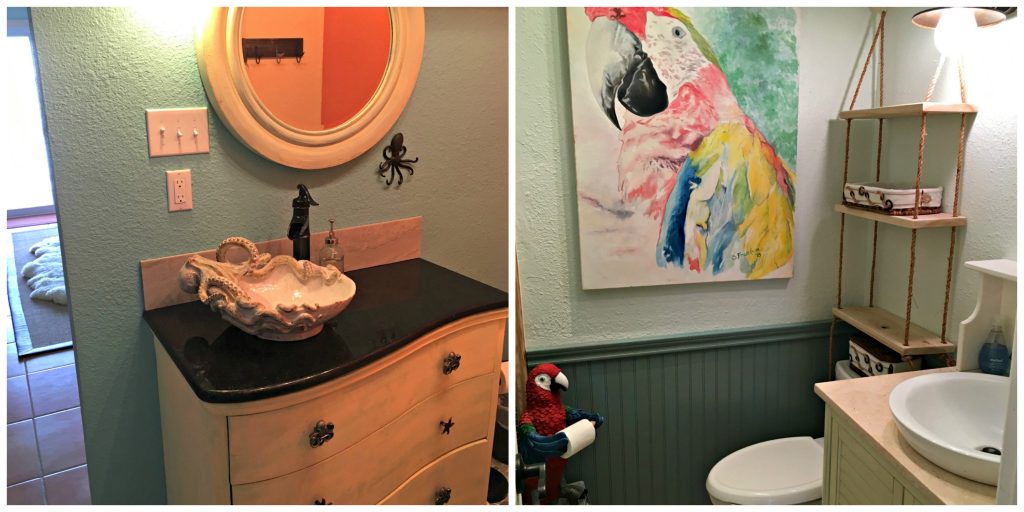 Let's not forget about the deck area! It's full of charming touches and comfortable seating. The perfect place to enjoy drinks while you watch the sun go down over the Texas Coast…
Where is your favorite getaway spot?!
Categories: For the Home, Prairie Wife Style
Tags: , beach vacation, coastal cottage, coastal decorating, coastal inspiration, DIY dcorating, home decore, Pinterest, rental cottage, Rockport TX, sister time, spring break. LittleMissH, Texas, Texas Coast, traveling