I'll Sleep on the Operating Table
Posted March 23, 2016 by Prairie Wife - 5 comments
Despite embracing the chaos over the last month, I've found that the chaos has been trying to eat me alive. I've been more relaxed and cheerful towards my kids but, the truth is I'm still completely overwhelmed. I didn't realize all the doctors appointments and extra things that would come up with my choice to have a Preventive Mastectomy. I've had at least two doctors appointments a week this month, and yesterday I had a small surgery (endometrial ablation) that I knew would mean two days of time lost…
Living 30 minutes away from the doctor and having five kids makes it way more complicated than it should be. I've only been receiving at most, a weeks notice that I need to have these appointments. Not only do I need to find a sitter for the two littlest Cowkids (these are all appointments they can't come to) but, I have to add travel time to get them to and from the sitter, then figure out how I can get the older Cowkids from school on time. I have the most supportive friends ever who have been helping when they can but, they have lives and kids too, and I can't have them watching my kids and theirs all the time!
I've also had sick kids for three weeks now (more doctors visits) and LittleMissH ended up needing an unplanned ear tube surgery last week…and I'm not going to lie, the upcoming endometrial ablation had me worried and emotional too. I've never had surgery before and had no idea what to expect, and part of the surgery involved having my tubes tied…which was obviously hard for a ton of reasons.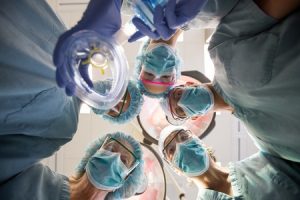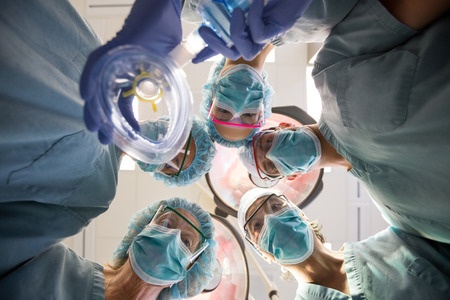 When I was chatting with a friend the other day about the things I have going on I laughingly said "I'll sleep when I'm on the operating table!" and I realized I meant it, I truly meant it, which is kind of ridiculous really…
The Cowboy finally put his foot down when I started hysterically crying when I found out I needed to add a visit with a GI doctor and a colonoscopy to my already packed schedule. He put in a phone call to a good friend that owns a day care and got the two littlest Cowkids signed up for drop off.
I resisted at first. It felt like I was completely failing in my job as a stay at home mom to send my kids to day care, even if it was only a few days a month…but I knew I needed help and this was the best way. I admit that I cried when I dropped them off the first time but, knowing that I could then go to my doctors appointment stress free, while they happily played away, was a huge relief.
As I sit here, home alone, recovering from my surgery I know I made the right choice. Could I have pushed through today with the two littlest Cowkids here?
Yeah I could have. But, they are much happier playing away with friends and I'm giving my body the time it needs to rest and heal.
I guess sometimes we need to just give up on our idea of how things should work, and instead just do what actually works.
The Cowboy is sending LittleMissH and I to TX this weekend for my birthday gift, and some much needed sister time with TexasTwoSteppin' . Stop by Instagram to see what we're up to! Make sure you come back Friday to meet a new frequent contributor and for a giveaway!
Categories: Health and Wellness, This and That
Tags: , being sick, life, making it work, motherhood, Prairie Wife Life, sick kids, support, surgery