Snuggle Snuggle Me #giveaway
Posted March 25, 2016 by Prairie Wife - 41 comments
Prairie Wife: SnuggleMama and I have been friends since grade school. As people do we lost touch after High School but thanks to the magic of Facebook, we reconnected several years ago. Not only is she vivacious, fashion savvy, hilariously funny, and a small business owner…she's also the mother of twins! A beautiful boy and girl that are about 5 months older than LittleMissH. I've talked her into being a frequent contributor here on PrairieWifeInHeels.com so keep your eyes open for some of her "Life with Twins" posts! We thought it would be fun to introduce her to you with a giveaway from her darling business Snuggle Snuggle Me.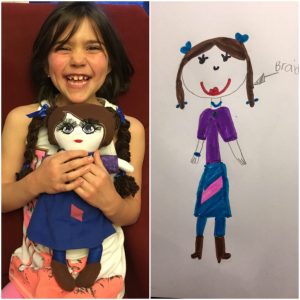 Take a look at this Designed by YOU doll that she created from Cowgirl G's drawing! Cowgirl G is in heaven and already begging me to allow her to design another one! Make sure you stop by the end of this post to enter to win a Designed by YOU doll ($75 value)  for a special child in your life, It can be a doll, teddy bear, monster…if they design it SnuggleMama can create it!
Take it away SnuggleMama!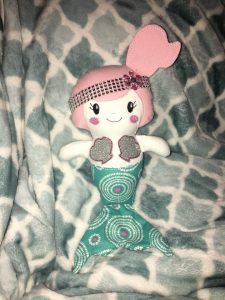 SnuggleMama:I love dolls! It's just that simple. I love making them, dressing them up, and playing with them. My dolly and fashion obsession started early with Barbies and it hasn't stopped. I can't lie, I could even be found styling my Barbies well into High School! There is just something so innocent and magical about dolls.
I took my love of fashion (and sewing) and turned it into a BA in fashion design and a masters in visual arts. After many years as a buyer in the fashion industry, I decided to take a break from the 9-5 grind and stay home with my adorable, magical, lovable twin babies! As a new mom, I wanted to share my love of dolls with my babies. But I soon found that there weren't many options out there for soft dolls, especially not boy dolls. I knew how to sew and LOVE making dollies so when the Twinkies were a bit older and life became more manageable, I decided to create some personalized dolls for them. They LOVED them and everyone was happy!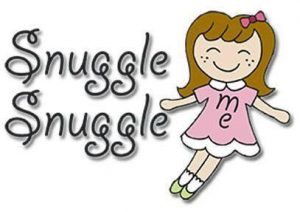 As the word got out about my personalized dolls, requests from friends came flooding in. I became busier and busier! And then… TA DA! The birth of Snuggle Snuggle Me.
Why Snuggle Snuggle Me? Well, it's because I always tell my little ones "Snuggle Snuggle" and give them a great big hug and kiss at bed time (well, actually all day long lol)! Since they were the inspiration for all this, it felt right to have them inspire the name as well.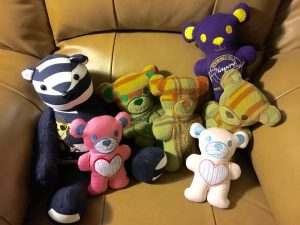 My favorite dolls to create are the ones made from sentimental clothing. Whether it is the outfit your baby came home from the hospital in, a beloved jersey, or one of the last things a loved one wore before passing…The Keepsake Dolly is one of my favorites. Each doll or stuffed animal takes on a personality of their own and I never know what the final product will look like. I know how special these dolls are and I take quite a bit of time talking to my customers, to make sure the final product captures the spirit of both the item of clothing and the recipient.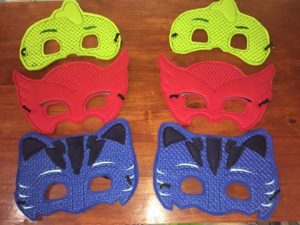 I've had a lot of customers come to me with other requests, things besides dolls and teddy bears, and I love the challenge! If you imagine it I can create it. A big hit lately has been personalized tooth fairy pillows and PJ masks. I even have been creating fun birthday packages where the birthday child gets a special doll and then I create masks or smaller dolls as goodies for the guests at the parties. You can see a portfolio of my work if you visit my Facebook page, and feel free to message me with any questions!
Don't forget to scroll to the end of this post to enter to win a Designed by YOU doll for a special someone in your life! I've included some specifics about the dolls below to help answer any questions you may have.
Designed by YOU Dolls: Start at $75
Some of the cutest dolly ideas have come "from the mouth of babes". Send me a drawing and I will use it to create a doll. Simply mail/ email the drawing and within 3 weeks, you will have a dolly straight from your imagination!
Fully embroidered face, with or without 3D eyelashes
Yarn hair, if desired
Bow in hair, if desired
Embroidered Personalization, if desired
All new materials for stuffing, buttons, fabric as needed
One removable doll outfit OR a mini stuffed animal to coordinate
Wool stuffing (+15) Why wool? Wool retains scent. Many people link scent to memories. Wool is a great option if this will be a "lovie" for a child.
One removable doll outfit OR a mini stuffed animal to coordinate (+20)
One pair of removable shoes (+8)
One accessory (purse, cape, glasses, mask, fairy wings) (+8)
All you have to do to enter
to win is comment below. 
Click this link
to stop by
Snuggle Snuggle Me's Photo gallery
and tell us what unique creation is your favorite! You can earn more points towards your giveaway by following us on social media. Please be honest, we will be checking.
Categories: #GiveAways, Reviews
Tags: , custom dolls, custom order dolls, dolls, Giveaway, handmade, handmade dolls, memory dolls, mother of twins, order dolls, personalized dolls, personalized gifts, small buisness, Snuggle Snuggle Me, twins