The Cowboy's Famous French Toast
Posted April 1, 2016 by Prairie Wife - 6 comments
First, let me say that it took me over a month of nagging to finally get The Cowboy to agree to let me share this French Toast recipe. Not only was he reluctant to tell me his secret ingredient, but he's pretty shy about being a part of the blog. As part of our mission statement, we talked about giving credit where credit is due, and I felt like I couldn't claim this recipe as my own (even though The Cowboy said it was okay).
On weekdays the Cowkids alternate between a breakfast of cold cereal and fruit, and yogurt, fruit, and toast…let's be honest…sometimes even that's a challenge to get on the table! On the weekends, The Cowboy likes to make a huge breakfast for us. He's a fantastic cook, making everything from homemade biscuits and gravy to coffee cake. We all stood up and clapped when he served us some French Toast a few months ago. It was as good as the French Toast I'd had at 5-star brunch restaurants…really! When I finally wrangled the recipe out of him, I was surprised at how easy it was. I can't wait to hear what you guys think.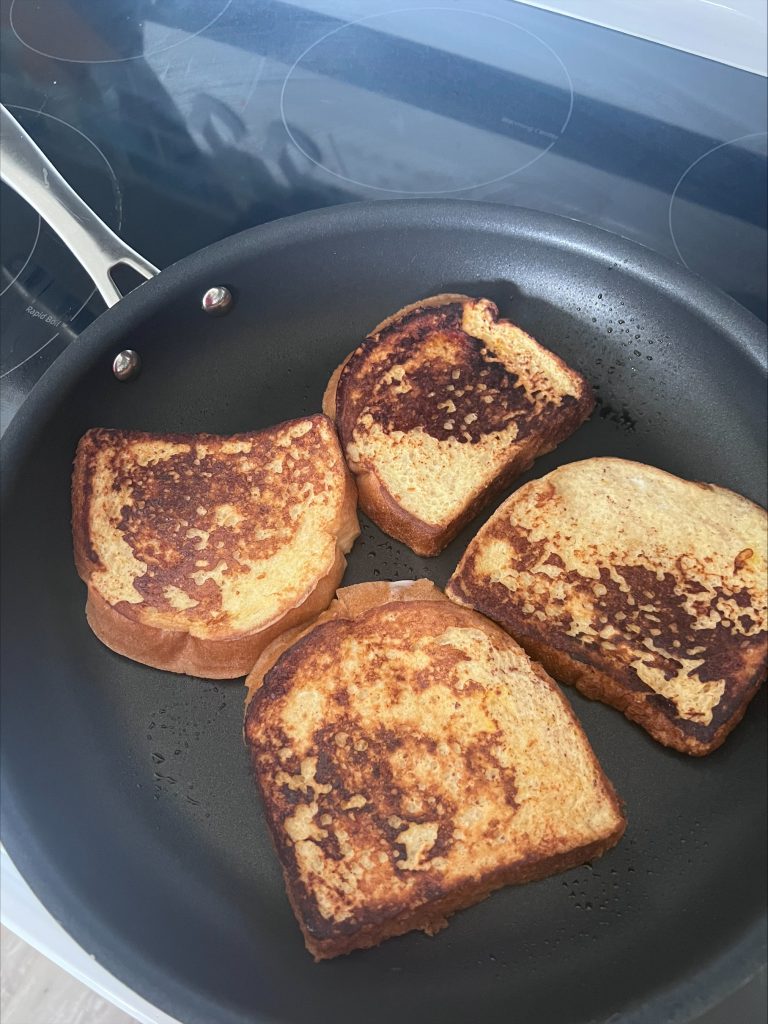 The Cowboy's Famous French Toast
Serves: 6 Prep Time: 5 minutes Cooking Time:10-15 minutes
Ingredients
1 Loaf of White Texas Toast Bread
3 Eggs
1 cup milk
1/2 cup Vanilla Caramel coffee creamer (I'm sure any kind with caramel flavoring would work)
2tsp Cinnamon
1tsp Vanilla
Heat a large nonstick skillet to 250 degrees (or use a regular pan sprayed with nonstick spray on your stove set to medium/high).
Combine all the ingredients but the toast in a large bowl, and whisk gently.
Take a piece of bread and dip it into the above mixture until it is well coated.
Place on skillet and turn after about 3-5 minutes or when it is cooked to a deep golden brown, repeat for other side.
Serve hot with butter and syrup or fresh fruit and whipped cream.
Do you have any weekend breakfast traditions?
Categories: This and That
Tags: , breakfast, breakfast for a large family, brunch, easy breakfasts, french toast, Main Meals, quick meals, recipe, tasty treats