I am NOT a Morning Person #giveaway
Posted October 8, 2014 by Prairie Wife - 63 comments
School began a little over a month ago and while I can say that we have settled into our routine it is still no fun…at all. On days I have to shower I get up at 6 to give myself time to get ready before the Cowkids have to be up at 6:30 . Let me say that by "get up" I mean turn off the alarm, roll over and start my to-do list for the day in my head, check the clock and see it's 6:15 already, bounce out of bed (as fast as a preggo mom can) and quickly shower. I throw on my ratty old bathrobe and it's time to get the Cowkids up, by this I mean holler down the hallway and steps, no sweet kisses here.
The Cowboy always goes on and on about the full breakfast's his mom sent him off with every day, while hinting that cereal or yogurt isn't the best way to start the day (I have to add that I also serve them fresh fruit). I notice that on Monday's (he takes the kids to school Monday's which I love) he's busy showering and getting ready and not making eggs and bacon for breakfast…As the kids are eating I'm running back and forth to my bathroom to slap on clothes, or some moisturizer, or blow dry my roots (who has time for the whole head of hair)…I shove some food down my throat and try to get lunches made while not wasting too much time standing with the fridge door open trying to remember what I needed!
After much nagging (grouchier and louder each time I have to say "stop talking and eat") and warnings about watching the clock ("5 more minutes to eat I don't care if you're done or not") the kids get their breakfast down their throats and it's time to get dressed. There is no sense in getting dressed first because you know they are just going to spill milk or yogurt on their shirt anyway. Cowboy C sits on the potty while I slap on some makeup (trying to remember to use liner on both eyes) and hopefully I come back to find the pee in the potty, not on the rug. I get Cowboy C dressed (on super busy days Cowboy J and Cowgirl G will help by getting him dressed) and holler at the kids to get on shoes, load up backpacks and head to the van.
As we pull out of the garage as carefully as I can (I don't want to run over any Cowcats or Cowkittens) I see the horses peering over the corral fence and shooting me dirty looks. I pull the van to the barn and feed the horses their hay, while trying to keep the hay rage down to a minimal level.
Hopefully by 7:30 we are hitting the Highway for the 30 minute drive into town. Thankfully that 30 minutes allows me to get my blood pressure down and I can be back to my "normal" pleasant, loving and cheerful self by the time I need to kiss the kids goodbye at school!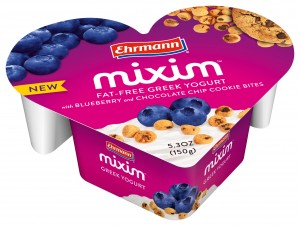 Two weeks ago the lovely people at Ehrmann who created the MIXIM heart-shaped Greek Yogurt line of products, approached me about trying their yogurt. After showing them our Prairie Wife Guarantee I agreed to try their Yogurt. It just became available at out local Safeway store and, the Cowkids love yogurt. As I said above, it's a breakfast must around here! To say that the Cowkids loved MIXIMS would be an understatement. They were ecstatic to pick a flavor to try, Cowgirl G just had to have waffles and maple syrup. Both the bigger Cowboys followed their sweet tooth and picked flavors with chocolate. We opened the containers and they giggled as they played "chef" and mixed in the perfect amount of add ins to their yogurt. Cowboy C got very into the stirring…it was bath night anyway. The yogurt was tasty, healthful, and fun to eat (it went down the hatch so quickly we got to school 5 minutes early) and the Cowkids all gave it two slightly sticky thumbs up.
The people at Ehrmann have offered to give one lucky PrairieWifeInHeels.com reader a giveaway of the entire MIXIM heart-shaped Greek Yogurt line! Simply enter the giveaway below and in one week we will announce the winner. The entire MIXIM heart-shaped Greek Yogurt line will show up at your door ready for you and your family to enjoy!
All you have to do to win the entire line of MIXIM Greek Yogurt is leave a comment at the bottom of this post, telling me what morning looks like at your house! Earn more points by following us on social media. Please be honest, we will be checking to make sure you truly are following us.
Copyright: haywiremedia / 123RF Stock Photo
Categories: #GiveAways, Life As It Happens, Parenting, Reviews
Tags: , breakfast, Giveaway, mornings, motherhood, parenting, yogurt