Spring 2016 Fashion Do and Don'ts
Posted March 30, 2016 by Prairie Wife - 3 comments
The weather is getting a bit warmer her in Wyoming and the Meadow Larks are back and greeting us with their song each morning.  TexasTwoSteppin' has been hanging out at the coast and fishing and soaking up the sun (with SPF on of course). All of this means that Spring is here…and it's time for us to share with you our Spring 2016 Do and Don'ts! As always click the pics to see where you can buy the clothing and follow us on Pinterest for more fashion inspiration.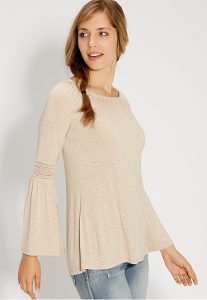 The Bell Sleeve
Texas Two Steppin': Oh yes, this is a DO. Now, I will say that you have to be careful and try before you buy. Too much volume on the bottom combined with the sleeves can make you look too hippy dippy…or just plain hideous. Pay attention to where the sleeve ends, this look definitely has a sweet spot. One last tip, think about your activities for the day when you wear this look. It can be very uncomfortable if you need to wear a jacket or blazer!
Prairie Wife: I can't be nice about this one…it's a DON'T for me! I've been perusing Pinterest and checking out dozens of ways that people style these sleeves. Dresses, tops with jeans, A-line skirts, pencils skirts…you name it I saw it paired with a bell sleeve…and didn't like it. It's too hippy (not in a boho chic way) for me, and I just don't think it's flattering on any age or body type.
Prairie Wife: I'm sure you all think that this one is going to be a major DO for me, and while it is a DO I have to offer some words of caution about this trend. I see no problem in wearing clean, well kept Active Wear to run errands, for coffee with friends, a trip to the doctors office, to pick the kids up from school, attend a PTO meeting…or even to the gym to workout lol! For me Active Wear is not OK at church, on date night, or if you are in a position that demands respect like teaching a class at school or leading the PTO meeting.
Texas Two Steppin' : This is another DO for me, and like Prairie Wife I have a few words of advice. This should NEVER be worn to the office, unless of course, your office is a gym. When I walk into an office and see women wearing yoga pants with an Oxford, it makes my skin crawl. It's disrespectful, and to quote the always amazing Stacy London, "Dress for the job you want, not the one you have!" My current job requires me to hit the sky three out of four weeks a month. My go to travel look (which is the perfect version of Active Wear Everywhere for those of us in our 40's) is slim silk jogging pants, an embellished t-shirt, leather bomber jacket and low heeled booties…just remember readers, always keep it classy and age appropriate.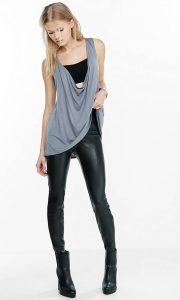 Leather Leggings
Texas Two Steppin': I'll give this a very restricted DO…If I were a supper skinny 20 something these would be OK for date night or a night with the girls clubbing. Just make sure if your older than your 20's and/or curvy, wear this look with your booty covered with a long tunic or coat. Leave something to the imagination gals!
Prairie Wife: DO, DO, DO! I have wanted a pair of these my whole life. I think it's the perfect mix of rocker and sexy but still totally modest! With my constantly expanding and decreasing size due to all these Cowkids, I haven't felt ready to purchase a pair. Now that The Cowboy and I are done having kids I had promised myself that a pair of leather leggings was going to be my reward. With my upcoming preventive mastectomy I decided I'd put off this purchase a bit longer and use it as a pick me up to help me through the next year of surgeries. Perhaps on our next girls only elk hunting trip I'll find the perfect pair?! Unlike Texas Two Steppin' I think these are totally fine to wear everywhere (and any age or size)! Pair them with brown boots and a chambray top with a scarf for a lunch with friends. Booties and an over sized sweater with these would be perfect for a date night…I could keep going but it'd be easier if you just went to my Pinterest Style Board for more ideas.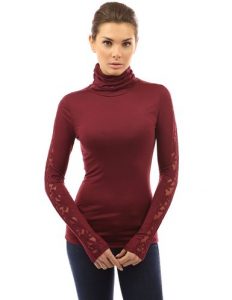 Turtlenecks
Texas Two Steppin': DO! This wardrobe piece always makes me picture Audrey Hepburn with a black turtleneck, slim black cigarette pants, and ballet flats. It's the epitome of Parisian chic. Don't write off the turtleneck, even if you are a bit busty, they look great under a blazer. Even if you live in a warm climate like me, you can wear this look because they make them without a variety if sleeve lengths. Can't you see this look with a printed mini skirt and heels?
Prairie Wife: Unlike Texas Two Steppin' I'm a bit ambivalent about this trend. I think it's a DO and I particularly love the style you see in this pic. But, I have to be honest it doesn't really fire me up at all one way or another. I can't say I have a single turtleneck in my closet but, the more I look at the cute inspiration outfits we pinned the more I'm thinking I might just need to find one…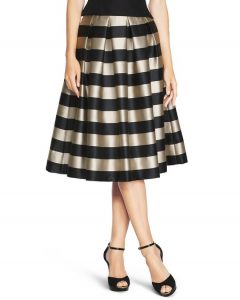 Horizontal Striped Skirts
Prairie Wife: I know that this trend goes against what all of us were taught when we were younger. But trust me when I say that this trend is a DO, and will make you look anything but wide! It can be intimidating to think what to pair these skirts with. I personally love the look with a floral top that has a similar color pallet. If that's a bit much for you, try it with a sleek top in a solid color or even a closer fitting sweater. Just make sure you have a top that emphasizes your shape so you don't look bulky!
Texas Two Steppin': If this skirt is an A-line this spring trend is a definite DO for me. You'll strike just the right note of sweet with a dash of sophisticated. It's perfect for the office but can easily work for a wedding or brunch with friends. Really, anytime you want a little something special. Don't be afraid of choosing stripes with a bit of color. It's a great way to incorporate other trends like the Pantone's colors of the year. Some colors look bad by your face but in a skirt…it works perfectly.
What trends are your favorite?!
Categories: Prairie Wife Style
Tags: , active wear, active wear everywhere, bell sleeve, fashion tips, leather leggings, Spring 2016, spring 2016 fashion trends, spring 2016 trends, spring fashion, striped skirts, turtlenecks