The Knockoff by Lucy Sykes and Jo Piazza
Posted April 8, 2016 by Prairie Wife - 7 comments
As I was packing for my trip to Texas I decided to indulge in a new book. Normally, I use Kindle Unlimited to have access to thousands of books for less than $10 a month. Since it was my birthday weekend, and I was headed to the beach, I felt like I deserved a book off my wish list! As I browsed through my Amazon.com wish list, I stumbled upon The Knockoff by Lucy Sykes and Jo Piazza. It looked like the perfect light read, and I wasn't disappointed! It kept me entertained throughout the plane ride and as I lounged at the Texas Coast and soaked in some sun.
The Knockoff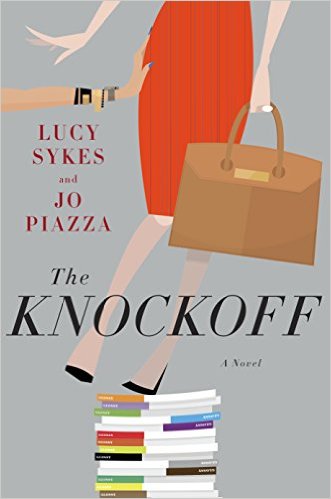 is the story of Imogene Tate. She's a high power magazine editor in her mid 40's who is returning to work after taking a break to treat her breast cancer. While on medical leave, her office hired her old intern who takes advantage of Imogen's absence to begin her reign as queen of the office. Not only is Imogene struggling with the age old balance of work and home but, she is suddenly being thrown into a magazine powered by social media and the fast paced world of internet shopping. As Imogene's life falls apart, she finds herself learning that manners, tact, compassion, who you know, and old fashioned hard work just may be enough to pull her back up to the top…if that's what she still wants….
The Knockoff was the perfect mixture of fast paced plot, dynamic characters, and good fun! I'd describe it as the perfect blend of The Devil Wears Prada and one of my favorite TV shows Younger. It's a quick read that will have you laughing and gasping out loud.You may even find yourself contemplating how technology has changed our lives (and perhaps not for the better). I can't wait to read the next book that this duo write!
Note: I've also added Jo Piazza's book If Nuns Rule the World to my wish list…I can't wait to read it!
As I approach the time for my surgery (and weeks of bed rest) I'm looking for some good reads! Any recommendations?
Categories: Reviews
Tags: , beach reads, Book Review, Books about fashion, books about NYC, Chic Lit, Fiction, Jo Piazza, Lucy Sykes, new books, summer reads, The Knockoff