Back in the Saddle Again
Posted January 25, 2014 by Prairie Wife - 2 comments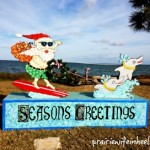 When Prairie Wife and I discussed taking a little break from the blog the week of Christmas, so we could focus on our family and all the season has to offer, I didn't think it would take me three more weeks before I was able to write my next blog. The good news is that I'm back and wasn't suffering from a severe case of writer's block. In fact, I have a long list of blogs and ideas for PrairieWifeInHeels.com, so be sure to visit us often (Hint, Hint). The bad news? Well, the bad news isn't as bad as it could have been, but I guess I need to start at the beginning…
The Texan and I decided that we would spend the holidays on the Texas coast. Step Girl, Step Boy and Grandbaby totally didn't mind having Santa deliver their gifts by dolphins instead of by reindeer. It was a wonderful, relaxing time, and after the kids hugged us goodbye and headed for home, I pulled out the laptop to work on a PrairieWifeInHeels.com post. A few sentences into the piece, my stomach began to hurt and I felt nauseous. Four hours later The Texan said that although I was a strong woman full of grit and grace, it was time to take me to the urgent care facility so they could figure out what food disagreed with me. After several more hours of being poked and prodded and scanned and suctioned, The Texan and I had to decide if we should travel back home to have the tumor removed from my lower intestines, or have the surgery on the spot.
We are not procrastinators, so I was prepped for surgery right away. All went well, and one of the positives of being in the hospital is I got to spend some time visiting with my wonderful husband, supportive stepchildren, best friends, and family. Everyone took such great care of me! Especially the surgeon who successfully removed the rare, cancerous tumor that was not caused by, or related to, my breast cancer. My oncologist is still doing some testing, but the full body scan was great news-no tumors in any other organs! I've been back at the office for a few weeks, and finally have enough energy to write a couple of blog posts. I even plan to go to Zumba next week!
Being back in the saddle again feels great, but I don't want to lose sight of the many positives that came from this experience. While I am a bit tired of testing the "in sickness and in health" part of our wedding vows, each cancer diagnosis takes The Texan and my appreciation of our life and relationship to a whole new level. I am a bit of a workaholic (OK, more than a bit) but I am renewing my commitment to finding balance, so I can spend as much time as possible with friends and family. I have also become kind of obsessed with anchors, and I have collected some great inspirational quotes to keep me focused. I love to share with my friends and family that I'm Back in the Saddle Again!
You can check out many on our "Words to Inspire" Pinterest board. But, I will leave you with one of my favorites.
Do you want a free printable of Texas Two Steppin's inspirational words?
Categories: Life As It Happens
Tags: , breast cancer, hospital, no tumors, oncologist, supportive