Five Minute Makeup Face Off: TallGirlJ vs. Prairie Wife #giveaway
Posted November 30, 2016 by Prairie Wife - 13 comments
Happy Wednesday Readers!
Those of you that follow us on Facebook may have seen a post I put up about TallGirlJ and her new gig as a YOUnique Independent Product Rep. She's always been leaps and bounds ahead of me in the makeup skills department but lately…she's become amazing! I thought it would be fun to see if we could both really do our everyday makeup look (you know the face you wear to the store just in case you run into someone you know) in five minutes!
Since we both have a bit of a competitive streak it ended up turning into a bit more than I planned…
Take a few minutes to watch our hilarious (in my opinion) video and let us know who you think the winner is!
You can stop by the end of the blog post to take a look at our makeup picks and find links to buy your own.
AND don't forget to enter to WIN big!
As we said in the video TallGirlJ used all YOUnique products…and I can't lie she looks pretty darn amazing!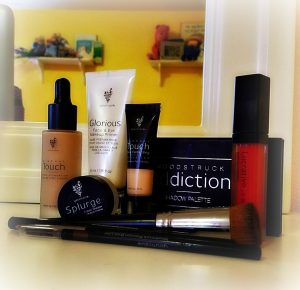 First she used the Touch Glorious Face/Eye Primer.. It is a crime to not prime! Priming is what is going to give you the all day wear. Trust her…Just do it!
On TallGirlJ's eyes she used: Splurge cream shadow in Victorious (the perfect nude eye). Addiction Shadow Palate #1 (the perfect blend of tans and browns that always gives you the color you crave). Moodstruck Precision Eye Liner (goes on silky smooth and lasts all day). You heard it from me…This eyebrow pencil is great! If she want a bit more "volume" (TallGirlJ claims to have no brows) she throws on the gel as well. It has fibers in it to build your brow not weigh it down yet still gives you a super natural look. She used the Younique 3D fiber lash for her Mascara. TallGirlJ uses only the gel on her 5 min face day. If you want extra length use the fibers too (they come with it)!
Lucrative Lip Gloss is what's on TallGirlJ's lips. It has a nice  non sticky feel for a easy application and great moisture.
And last.. BUT definitely not least!
Touch Mineral Liquid Foundation. It goes on liquid… but dries as a powder. This is Liquid Gold people! It's actually  what hooked both of us on Younique! It has full coverage with such a light airy feeling! It's actually treating your skin while you wear it! Say What!?!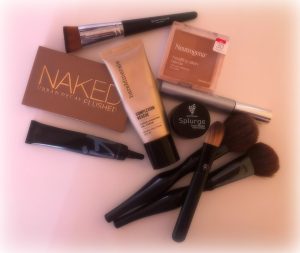 As I said in the video, I am a self proclaimed "makeup whore" and used a whole bunch of products so here is my list with links…
Brushes are YOUnique for foundation and Sonia Kashuck for everything else.
I used my fav makeup primer created by past prairie wife of the week Kendra Richards, Heir Atelier Ultimate Makeup Prep (which I just noticed is not in the pic sorry).
For foundation I used the BareMinerals Complexion Rescue Tinted Hydrating Gel Cream.
My mascara and bronzer are Neutrogena and can be found in almost any store.
I use the NAKED Flushed Pallet on my cheeks and Splurge Cream Shadow from YOUnique in Perfect Nude on my eyelids…and you saw I stole TallGirlJ's YOUnique eyebrow pencil…
On my lips I simply used EOS lip balm. I usually only do lipstick or stain on full makeup days.
The always awesome TallGirlJ has agreed to pick TWO winners for this YOUnique giveaway!
One lucky reader that comments below with their vote for the winner of our first ever Five Minute Makeup Face Off will win their own YOUnique Lip Gloss.
Those of you that head on over to TallGirlJ's VIP Beauty Facebook Page join and leave a comment saying "Prairie Wife sent me!" will be entered to win a 1/2 price coupon towards any YOUnique product!
Can't wait to see who you vote for as the winner in our first ever Five Minute Makeup Face Off!
Categories: #GiveAways, Prairie Wife Style
Tags: , Beauty, beauty tips, competition, easy makeup, five minute face, friends, Giveaway, heir atilier, Humour, Makeup, makeup products, video, vlog, younique