Preventive Mastectomy: Surgery Day
Posted April 29, 2016 by Prairie Wife - 3 comments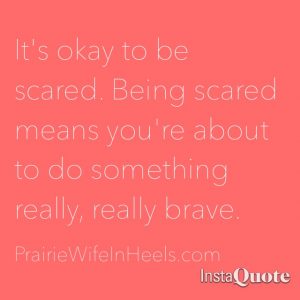 Today is the day, it is my Preventive Mastectomy surgery day.
The day that's been written on my heart for over three months.
April 29, 2016
This week has been hard.
It's been full of tears, deep breaths, extra snuggles and kisses, phone calls and To-Do lists.
On Tuesday I went to church. It was important to me to attend before my surgery. I was hanging in there (barely) and keeping it together (somewhat) until I heard the first words in the Gospel reading…
"Peace I leave with you; my peace I give to you.
Not as the world gives do I give it to you.
Do not let your hearts be troubled or afraid."
I am not a public cryer.
Frankly I'm not really a cryer at all.
But I admit it, I lost it. It was exactly what I needed to hear, yet this idea of peace has been SO hard for me to attain. After mass I had well wishers and friends come up to me, and I lost it again…and again.
I'm not afraid for me…really I'm not. I know I'll be fine and the pain and even the final results don't weigh on my mind at all. It's all about my family and friends. I worry about the Cowkids and The Cowboy and how all of this will impact them. I feel terrible that so many people will have extra work these next few weeks (and months) because of me.
In the last month I've had just enough people question my choice to plant a little seed of doubt.
By pure chance, or perhaps by plan, after mass as I was trying to hide my tears, an acquaintance came up to me. I knew her by sight and had recently friended her on Facebook but, had never talked to her.
This women made this same choice as me seven years ago. Hearing her say that she had no regrets at all was the strength that I needed.
I wept a few more tears over the next day…and held LittleMissH way more than necessary.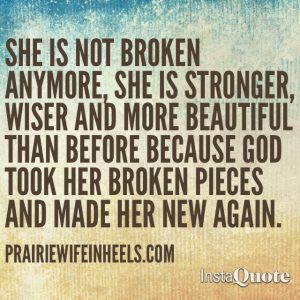 Today I woke up ready to go. I had no more fear or doubt, and at last felt peace.
While I was a bit weepy when The Cowboy and I left for Denver, the tears today have been minimal.
I'm ready.
I'm confident that this is the right choice for my family and I.
I'm going to kick ass and get this surgery done so that we can all move forward.
For obvious reasons, I'll be taking a bit of a break from the blog for the next week or so but, you can follow us on Facebook where TallGirlJ will be posting updates.
Thanks for all the well wishes and prayers.
It warms my heart and gives me the strength to continue to share the details of my journey.
Love to you all!
Prairie Wife xox
To read about the first week after surgery click this link.
Categories: Mastectomy Surgery, Preventive Mastectomy
Tags: , breast cancer, cancer, Choices, family, friends, hope, preventive mastectomy, strength, support, surgery