Prairie Wife of the Week: Kyleen of Fashion Crossroads
Posted May 10, 2017 by Prairie Wife - 6 comments
It's no secret I LOVE fashion. One of my favorite things to blog about is fashion trends, and my subscription unboxing videos have been a blast to create! While I admit that I am a fan of online shopping, I've seen how vital it is to support local businesses. Fashion Crossroads has been part of our community for over 40 years and when I asked Kyleen to share some of the ins and outs of running a successful clothing store she was happy to oblige. Between you and me I think I got more than I bargained for with this interview and you can bet I'll be inviting Kyleen back to share more of her personal story. Take a moment to read about this amazing mother, business woman and fashion enthusiast and please, if you're in town, take a moment to stop by her store!
Prairie Wife (PW): Can you first tell me a little bit about you and your family?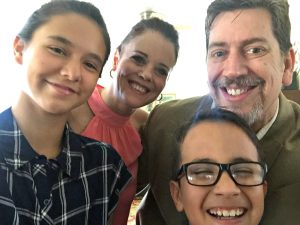 Kyleen (K): I am a wife of eighteen years and mother of 2 amazing adopted children.  I love to backpack, camp, ski, scuba dive, take beach vacations, read and write.  I have two graduate degrees: a MA in English and a M.ED in Secondary English Education.  I have two blogs which I post to regularly.  Talking Trends is my fashion blog where I post fashion how-to as well as tips and tricks.  I also have Raising Adopted Kids where I post about my experiences as an adoptive mom.  I'm working on a memoir right now that chronicles my husband and my journey through a blended family, Cancer, infertility and adoption.
PW: You are the owner of Fashion Crossroads, located in downtown Casper. Can you tell me a little bit about your business and how you came to be the owner?
K: Fashion Crossroads is my family's business.  My mom opened the store in 1974, and I joined the business when she expanded to open FC Outlet in 2000.  I had just graduated with my MA in English and intended to try to get a job teaching English at the college, but I was diagnosed with Cancer in December of 1999.  It was a life changing event, and I decided to join the family business instead of pursue a job in English.
PW: I'd love to learn a bit more about the ins and outs of owing a clothing store!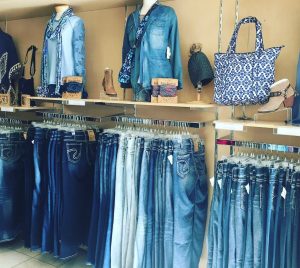 K: Wow!  Owning a business has to be the best and hardest job on the planet.  The thing that people don't realize about small business is that the owner has to wear so many hats.  You are inventory management, receiving clerk, marketer, accountant, human resources, sales clerk, IT, janitor, facilities manager, etc. etc.  Some of those hats are a good fit and others aren't.  But the wonderful part of it is getting to do something you love and work with products you feel passionate about.  Personally, I love being able to help women feel good about how they look for really important events in their lives like weddings, job interviews, trips, funerals, class reunions, graduations, etc.
PW: How do you pick your merchandise?
K: In much the same way, you walk through a store and happen on something that moves you, we walk the isles of market looking for products that stop us in our tracks.  Then, we consider if the product is a good fit for the store – is within our price range? is it good quality? how long has the company been in business? is it unique? If the answer to these questions is yes, we usually buy it!  We like to have lines in the stores that are distinctive and a good value.
PW: What goes into making sure you can appeal to a wide variety of ages and sizes?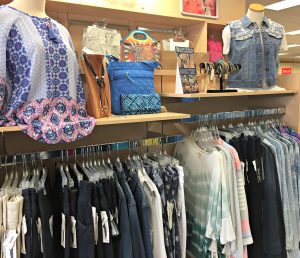 K: You almost have to shop with certain age groups in mind to make sure you are covering all your bases.  We have lines in the store that appeal to twenty somethings as well as eighty somethings.  We pour over our inventory, sales reports, and get input from our employees and customers about inventory holes that need to be filled.  We go to market with a list of things we want to find.  We always set time aside to discover new lines and look for those missing items.
PW: How do you stay on top (if not ahead) of current fashion trends?
K: I subscribe to InStyle (it's my favorite fashion magazine)  I also spend a lot of time talking with vendors about what is happening in fashion as well as paying very close attention to what buyers are wearing at market.  I research trends for my blog and attend fashion shows and seminars at market.
PW: What are the challenges of owning a fashion business in Wyoming?
K: Our boom and bust cycle can be a challenge.
PW: How has the growth of online shopping impacted your business?
K: We have added an online store to combat that, but online shopping is posing a challenge to all brick and mortar small businesses.  As the percentage of online sales continues to grow, our pool of small businesses is getting smaller and smaller.  The failure rate of small businesses is very high within the first five years.  As a community and as individual shoppers we need to protect our small business pool by shopping local and especially by supporting new businesses.  Remember that when you shop small, you protect product diversity in your town as well as help fund really essential aspects of city government through your sales tax.
PW: As a mom and business owner how do you keep your balance?
K: I create really strong boundaries around work and home.  I try not to work while I am at home or have home invade my work time.
PW: What fashion advice do you have for our readers?
K: Better quality clothing fits your body better, is more flattering and lasts longer.  When you look good, you feel good.  Invest in yourself!  When you calculate cost per wear, you actually oftentimes end up spending less money on better quality clothing.   For example, you can spend $100 on a really nice pair of black pants that lasts you five years or longer.  You can also find cheaply made pants around $30 which you will have to replace every year.  In five years, you will have spent $150 on those pants.  You would have been better off to buy the more expensive, better made pair to begin with.  Don't buy into the disposable clothing trend.  Instead buy fewer pieces and make sure what you buy, you really love.
PW: Where do you hope to see your business in the next 5 years?
K: Growing in each category.  I would love to see the Wyoming economy get really strong again and for us to see growth in sales at all three locations.  I have always considered expanding to other cities as an option in the future.
PW: Any last Prairie Wife words of wisdom?
K: Look your best every day!  Stay current and be a sharp dresser.  There really is something to dressing for the job you want.  When you feel good about how you look, you will find your whole outlook on your day becomes different.  And most important, be as beautiful on the inside as you are on the outside.
Categories: Prairie Wife of the Week
Tags: , Adoption, blogger, blogging, Fashion, fashion blog, fashion crossroads, interview, Prairie Wife of the Week, small buisness, style, support