Stitch Fix Unboxing: Third Try
Posted March 24, 2017 by Prairie Wife - 15 comments
It's here, it's here! My THIRD Stitch Fix box!
The last two boxes I received each had some great pieces, and while I didn't end up keeping everything, I totally felt that it was worth it to have another one come. Due to funding issues (lets face it the pieces are a bit more expensive than what I'd get at Target of through my PSJustFab box) I only have boxes coming every three months. This box was the perfect Spring pick me up and maybe third time is the charm…and I'll end up keeping it all?
Can't wait to hear what you think!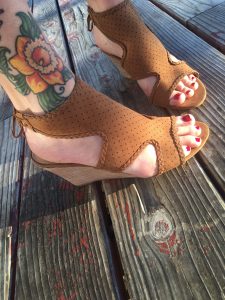 SO what do you think of this box? Let me know in the comments.
Look at these shoes…a total win for sure!
Is the cold shoulder cute?
Is the knit dress worth keeping?
Is this finally the box where I will be keeping it all?!
If any of you would like to try out your own Stitch Fix click this link and head on over to StitchFix.com don't forget to let me know what you think about your box when it arrives!
Categories: Prairie Wife Style
Tags: , floral, mom style, patterns, shoes, spring 2017 fashion, spring fashion, stitch fix, stitch fix review, stitch fix unboxing, vlog