The Little Teashop of Lost and Found by Trisha Ashley #giveaway
Posted March 22, 2017 by Prairie Wife - 13 comments
Those of you that have been longtime readers know that this is going to be a positive review…
First of all we don't waste your time making you read about how much we hate something (plus who needs that negativity) and second, Trisha Ashley is one of my favorite authors and a past Prairie Wife of the Week!
The thing I like most about Trisha Ashely's writing is her ability to transport her readers to the wild and just a bit eccentric English countryside, and to make us completely forget about anything outside of the characters in her books. The Little Teashop of Lost and Found  will not disappoint her fans and is sure to create new ones!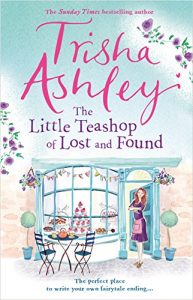 The Little Teashop of Lost and Found tells the story of Alice. We meet her as a woman but soon learn that her life began as an abandon foundling left amidst standing stones on the cold moor. Each chapter in the book begins with the thoughts of the woman who abandon her, and this little plot twist will keep readers guessing until the very end. It becomes apparent that this theme of abandonment follows poor Alice all through her life. At times she allows it to overtake her but, who of us hasn't at times?
Eventually with the grit and grace we've come to expect of Ashley's characters, she takes her lemons and makes a lovely lemon cake. Through a bit of good luck and a lot of hard work, Alice turns her dark fairy tale writing into a career AND her skills as a baker into the opportunity to open her own teashop. Along the way we meet a cast of quirky characters (some may be familiar to those of you that have read her other books) and one exceptionally intriguing tall dark and brooding man. I can promise you romance and happy endings and a surprise or two along the way. While this book is a bit longer than her others, it will suck you in all the same. I found myself saying "one more chapter" so often that I lost a whole morning of productivity…but really it was well worth it!
You can buy it now at Amazon.com or enter to win a copy of your own below! This is open to our readers in both the USA and England.
a Rafflecopter giveaway

Categories: Book Reviews, Reviews
Tags: , Book Review, Brit Chick Lit, chick lit, England, Modern Fiction, Romance, the little teashop of lost and found, trisha ashley