Rodeo Style…the Prairie Wife Way
Posted March 20, 2017 by Prairie Wife - 6 comments
I am by no means a Cowgirl, nor do I pretend to be one. Every time I have ever ridden a horse it has ended in tears…and usually mine, not the horse.
There is a reason the blog is called Prairie Wife In Heels, not just Prairie Wife. I wanted to make it clear that I am still part city and not all Prairie Wife.
That being said, after living in Wyoming for 17 plus years I do feel that it is legit for me to occasionally dress like a cowgirl. I draw the line at a cowgirl hat. Not only do I think it would be more trouble than it's worth in this Wyoming wind but, the only time I ever wore one The Cowboy laughed and said I looked stupid. I have never put one on again.
Rodeo season is almost upon us and I LOVE to go to the local rodeo events. The Cowkids are old enough that they are now beginning to ride in the mutton bustin' and attending the Rodeo is one of our favorite things to do as a family. TallGirlJ's kids participate in local gymkhanas and the Cowkids have been to several to watch them and cheer them on.
Over the years I've come to embrace my inner Cowgirl and even wear my "Rodeo Style" look out and about town. Throwing on a pair of boot cut jeans, a fun t-shirt, boots, and a baseball hat is a great way to tackle a busy day but still look put together (at least in Wyoming). Below are two looks that I like to wear when I attend events or run around town. I have to give total credit to TallGirlJ for teaching me how to pick the right pair of jeans (they must be long enough to "stack" on your boots) and for helping me learn what boots work to wear with dresses. In an ideal world I'd own this amazing pair of boots from King Ranch Saddle shop (hint hint Cowboy, my birthday is next week). As always, head over to our Pinterest board for more outfit inspiration!
Rodeo Style: Everyday
This is a prime example of what I would wear out and about town to run errands, or to a local rodeo event. These Miss Me jeans have just a touch of bling (but not too much) and wash and wear really well (I've had the same pair for over 6 years). Wear the jewelry and long sleeve top for a dressier look or, keep it casual with the t shirt and baseball hat.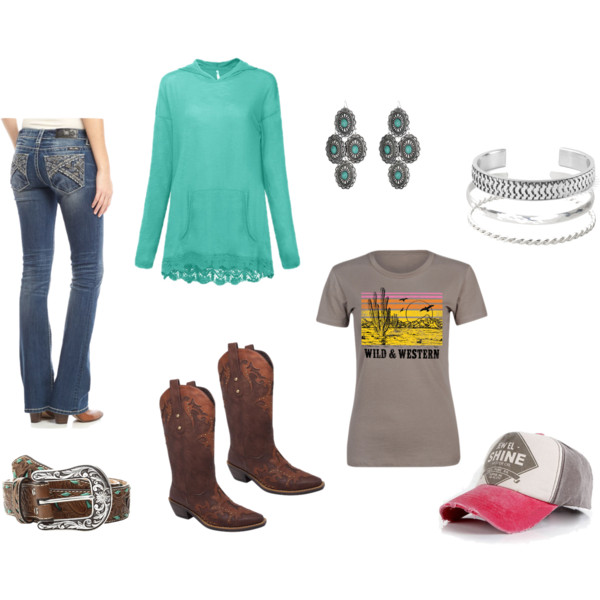 Rodeo Style: Feminine
The Cowboy and I often go to concerts and large rodeo events in the Summer. For these rodeo date nights I like to look a bit more feminine. A flowy dress in a longer length is pretty and practical when worn with a cute pair of cowgirl boots (I really liked the lighter color of these). The jewelry adds a touch of color and just the right amount of bling to this look, while the jean top keeps it practical for the cooler mountain nights (it looks cute when you wear it open or tied at your waist). I just couldn't resist the fringe crossbody bag for a fun touch of rodeo queen glamour 😉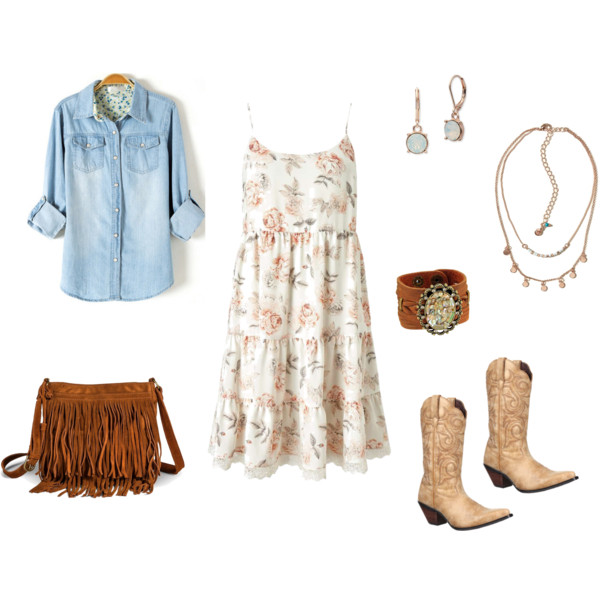 NOTE: I wanted to add a few links to places I LOVE to buy my Rodeo style clothing from.
The Original Cowgirl Clothing Company
Western Jewelry by Nancy Strohl
Which look is your fav?!
Categories: Fashion, Prairie Wife Style
Tags: , #KRrodeostyle, cowgirl, Fashion, kind ranch saddle shop, king ranch, rodeo style, style, western fashion