Nancy Stroh: Wyoming Artist and Jewelry Designer #giveaway
Posted February 1, 2016 by Prairie Wife - 25 comments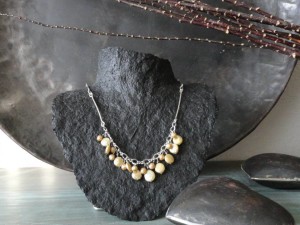 Here at PrairieWifeInHeels.com we are all about accessories…after all it's an easy way to accent any outfit and show your personality and individuality! The right necklace can elevate a simple gray shirt and jeans from casual, to date night ready. A pair of earrings given as a gift can help show a friend or family member how much you care and become a treasured possession.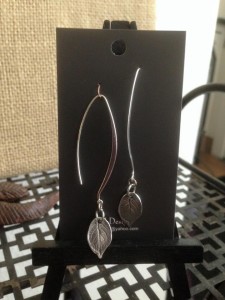 I was first introduced to Nancy Stroh's jewelry by my neighbor, close friend, and past Prairie Wife of the Week Artist Ginny Butcher. She described Nancy's work as "Full of life, like a painting done with loose and bold brushstrokes. Impressionistic, if that's possible with jewelry. Expressive too."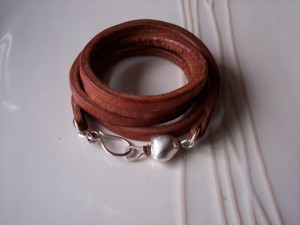 I stopped by Nancy's Facebook page (J Designs) and was immediate captivated by the streamlined designs that are both simple and intricate at the same time. They are truly works of art, and I found myself taking the time to really study her jewelry, finding something new the more I looked. I can see the influence of Wyoming in this local (she lives in Sheridan, Wyoming) artists work, and I appreciate her jewelry all the more because of the subtle western touches. Her leather bracelets are my personal favorite (hint hint Cowboy) and I see in them the perfect mixture of rocker and cowgirl that I love.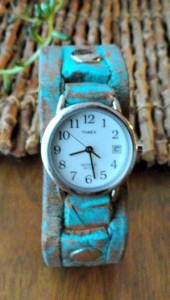 When asked to describe her work Nancy said, "My art is an eclectic mix of the old world and the new. I create my jewelry by using mixed metals and found objects. I incorporate high quality semi-precious stones, genuine USA turquoise, African trade beads, freshwater pearls, 14 and 18k Gold and vintage treasures such as Mexican silver. I use Sterling silver, fine silver, solid copper or brass in my designs. I follow my artist instincts and use the materials that call out to me to create one of a kind pieces of Wearable Art. I think that my jewelry is for the woman who is not afraid to show her individuality and creativity in all that she does."
To kick off our annual We Love Our Readers month of giveaways, Nancy has given one lucky reader the opportunity to win a pair of her custom earrings! These earrings are made of hammered 14k gold and hook in the back. They come with two sets of silver beads so you can mix and match to create your own unique look. All you have to do to enter is tell us what you love about Nancy's jewelry in the comments. You can earn more chances to win by following us on social media. Please be honest, we will be checking!
Categories: #GiveAways, Reviews
Tags: , custom jewelry, Giveaway, handcrafted jewelry, jewelry, Nancy Stohl, silver jewelry, western artists, western jewelry, women artists, wyoming artists