Prairie Wives vs. LA: Part One
Posted March 17, 2017 by Prairie Wife - 4 comments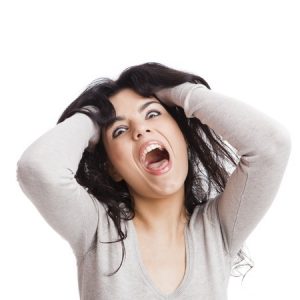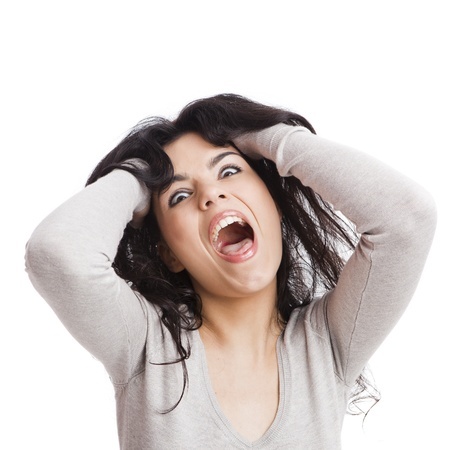 Let me set the stage for you…
Imagine a tired mother of two gazing out the window at a vast wind swept prairie. With only the snow and the quiet to keep her company she wonders when her husband will come back from his yearly Elk Hunt…will it be 5 days…will it be 7…or maybe 10.
She suddenly realizes that in 3 years of parenting, 5 years of marriage she has never gone off even overnight to do her favorite thing.
And the Prairie Wife Elk Hunt was invented.
Christmas 2015 The Cowboy gifted me a trip to LA including a meeting with one of our past Prairie Wives of the Week Kendra Richards who has become a friend over the last two years.
Alas, due to my preventive mastectomy the trip needed to postponed a year but, thankfully my friends were able to wait and we scheduled our trip for the first week in March. We figured we'd be over the Wyoming wind and winter and ready for some Palm Trees and sun.
The Prairie Wife crew consisted of TallGirlJ, College BFF and RedHeadK (another bestie from back in the college days) and little ol' me.
We set off on a typically snowy Spring day and halfway through our journey found out the roads ahead were closed. (LA:1pt)
Being resourceful women we took another route (added almost two hours to our journey) and skidded to a halt at RedHeadK's house, grabbed her, and headed toward Denver. (PW:1pt)
We shopped a bit and ate out, and had one of the worst waiters in the world. He simply could not complete more than one task at a time…or count.
We woke up before the crack of dawn and arrived with plenty of time to make our flight because we found out that it was delayed 3 hours. (LA:2pts)
I took the time to get some work done while the other girls found a place that served excellent Bloody Mary's. (PW:2pts)
We boarded the plane and other than some pretty bad turbulence (LA:3pts) which almost, but not quiet, made me vomit (PW:3pts) we landed safely in LA.
We had tickets to attend a taping of The Late Late Show with James Corden and because of the dress code (two pages of rules they sent to us in an email) and the lengthy traffic times in LA we were a bit nervous about making to our hotel and back in time for the show.
We decided to change in the bathroom at the rental car place.
I seriously wish we could have videoed it. We went in looking scrubby and worn and came out looking glam (PW:4pts). LA traffic almost caused some issues but thanks to GPS and remembering to "be kind" we emerged from the Hollywood parking garage with friendships in tact (PW:5pts) and starving.
We quickly grabbed hot dogs from a bustling and crazily overwhelming Farmers Market near the studio that weren't really that great (LA:4pts) and navigated our way to the CBS studios where we waited in line and counted numerous women not following the dress code.(PW:6pts)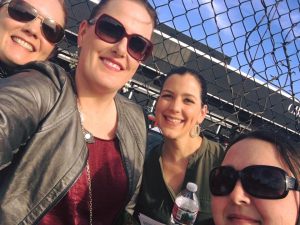 "She's wearing jeans!"
"Spaghetti straps, and tatas hanging out…that's not gonna fly."
We were shuffled through the waiting area and studio like cattle (complete with gates and holding area) but, being Wyoming women we picked up on what to do pretty quickly (PW:7pts). We were escorted to the stage area, which looks way smaller in person, and placed in the back row (LA:5pts) and the girls we were criticizing for ignoring the dress code rules sat at the bar located right next to the stage (LA:6pts).
Watching the show being taped was cool and I like James Corden but, the true credit for a well done show needs to go to the women and men running around like crazy backstage and the man who told us when to clap, how loud to clap, and when to dance and sit down. Overall it was a very cool experience! (PW:8pts)
After the show we sat down for a relaxing dinner at Mixology (PW:9pts) bought about 800lb of chocolate at Dylan's Candy Bar ( I feel like that is both a point for LA and PW) and then drove an hour to drive the 26ml to our hotel (everything in LA takes an hour or more to drive) (LA:7pts)
We fondly bid each other goodnight and hit the hay. CollegeBFF and RedHeadK had plans for Disney while TallGirlJ and I wanted to hike to the Hollywood Hills sign.
Upon waking CollegeBFF and RedHeadK noticed a distinct lack of water pressure and texted us a warning (LA:8pts). We ended up having to move to another floor. (LA:9pts) Our new rooms had wonderful water pressure, adjoining rooms and received a nice amount of hotel points to help compensate. (PW:10pts)
TallGirlJ and I rented a car (but alas no convertibles were available LA:10pts) and headed towards the HOLLYWOOD sign. Thanks again to GPS we made it to the hiking trail and decided we didn't need to bring a water bottle as it was just a 3.5 mile hike. We headed up to the trail and enjoyed beautiful weather, picturesque views and watching all the people that were hiking as well (PW:11pts). Along the trail we met up with two young men (who were the same age as kids I used to babysit) and they decided we looked like we knew what we were doing.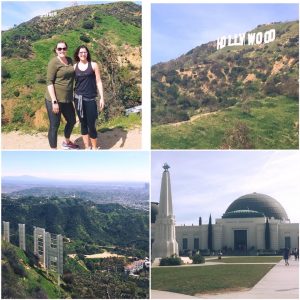 As we walked the trail we decided to go a bit higher and farther and eventually decided to hike all the way from the Hollywood sign to the observatory (PW:12pts). About halfway there we realized it was farther and hotter than we thought (LA:11pts) but, the allure of a nice cold drink encouraged us to charge forward (PW:13pts). The boys tagged along (regretting their decision more each minute I'm sure) and we finally arrived at the observatory (PW:14pts). And realized there was not a single soda machine to be found (LA:12pts). We got a few drinks of water and hiked back to our car with a bit less pep then when we started, for a grand total of a 10 mile hike (PW and LA both get points).
We stopped and got In and Out (sorry folks but I think it's overrated) for dinner.
After an hour and a half drive (30ml) back to the hotel (LA:14) we put our feet up, ate some more chocolate, watched TV and caught up with the other girls.
Our grand total for the trip so far is Prairie Wives 15pts LA 14pts…so far we're winning….
Do you think it'll stay that way?!
Stop back next week for part 2 of Prairie Wife vs. LA
Categories: Life As It Happens, Prairie Life
Tags: , Elk hunting, girls trip, hollywood, travling LA, vaction