Personal Trainer Food #giveaway
Posted June 5, 2017 by TallGirlJ - 4 comments
TallGirlJ here and, I am sure you all agree with me, that Prairie Wife is awesome.
She offers support, wisdom, and so much humor. Realistically, we don't have enough time to get into all of the reasons I love her, so I'll jump right to the point.
There are some major perks to having a BFF that has a blog.
I, unlike Prairie Wife, struggle with weight.
So, when she had the opportunity to try out a new diet in exchange for a review, she instantly asked if I wanted to try. I am always on the hunt for help with loosing weight (and sometimes let her talk me into crazy things like masks that pull your face off)  so of course I said YES!!
Enter Personal Trainer Food.
What is Personal Trainer Food (PTF)?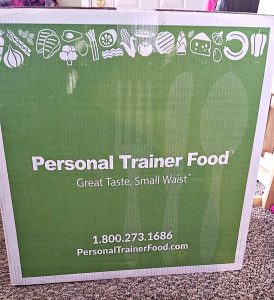 PTF is a service that delivers pre-made and packaged meals right to your door!
When you head to their site and pick the meal program you want (they have ones based on price, number of meals, and even one specifically for women) you can then choose exactly what meals you want delivered and have an opportunity to let them know any food allergies or preferences. For example…if it lives in water I don't want to eat it…
The meal plan I participated in was the 3 Meals a Day plan. This was Breakfast (an omelet or egg with a meat), Lunch (a protein and veggie), and Dinner (a protein and dinner). They also offered ideas for snacks (they have a plan that comes with snacks as well but I didn't choose that one).
I couldn't believe how quickly they got to work once I ordered. I had my food in less than 2 days!
My first emotion was excitement when I saw the HUGE box had arrived. My excitement was closely followed by a lot of nervousness!  I have tried several diet programs with premade food sent to your door, and some of them have had less than stellar food.
My meals came packed in a cooler with dry ice. Even after sitting outside for a few hours, everything was still perfectly packed and frozen. I was quite surprised at the amount of food that came (you'll need a fair amount of freezer space available), and the fact that it actually looked like it wouldn't taste like cardboard!
They sent me Teriyaki Chicken Breast, Meatballs, Breaded Chicken Patties, Fajita Chicken, Bacon & Cheese Chicken Sticks, Green Beans, Yellow Squash, Garden blend veggies, Cheddar Omelet with Maple Sausage, and oh sooooo much more. There were around 150 items to last me for the entire month.
As their website says "Having the right plan and sticking to it is the key to achieving your goals." Their plan is super simple to follow and they encourage you to fast before you start. They recommend a full 24 hours if you can but, encourage you to try at least 12 hours. They also recommend walking 2,000 steps a day and/or consistent light exercise when you participate in their program. They also offer support and encouragement through emails, a call in number, and their website.
I "only" fasted about 16 hours (from the time I got my food to the next morning) and I was super excited to get started.
I jumped right in and got started the next morning. Like I said before, its pretty cut and dry, and PTF definitely takes the confusion and stress out of trying to eat healthy. All I had to do was wake up and eat breakfast followed by lunch and dinner.
All the meals are pre made with the correct portion size, and heating them in the microwave never took more than five minutes.
I loved that it was so easy for me to prepare a filling and great tasting Breakfast. Breakfast is my weakness. I am often (ok am always) running late in the mornings. Which means my breakfast usually gets skipped. Being able to throw something in the microwave and eat a healthful meal AND get out the door in 2 mins is huge! The PTF breakfasts were tasty, filling, and I could easily get through my mornings with no snacks or grouchiness.
The food was seriously all great and I don't have a single complaint about any of the meals!
Now the answer to the question you're all dying to ask "Does it work?!"
I lost 8 pounds and 5 inches on this diet!
For the sake of full honesty, this could of easily been a greater number. But, my month ended up crazy with me getting sick, sick kids, and more and more life stuff getting in the way so my exercise really took a back seat.
I know excuses excuses right?! 
But, frankly, that makes that number even better to me. That 2lb a week I lost was all due to the PTF program!
As you know we promise to give honest reviews on PrairieWifeInHeels.com so, I do have to mention a few personal snags I ran into with the PTF program.
I live 45 minutes from the nearest "city" where I tend to spend at least 2 days a week running errands including grocery shopping, doctors appointments, play dates and all the other stuff that comes up for a busy mom of three. I couldn't take my PTF meals with me on these days because I didn't have a microwave to warm them up so, I either had to go hungry until I got home or try and eat something healthy of a fast food menu.
The other snag is I still had to feed my family. My husband and three kids seemed to think that I still needed to make them meals to eat… haha.
I bring up this point up because this is what I tend to find with almost every diet plan I have tried. Yes, the cost of the food and plan itself isn't that high when you figure the cost per day. But, it does add a bit to our monthly food budget when I am still buying food for the rest of my family to eat.
I am super grateful I got to experience the Personal Trainer Food program. Loosing 8 pounds and 5 inches in one month was a great jump start to my weight loss goal! Eating the well portioned meals full of variety (and flavor) reminded me that I could make the same healthy and simple meals for my whole family to enjoy. After all, the kids were begging to eat my PTF meals every time I sat down with them at the table lol!
Are you thinking about trying Personal Trainer Food to help you get started on your weight loss goals?
Personal Trainer Food has created a discount code just for our readers to use!
Simply head over to their website and type in PrairieWife150 for a one time discount of $150 off your 28 day food order!
 What do you think? Could Personal Trainer Food help you meet your weight loss goals?
Categories: Health and Wellness, Product Reviews, Reviews
Tags: , diet, discount code, exercise, Giveaway, health, healthy eating, meal plan, personal trainer food, product review, support, weight loss, weight loss program