I Am Over It…
Posted June 2, 2017 by Prairie Wife - 2 comments
We have exactly 2 3/4 days of school left and I am over it.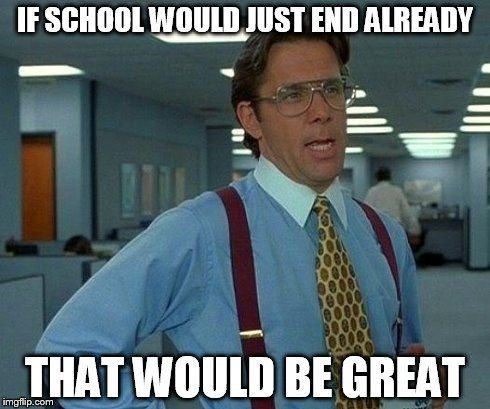 Every single end of year mom meme can 100% be applied to me this week.
My children have gone to school with pants two inches too short, with holes in the knees, and polo shirts that are decidedly more gray than white.
We have skidded into the drop off zone dangerously close to the tardy time more times in the last month than the entire school year combined. My children have received at least one tardy slip a week for the last three weeks.
I can't say I don't care because I do. I am wracked with mom guilt but, not enough to really try and do better…because I am over it.
We have finally had more than a week go by without snow, the sun is shining, the weather is beautiful and every single day Cowboy C asks me if we can go swimming at Edness.
It doesn't help that Cowboy J was out of school last Friday. Having him home makes me miss the other two Cowkids all the more and long for those Summer days of "sleeping in" and playing it by ear when and if we get dressed.
As an ex teacher I know that they too are over it. While I know they are probably frustrated over my mom slacking, I guarantee you they are looking forward to the last day of school just as much as I am!
I was feeling worse until two days ago I had three moms text me and ask some questions about the first grade field trip the next day.
Not only was it nice to know that I wasn't the only one that had no clue if it was a uniform holiday for them but, it felt kinda nice to learn they thought I had my sh!t together enough that I would know the answer!
Two and 3/4 days left….
Categories: Life As It Happens, Parenting
Tags: , end of school year, funny, Humour, parenting, school, summer, summer break, support, truth