A New Storage Solution for You
Posted October 10, 2016 by TallGirlJ -
There are some awesome perks to being a frequent contributor to this blog…and one of them is the chance to get to try new products. Last month Prairie Wife told me about Infinity Jars.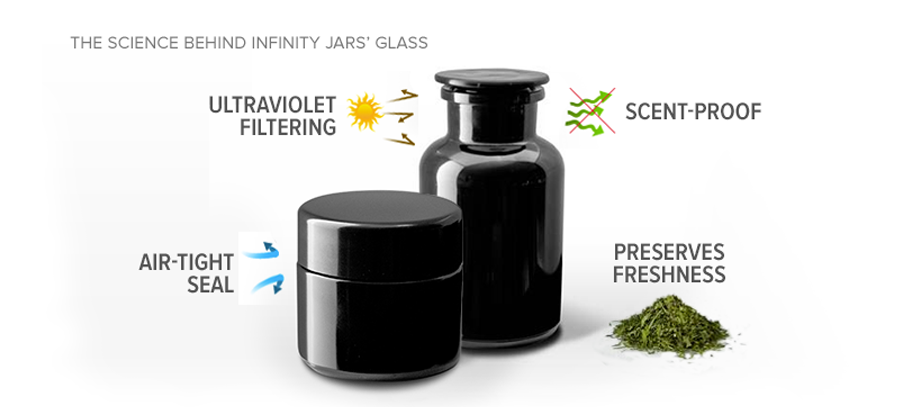 What are these Jars, and what makes so them special, and will they really offer a new storage solution for our readers?
These were my first thoughts.
When Prairie Wife asked me if I would like to give them a shot and write a review, I couldn't say NO…I was full of curiosity!
My first step was to head to the website and pick a few to try. Trying to decide from all the choices they had was tough!
I ended up going with a 2 Liter Apothecary Jar, 50 ML glass screw top jar, 50 ML glass push pump bottle, 30 ML cosmetic style jar, 500 ML square glass bottle with oil spout, 750 ML square glass bottle, and a 100 ML glass push pump bottle. A little perk I learned of when they arrived at my house, Infinity Jars come with handy stickers to label them and a special cleaning cloth! Bonus!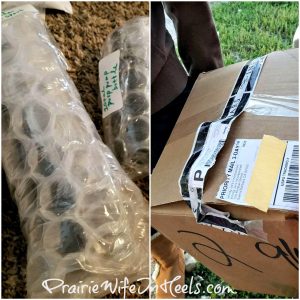 I have had a few "misses" with our rural mail and getting my packages of breakable things to my house in one piece doesn't always happen. I was concerned my glass Infinity Jars would come to me in less than great condition. When I saw the box, my nightmare became real! The package was noticeably damaged and had been taped up again because the original tape had been ripped off. To my surprise, when I opened the box, nothing, and I mean nothing was damaged! Infinity Jars obviously care about their product and took the time to secure each individual jar and lid. Awesome!
I filled the two oil jars with olive oil and vegetable oil. The spouts work amazing! The let the oil out in a smooth even manner and they were super easy to fill.  I also loved the sleek look they gave my counter compared to the plain old store bottles the oil was sold in.
I chose the Apothecary Jar because I though that I would make my weekly detox water in it and see how it compared to my regular plastic jug. Infinity Jars are made of ultra violet light filtering glass that they claim will lock in aroma, and naturally preserve and rejuvenate freshness…
I made my detox water as usual and I waited. I went about drinking the water daily (as normal), alternating between the two and waiting to see and taste a difference.
I didn't notice anything at FIRST. But, at the two week point there was a noticeable difference!
I never added more lemons or cucumbers, just fresh water. Let me tell you, my detox water in the apothecary Infinity Jar was noticeably different! The fruit and veggies didn't look any different than the other jar, but the flavor was defiantly more vibrant and tasty (not that it tastes great lol). I can't deny that the Infinity Jar kept the detox water fresh longer, I could for sure get an extra week out of it (win)! As someone who honestly expected this experiment to fail, it's insane how well it worked.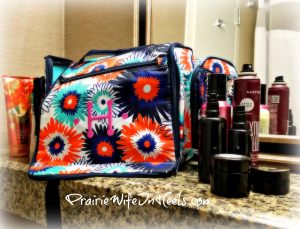 I picked the 4 smaller jars (2 cosmetic and 2 push top) to use in my travel gear, and lucky for me, Prairie Wife invited me along on one of her follow up appointments from her preventive mastectomy exchange surgery in August. I filled the two round screw top jars with face lotion and body lotion, they worked fabulous! The lotion was easy to access, the jars held a plentiful amount, yet took up minimal room in my bag. I used the two pump jars for shampoo and conditioner, there was no leaking and I had more room in my bag for makeup (another win). I will be honest the pump jars were a bit hard to fill, but with a funnel I got the job done.
Those of you that are essential oil fans (like Prairie Wife) will find these jars are right up your alley!
I can deny it readers, these Infinity Jars are defiantly something you need to look into as a new storage solution!
I will be looking at adding to my collection ASAP…and with this 20% off code from InfinityJars.com I'll be able to buy even more! Just type in PrairieWife (case sensitive) and receive 20% off your order!
What jars would you try, and what would you use them for?
Categories: Reviews
Tags: , coupon code, essential oil jars, glass jars, home organizing, home solutions, infinity jars, oil jars, organization, storage, storage solutions