What to Wear: Summer 2017
Posted July 28, 2017 by Prairie Wife -
Summer is halfway done but, chances are this warm weather is here to stay for another month or two!
I thought I'd share a bit of what I've been wearing this Summer…after all, we ALL need a little inspiration sometimes. Don't forget to tell me about your Summer must haves in the comments!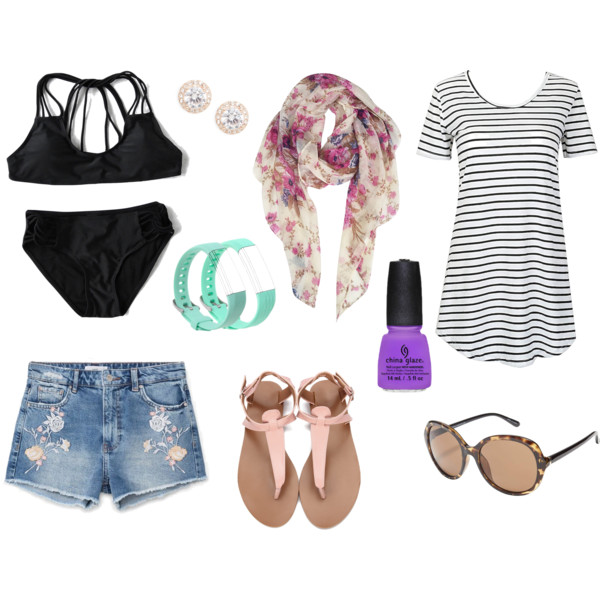 Strappy Swim Suit: I have a suit from Target that looks just like this and I love it. It's the perfect balance between coverage, support, and getting a good tan!
Diamond Stud Earrings: I love the simple look of these earrings. They can easily go from the pool to lunch out, and they add just a little bit of sparkle to any look.
Light Scarf: A light and bright scarf adds the perfect pop of color to an outfit. This one would be cute with a gray t shirt, skinny jeans and low heels! Another creative way to use a scarf is to tie it around your purse handle or use it as a belt.
T-Shirt Dress: Now that I am done nursing babies I'm loving being able to wear dresses. A T-shirt dress is versatile, and a must for everyone! You can dress it up with strappy sandals or heels and a bold necklace. Or wear it with a pair of cute sneakers or booties. I'm a big fan of solid colors for this look but, a thin stripe is also flattering !
Bright Bracelets: I wear my FitBit every day and all the colorful band options are an easy way to add a bit of bold color to my outfits. Cool colors like this mint are chic and fun!
Bold Purple Polish: Nothing makes me happier than a fresh coat of shiny polish on my toes. In the Summer I'm all about bold, bright, fun colors like this purple. It goes with any other color (trust me) and is feminine without being too young.
Embroidered Jean Shorts: If you follow us on Instagram you've seen my recent purchase of embroidered jean shorts. Mine have red and yellow flowers, and I just love them! I wear them with a plain white t-shirt but, the possibilities for mixing and matching are endless (they'd be darling with a white and black stripped top). Boho Chic without being too hippy, embroidered jeans are a trend that's here to stay.
Blush Sandals: I received a pair of blush sandals in my last Stitch Fix box and I wear them all the time! I have yet to find another color in my closet that doesn't go with blush.
Big Sunglasses: Big sunglasses are a must to pull together your Summer look. These Tortoiseshell sunglasses go with anything and everything and are classic and chic.
What are you wearing this Summer?!
Categories: Fashion, Prairie Wife Style
Tags: , 30 plus fashion, blush, embroidered shorts, Fashion, style, summer, summer 2017, summer clothes, summer style, swim suits, t shirt dress