Troublemaker: Surviving Hollywood and Scientology by Leah Remini
Posted March 8, 2017 by Prairie Wife - 2 comments
I'm not usually a big fan of biographies.
More often than not I read to escape reality, and too often the non fiction genre brings me more boredom and angst than joy.
That being said, I try every year to broaden my horizons and lately I've been realizing perhaps I was a bit judgmental of biographies. After all, it can't be a coincidence that ALL the biographies I've read have been pretty dang amazing…this one about DVF is still a particular favorite.
When I first heard about Scientology it was on an episode of Leah Remini's TLC reality show, It's All Relative. There were a few references to her leaving the church and my main thought was "Isn't that the crazy Tom Cruise church that believes in Aliens and silent birth?" Through watching the show, I fell in love with Leah's hard attitude and soft heart and though I never caught Kim of Queens while it was on TV, I became a loyal fan of Leah.
I then moved on with my life.
As I was perusing TV a few months ago I came across a commercial for a show on A&E called Leah Remini: Scientology and the Aftermath. As a fan of Leah I hit record, and after it had been on a few weeks began to watch the show with The Cowboy…and was immediately sucked in. While this is technically a review of Leah's book I have to take a second to talk about this show. Not only is it fascinating to learn more about this "religion" (I feel it's a cult) but watching this show has opened my mind to so many other things in life.
Most readers know I'm Catholic, and while I always felt proud of my religion, after watching this show I became even more so! Unlike Scientology where any questioning of the doctrine is met with punishment and interrogation sessions, last week I spent almost an hour pleasantly talking with our priest about questions I had after reading a book about Mary. When people leave our church we keep the doors open and a light on and celebrate their return. When you leave Scientology (if you can get past the solitary confinement, guards, and barbed wire fencing) anyone you love that is left behind is forced to disconnect from you…including parents and children…Trust me, you need to watch this show.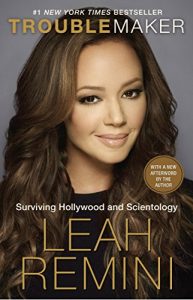 Once a month I indulge in paying full price for a book and I was NOT disappointed that I spent my money on Troublemaker. I knew that it would be about Scientology and honestly, that was one of the main reasons I wanted to purchase it. Trying to learn about the ins and outs of the religion without releasing personal information (allowing them to stalk you for life) is near impossible. I also wanted to know how a street wise girl from Brooklyn could get sucked into this "religion."
This book gave me more than I bargained for, and I was enthralled from the first page. Not only did it teach me more about Scientology and how truly crazy it is that the FBI hasn't become involved (does anyone know where Shelly Miscaviage has been for the last 10 years?!) but, I learned so much more about who Leah is as a person. The story of how she navigated through more than her fair share of hardship, poverty, rejection, and roadblocks to come out as a successful actress, director and producer is enthralling. Add to that the tangled web of decades of Scientology and I had no problem ignoring everything around me while I read this book!
I finished Troublemaker on the airplane to LA last week and I was weirdly excited when we actually drove past the Scientology Celebrity Center (BTW it's huge).
If you're looking for a fascinating read look no further…get this book…you won't be disappointed!
Leah…if you end up somehow reading this, I'd LOVE to interview you for the blog and share as much as I can about the devastation that Scientology is causing.
Categories: Book Reviews, Reviews
Tags: , actress, biography, Book Review, cult, hollywood, king of queens, Leah Remini, religion, Scientology, troublemaker, truth