Wyo Sal: It's a Great New Spot
Posted March 9, 2017 by Wyo Sal - 4 comments
Some might say that Casper already has plenty of places to eat. But Casper's newest, open now on the far east side (5900 E 2nd St.), checks several boxes and in a promising way.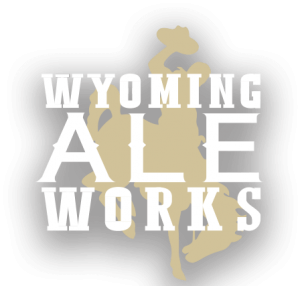 Wyoming Ale Works (WAW) is the latest from John Johnson's restaurant group, so it has proven local ownership. Johnson also owns the iconic Johnny J's diner (milk shake or banana split, anyone?), J's Pub (fun menu and great outdoor patio), the upscale Fire Rock and the successful chain, Old Chicago. WAW occupies the space in Johnson's now-shuttered Famous Dave's Barbecue.
WAW has beer — lots of beer, which Wyomingites like with a deep affection. There are 40 on tap, in pint and 20-ounce sizes. There is also a full bar.
Unlike some in the market, both established and new, it welcomes families and has a kids' menu, with pizza, Mac and cheese, pasta, and a PBJ in addition to a burger and the required nuggets.
And it has really great food — with a ton of choices — presented in an 8-page newspaper menu. Adorable and functional.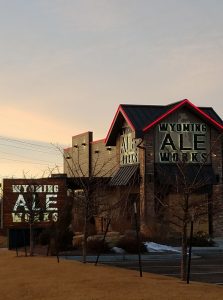 As guests at one of many practice service sessions, we were asked to choose one appetizer, two different entrees, and one dessert.
We went with Pimiento Cheeseburger Sliders for an appy and were brought two delicious, fully cooked sliders with a pickle slice as large as the bun and a smear of pimento cheese. One each was the perfect starter as we sipped our beers, and yes, we tried new ones. (Note the friend's delight however, that his beloved Rocky Mountain Banquet is on the menu).
I was indecisive about the entrée because I really wanted one of the five Stadium Dogs. And then I saw the Adult Grilled Cheese and wanted that. On the next visit, if it's for a meal, I will definitely choose one of those.
The friend went with fish and chips after our very capable server told us that they use salmon instead of white fish. I have never heard of that. The hefty salmon pieces were bathed in Fat Tire batter and served with root vegetable chips. The chips appeared to be over-fried, but that was the pigment of the vegetables coming through, and they were delicious.
The dessert was the absolute best thing about the evening. I mean, how can you go wrong with bread pudding made in-house of doughnuts, with maple, bacon and a peanut butter crème anglaise?
The menu is complete and extensive, with Neapolitan-style pizza, burgers, salads, sandwiches, entrees and house-made soup.
The plan is to be open seven days a week, beginning at 11 a.m. Happy Hour is daily 3:30 to 6 p.m. The great news is that they will serve food nearly as long as the bar is open, even on weekends, and as many know, that is a big deal for me. I just think you have to feed people if you are feeding them booze.
So we are excited for yet one more option. Cheers to the staff, to the concept, and to the reality!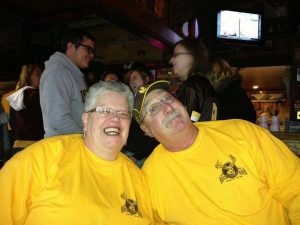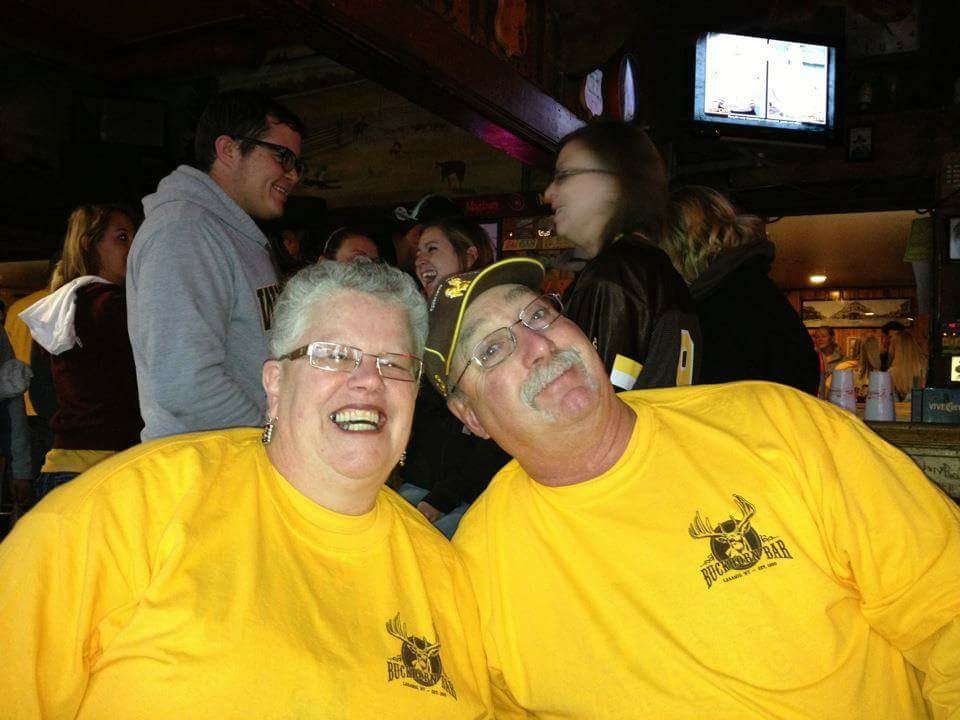 Wyo Sal is a Catholic mom and grandma and works full-time at a job that still usually overwhelms her. She loves football and food and books. She hopes to win the lottery some day.
Categories: This and That, Wyo Sal
Tags: , food, local food, new restaurant, restaurant, restaurant review, Wyo Sal, Wyoming Ale Works, wyoming food