Preventive Mastectomy: Fat Grafting Week 2
Posted December 6, 2016 by Prairie Wife - 2 comments
Note: I decided to include real pictures of my body during my preventive mastectomy in this post because I know that it will help to prepare other women as they begin this journey, as well as help educate family members and friends. I hope that you my readers, will be respectful of that choice, and if you are offended at the thought it's best for you to stop reading here.
This week I really have nothing astounding to report…other than saying that this surgery hasn't been nearly as hard to recover from as I thought! After laying low for the first four days I started to get back into the grove of taking care of the Cowkids and doing all my chores (except feeding horses). I did notice that when I did a bit too much I paid for it the next day with stabbing pain in my breasts. It was bad enough that I took some Ibuprofen at night so I could sleep more comfortably. The soreness in my leg muscles has started to ease and now I just feel a bit stiff and sore after I've been sitting and/or laying down for awhile.

I really thought the bruises would be hanging around forever…they were so bad the first week! But you can see from the pictures that they are actually fading very quickly on my legs. At my doctors advice I began taking Arnica and Bromelain supplements before the surgery and will continue to do so until the bruising is gone. I think that's made a huge difference. After I hit the one week mark I was told to begin to massage my thighs to help make sure there is no scar tissue build up from the liposuction. It's a bit tender and painful but worth it to make sure I don't have lumps and bumps and uneven spots on my thighs. I haven't seen any size difference in my thighs at all (if anything they are jigglier than before) but my Plastic Surgeon said I'd see no difference before 3 weeks post op and most likely not until 6 weeks. It's hard to be patient!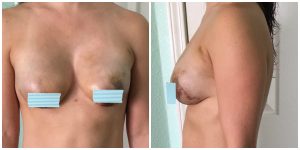 I still can't wear a bra or have anything press against my breasts. Not wearing a bra is less of a problem than I thought it would be. With all the Alloderm I have, these suckers hardly move a bit, and wearing a tank top under my shirts gives me all the coverage and modesty I need. As you can see by the pics the bruising is taking a bit longer to fade on my breasts, perhaps not being able to massage them has something to do with that? The swelling has gone down and I've noticed that the shape of my breasts are changing a bit. I can see they are going back to their slightly squarish shape and the divot in my chest while much less noticeable than before, is back again. There is still an obvious (to me) layer of fat over my breasts and they no longer ripple or have wrinkles when I move. I'm keeping my fingers crossed that it sticks because now that I've seen how they look with it…I can't help but like how much more natural they look!
Mentally and physically I'm doing great (perhaps being able to take THRIVE again has something to do with that)! I do miss snuggling with the Cowkids (nothing can push against my chest) and not being able to give The Cowboy a nice big hug when he comes home or snuggle him at night is getting a bit old. This week I was cleared to sleep on my side (but I'm a bit scared to because I don't want to mess anything up) and as of today I can begin to exercise. Because I can't wear a bra (a supportive exercise bra is a MUST when you have this surgery) I can't run or walk too vigorously (and it's -20 outside today so I probably wouldn't be out anyway) but, I am going to get back to Yoga! I wore jeans for the first time yesterday rather than compression running leggings and while it was OK, I still feel more comfortable in leggings. When I move around a lot they keep my tender thighs from jiggling and wiggling so it's easier to move at my normal fast pace! These Spanx leggings are my absolute fav, and the fake leather ones are going to be a wardrobe staple for me even when I don't need to wear them for comfort!
I'll probably wait a few weeks for the next preventive mastectomy update, unless something crazy happens, so don't worry! No new is good news this time around 😉
PS I just wanted to say again that even with how hard this journey has been physically and emotionally it has 150% been worth it for me. It was the right choice for my family and I.
Click here to see: The Final Results
Categories: Fat Grafting Surgery, Preventive Mastectomy
Tags: , breast cancer, breast reconstruction, fat grafting, preventive mastectomy, support, surgery recovery, week 2