It's Going to be a Very "Merry" Christmas…?
Posted December 7, 2016 by Prairie Wife - 2 comments
If you follow us on Facebook you may have seen this post that I put up earlier this week…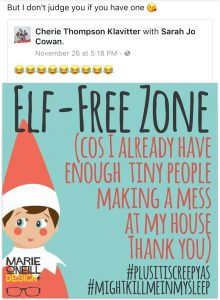 I don't judge those of you that have an Elf on a Shelf…I get the appeal! The kids love them, it's an awesome tool to help keep your kids in check, and it's a fun tradition for many families.
Heck, we even had an elf on the shelf when I was growing up…waaaay before it was cool and there was a book. I remember looking up at her sitting on the crown molding watching me…I don't really recall it keeping me from being naughty but, it was fun to imagine her as a real and I made stories up about what she did at night while we slept. She always stayed in the same spot which made life super easy for Ma and Pa.
I, like many of you, have spent/wasted hours looking at pictures of naughty elves and laughed my butt off. All the while being thankful that we don't participate in this particular tradition.
Let's get real…I have a ton of kids and I can barely remover to brush their hair every day (and if we're being honest teeth too). There is no way I have the mental capability to keep track of moving an elf each night AND making it do funny things.
Somehow I've avoided this little bit of Christmas joy and even held strong the last three years as the Cowkids began to ask "Where is our elf on a shelf?" My answers were many and varied from a simple "I don't know." to convoluted stories about how not every family needs an elf or the declining birth rate of elves resulting in lower population numbers…
But then, on St. Nicholas day this happened.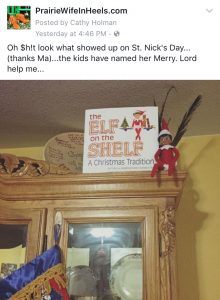 SO now we have an Elf on the Shelf and the pressure is on.
As one clever reader pointed out my elf COULD simply stay in the same spot. And I agree…if all the other super cool holiday loving moms of my children's friends hadn't already upped their game and been doing cute elf stuff for years. After the screams of joy upon seeing the Elf quieted the Cowkids began to excitedly talk about if Merry was "naughty" or "nice" and where she would be found.
I broke into a bit of a cold sweat when I saw the gift that St. Nicholas (aka Ma) left for us but I took a deep breath and immediately came up with a genius (if I say so myself) plan.
You see we lost Cowboy J last year on the whole Santa thing. I have to admit it was actually two years ago but, he let slip to his dad that he pretended because he knew it meant so much to me to have him believe. Sweet kid right? When The Cowboy shared this news with me I shed a few "my baby is growing up tears" but embraced it as a chance to allow him to help participate in the fun and encourage the other Cowkids to believe.
After my blood pressure dropped it occurred to me that Cowboy J could help with our Merry Elf on a Shelf (hah so many puns with that name). He wakes up 30 minutes before the other Cowkids for school and it's now his job to be the first to find Merry and if she's in the same spot as the day before he gets to move her.
I'm patting myself on the back right now as I type this…genius right?!
Of course the first thing he asked was "Can I use knives when I pose her?" which caused some concern but when The Cowboy learned of our new edition (he is out of town working all week) his first comment was "I'm totally going to pose her with the steak knives!" Apparently that apple didn't fall far from the tree (insert eye roll emoji here) and really it just encouraged me to get my butt in gear and remember to move Merry each night.
I don't plan to fill up the blog with the Merry adventures of our Elf on a Shelf (hah more puns) but I will be posting about her on our Instagram account with #MerrytheElf. Take a second to follow and see if Merry turns out to be "naughty" or "nice".
What do you think about Elf on a Shelf? Love it or hate it?!
Categories: Life As It Happens
Tags: , elf, elf on a shelf, funny, happy holidays, holiday traditions, Merry, Merry Chiristmas, merry christmas, merry the elf, motherhood, parenting