Prairie Wife's British Holiday: What I'm Packing For London and the Countryside
Posted May 25, 2022 by Prairie Wife -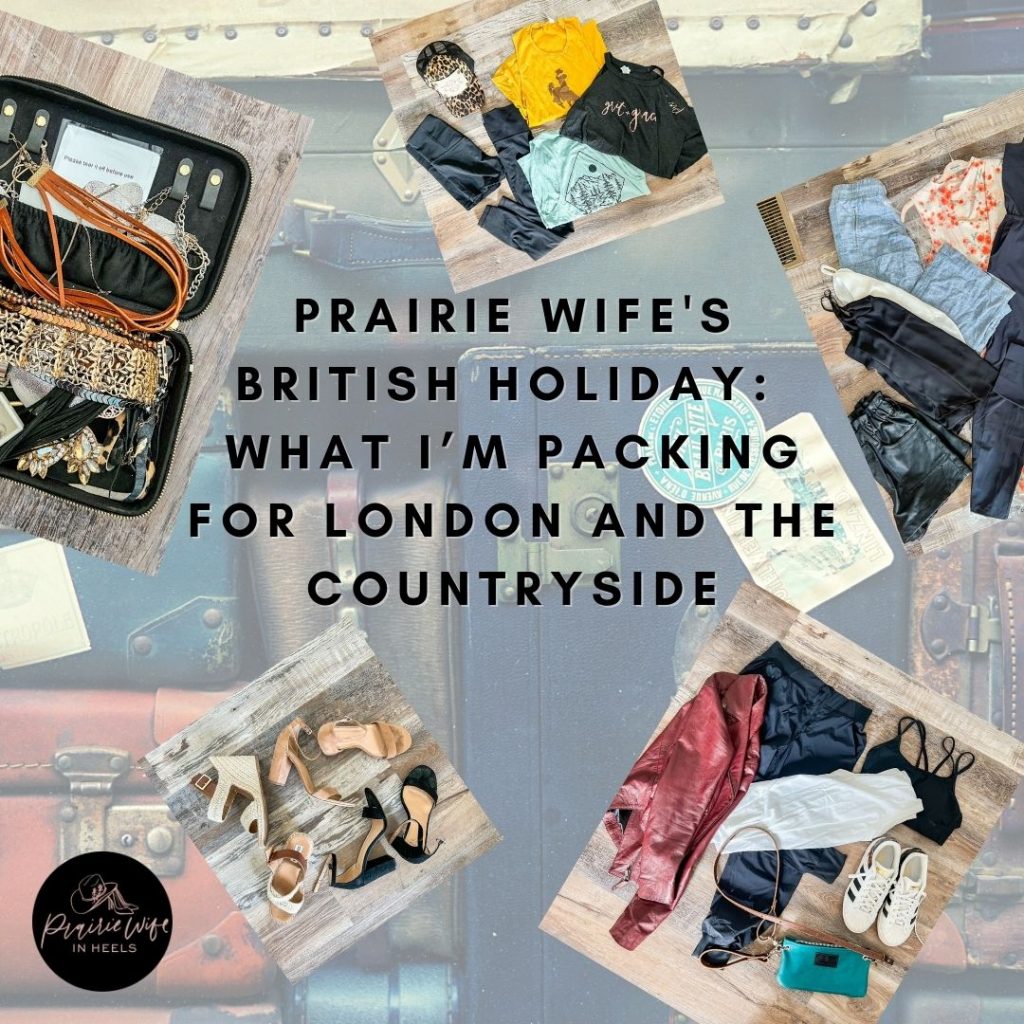 Deciding what I should be packing for London and the Countryside has been a HUGE source of stress for me!
And I admit that I did about 3 versions before I settled on what I'm sharing with you, and I reserve the right to change it all right up until the last minute 😉
You can take a look at my itinerary for my British Holiday here, but if you don't feel up to it I can tell you that we have a mixture of walking around casual days, and a few events that call for fancier looks. I will also be spending a fair bit of time hiking followed by hours of watching, TV, reading, or simply enjoying the feeling of having nowhere to be…
Below is a look at what I have packed for my trip. Please excuse the wrinkles, I don't fold clothes and never iron lol…thankfully all the places I'm staying have a dryer so I can do my trick of throwing a damp washcloth in with the wrinkly clothes to get them looking decent.
I thought that packing for London and the Countryside with a lot of items that can mix or match to dress up or down my looks would be smart, so you'll see lots of items that can work in a variety of ways.
Let's start with what I'm wearing to the airport.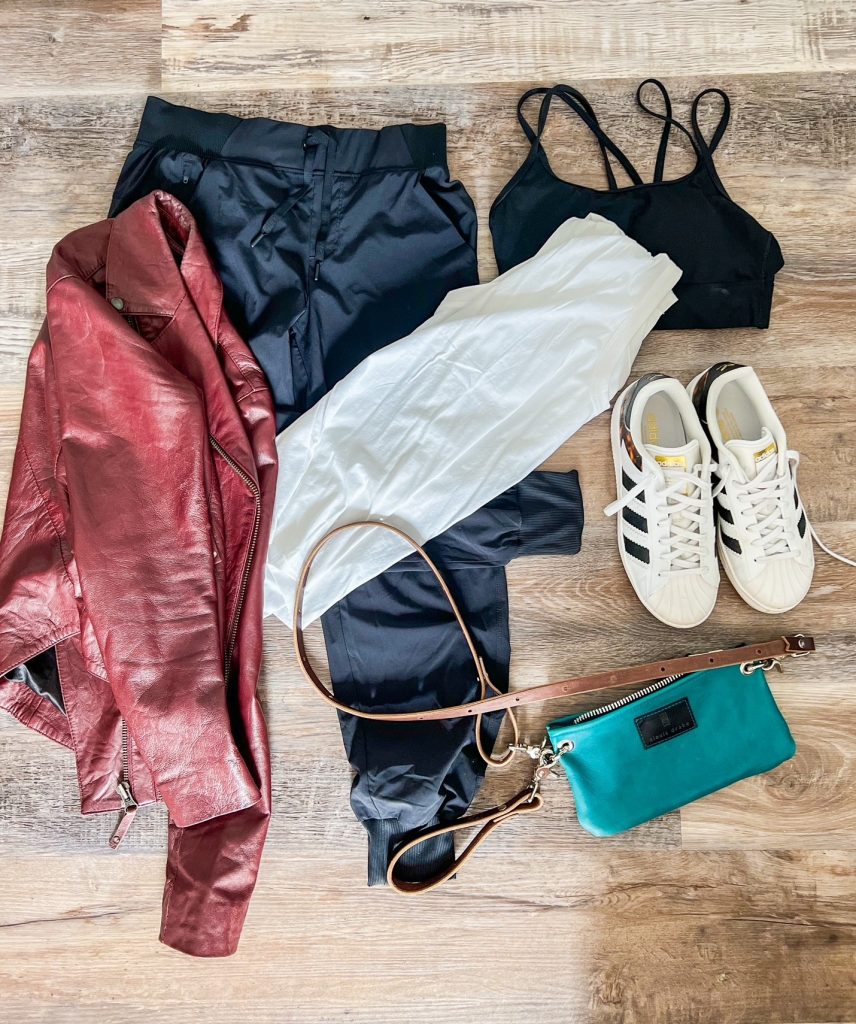 I like to wear loose black pants when I'm traveling, and I always wear layers so I can cover up if I'm cold or take off my coat if I'm warm. This bag is from Alexis Drake and is a clutch, crossbody, or belt bag all in one.
Next up are my fancy shoes. These are the shoes that I will use for dressier events (like Shakespeare at The Globe and the Races) or can wear to look a bit chicer when I go out for dinner.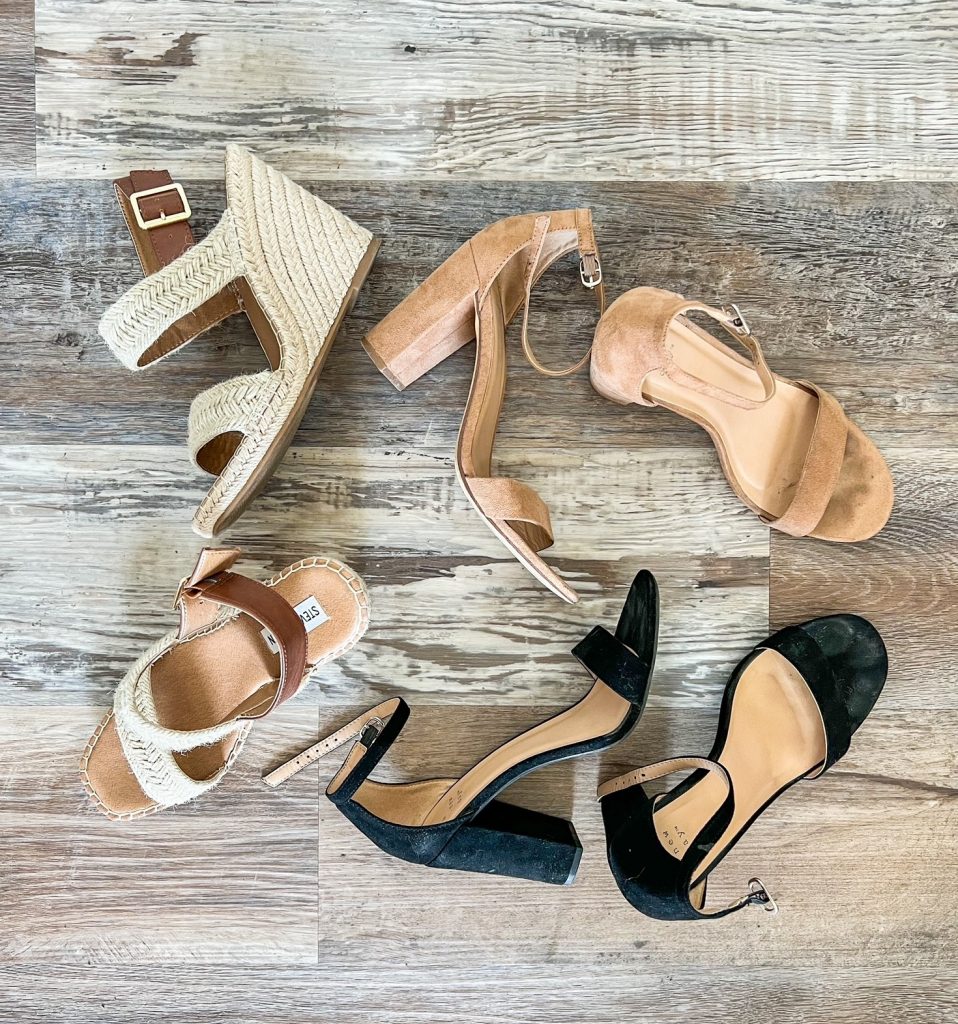 Then I have my casual shoes, shoes for walking miles and miles or hiking the hills. As well as sandals to throw on for a quick walk for coffee in the morning or to the store for some supplies.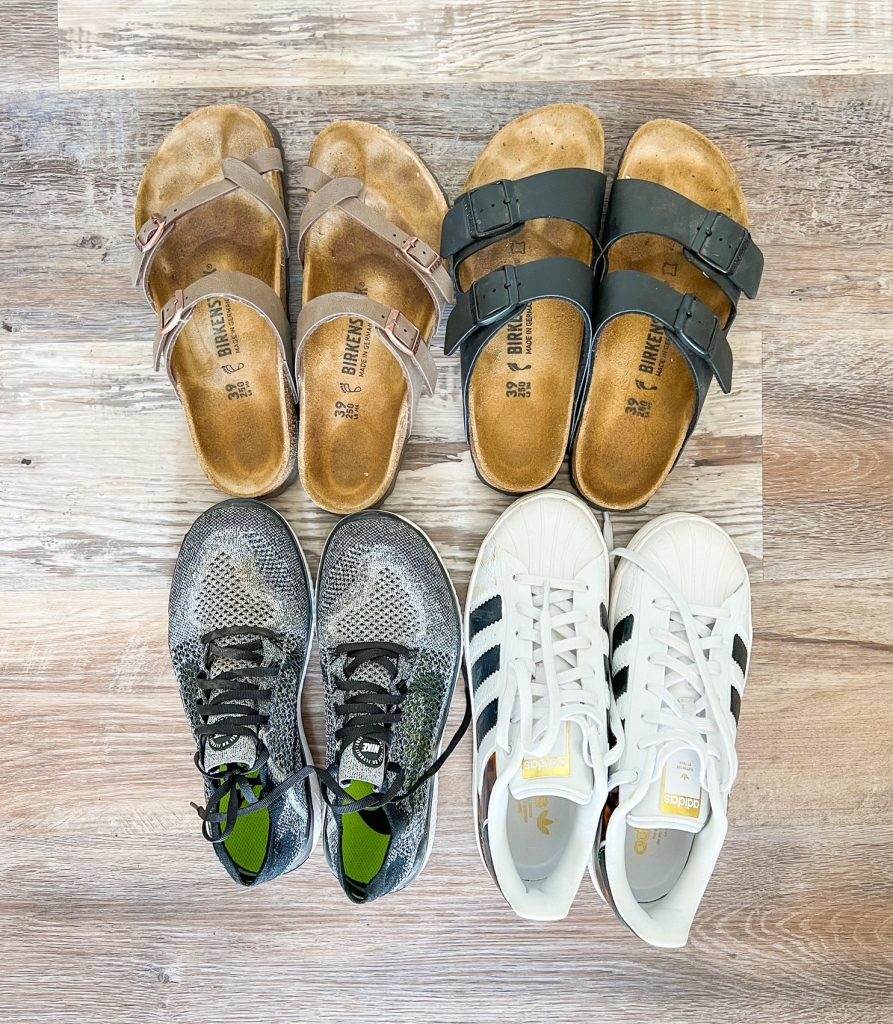 I know that they recommend cute flowy dresses for walking around London and the small towns, but that's not my vibe. So instead I packed cute shorts that can be worn with solid color tanks and t-shirts or my fun logo tops from Wyoming Vibes that I just HAD to pack.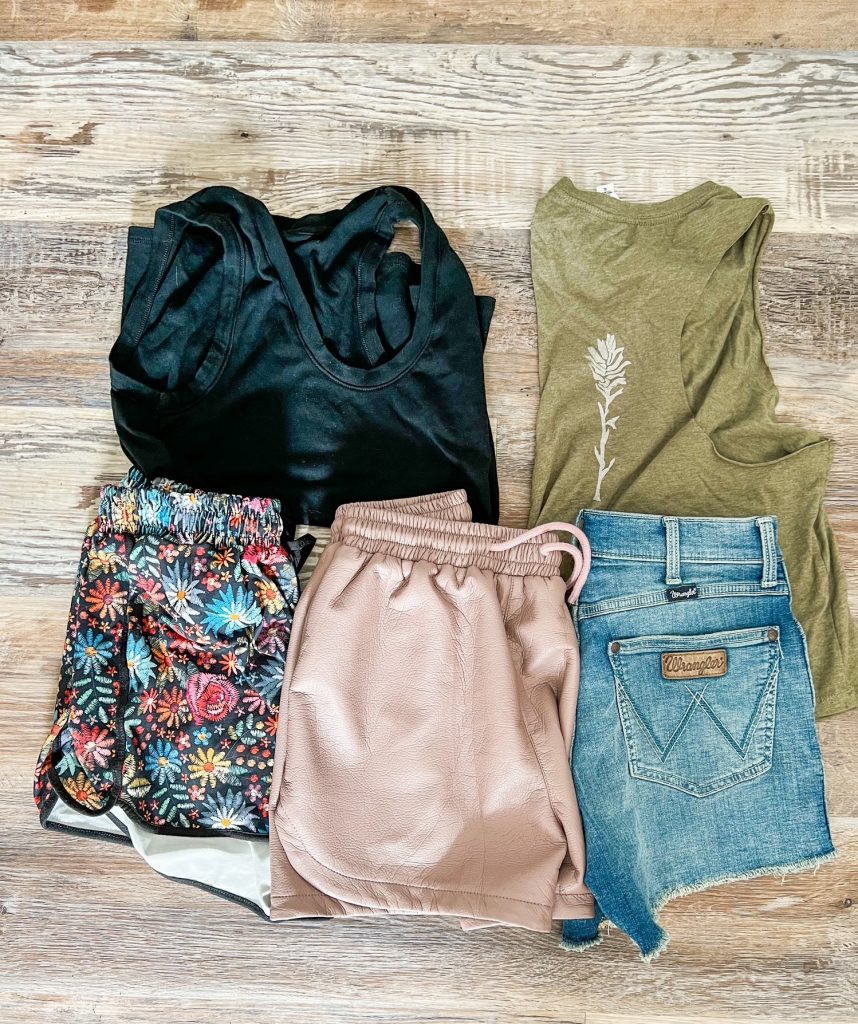 Here are my clothes for hiking (notice I kept them really comfortable and casual)…I had to take a Pure Dixie baseball hat, I know they don't often wear them in England but it's a must-have for me!
Then I have my "fancy clothes" including my dress for the races. I packed a pair of fun vegan leather shorts from the Shade Tree in case we decide to head to the pub. I decided to skip my flares, and instead added a  loosely cut pair of linen/jean trousers that are cute with my platform heels and a silky tank or will work with sandals for a casual look.
I, of course, am packing some layers (I have no idea what the weather will be like) and besides my leather jacket, I have a cardigan, a kimono, and a waterproof coat from Gear Up.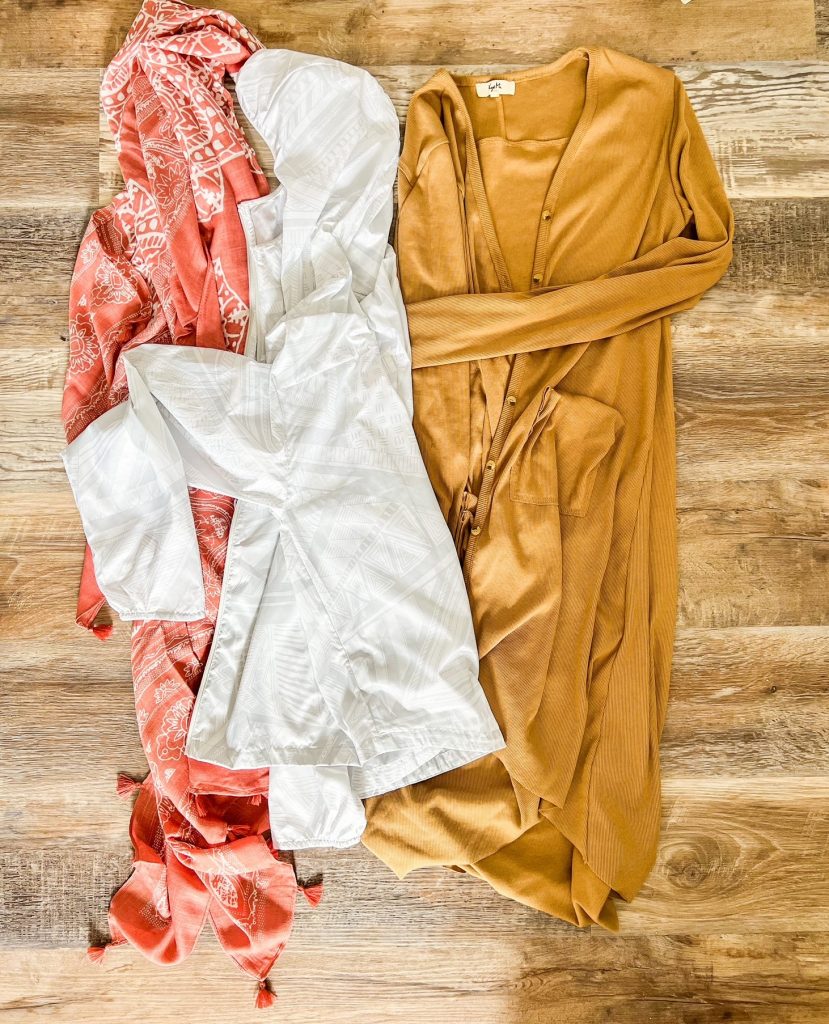 Last but not least I have a swimsuit and cozy lounging clothes.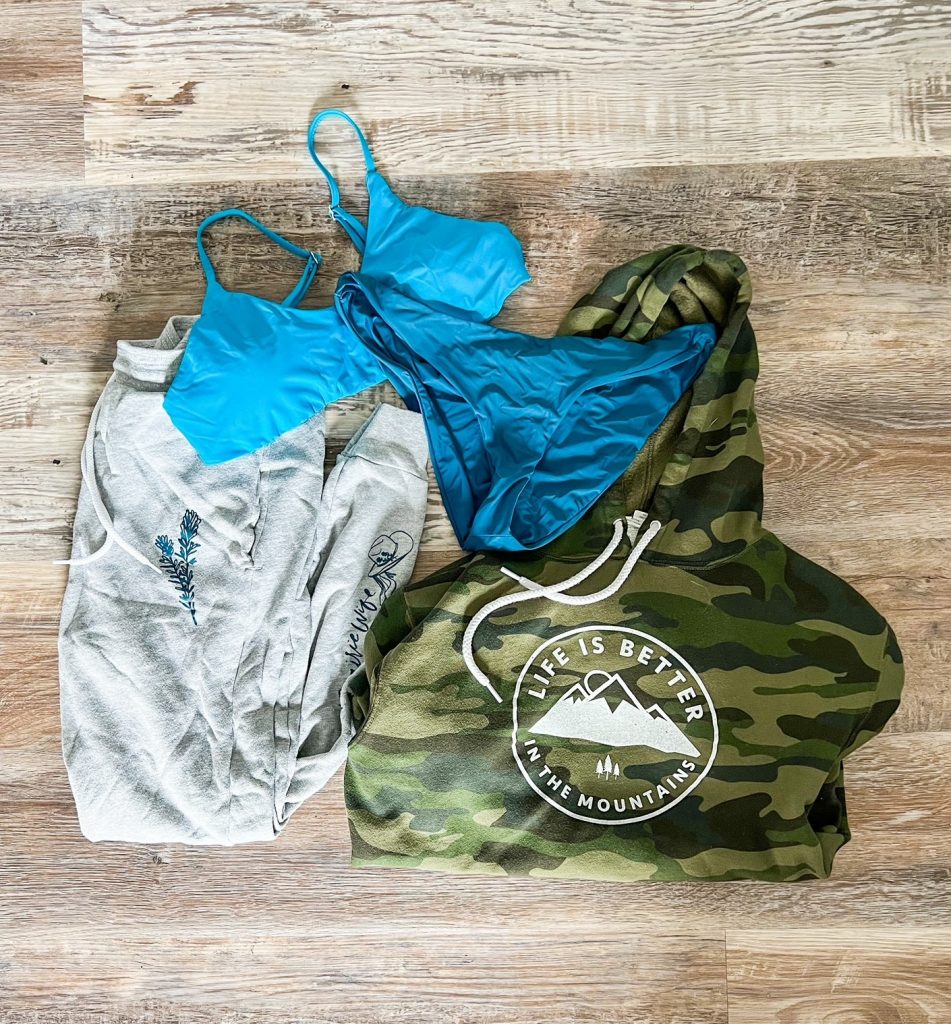 Adding jewelry to a look is another great way to dress it up, so I'm definitely bringing a lot of my favorite pieces so I can add a pair of fabulous earrings or rings to my look to take it to the next level. YES, there ARE tons of items from Pure Impressions Design…what can I say lol I'm obsessed!
As far as beauty products, I packed all of my favorites, and I also have a curling iron and flat iron. I packed an oversized weekender bag in my suitcase for the few overnight trips I have planned, and to provide extra room if I have too many souvenirs to put in my suitcase.
If you have any questions about an item let me know in the comments so I can share a link to the product for you!
EDIT TO ADD: Upon the advice of lots of helpful readers I have taken out the chunky platforms, a few pairs of shorts and tanks, as well as some of the jewelry. I've added in a dressy pair of jeans and a blouse so I have a few more choices to create dressier looks if I want!
Stay tuned for a list of all the practical must-haves for traveling out of the country.
Is there something you think I forgot to pack for London or the Countryside?
Share your thoughts in the comments!
Categories: Fashion, Prairie Wife Style
Tags: , British holiday, english countryside, how to pack for a vaction, London, what to pack, what to wear in England