Prairie Wife's British Holiday: The First Week (London, Oxford, Bath, Epsom Downs)
Posted June 7, 2022 by Prairie Wife - 1 comment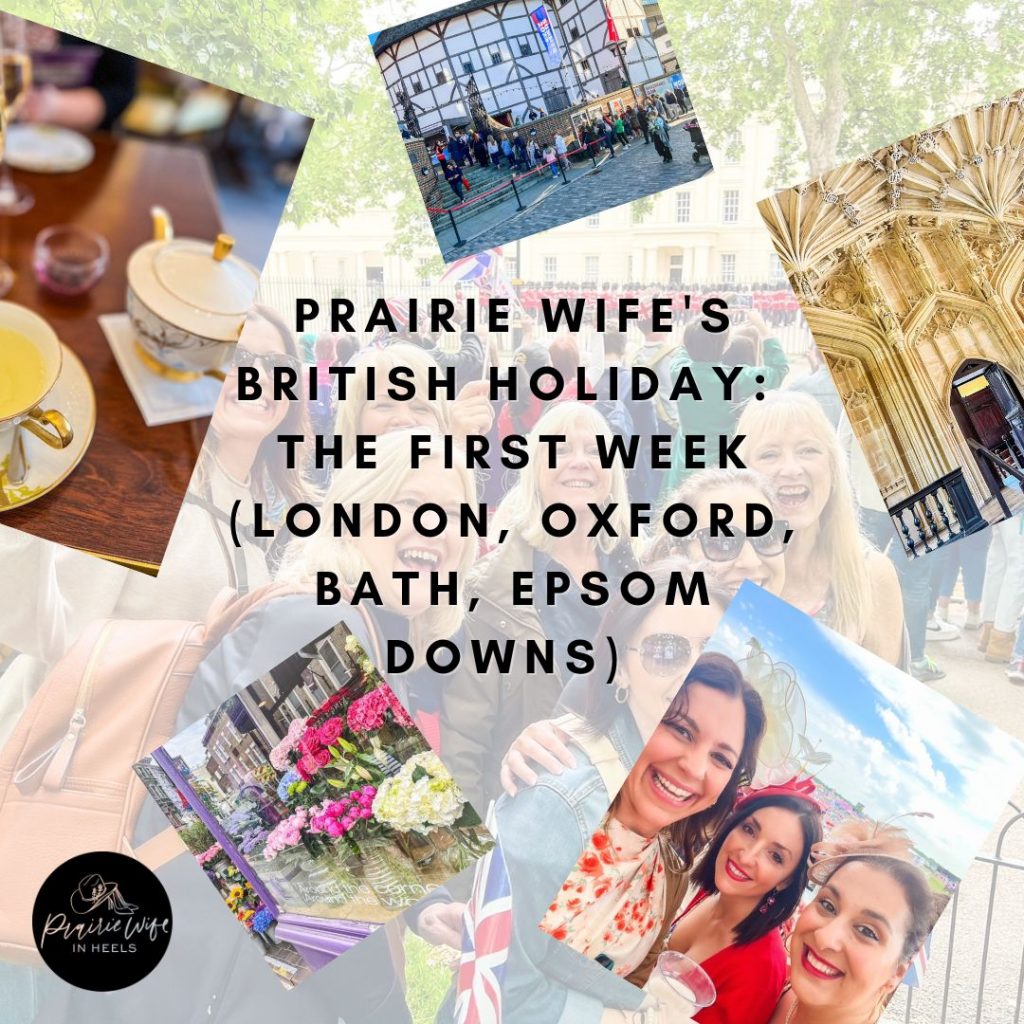 The first week of my British Holiday was jam-packed, we went to London, Oxford, Bath, and Epsom Downs.
I feel like we squished two weeks of fun into our 7 days.
The first week of the trip was spent with two of my High School besties. We travel together almost yearly, but usually only for long weekends. This was our first trip overseas together, and oh my gosh…it was absolutely amazing!
We have all been to London before and we were going to be in London for the Queen's Jubilee so both of those facts resulted in lots of fun experiences that were new for all of us.
Take a look at our first week, and if you have any questions about where we went or our experiences you can let me know in the comments.
You can also take a deeper dive (including videos of all our adventures) on Facebook or Instagram.
For the first few days, it was just me and one of my besties from High School, Zari. We had plans to take it fairly easy and just explore London. Which worked out great because my luggage ended up getting lost (and took three days to get back to me). Our Airbnb was in Chelsea and the location allowed us to walk to a local place for coffee daily, and the walk was gorgeous we couldn't get enough of the architecture.
One of my favorite things about big cities is all the flower shops on the street.
Zari and I headed to Covent Garden for some shopping, because I needed something besides the joggers I wore on the plane and the leggings and a t-shirt I had packed in my carry-on. We had reservations to have high tea at The Mandarin Oriental and I wanted to look nice!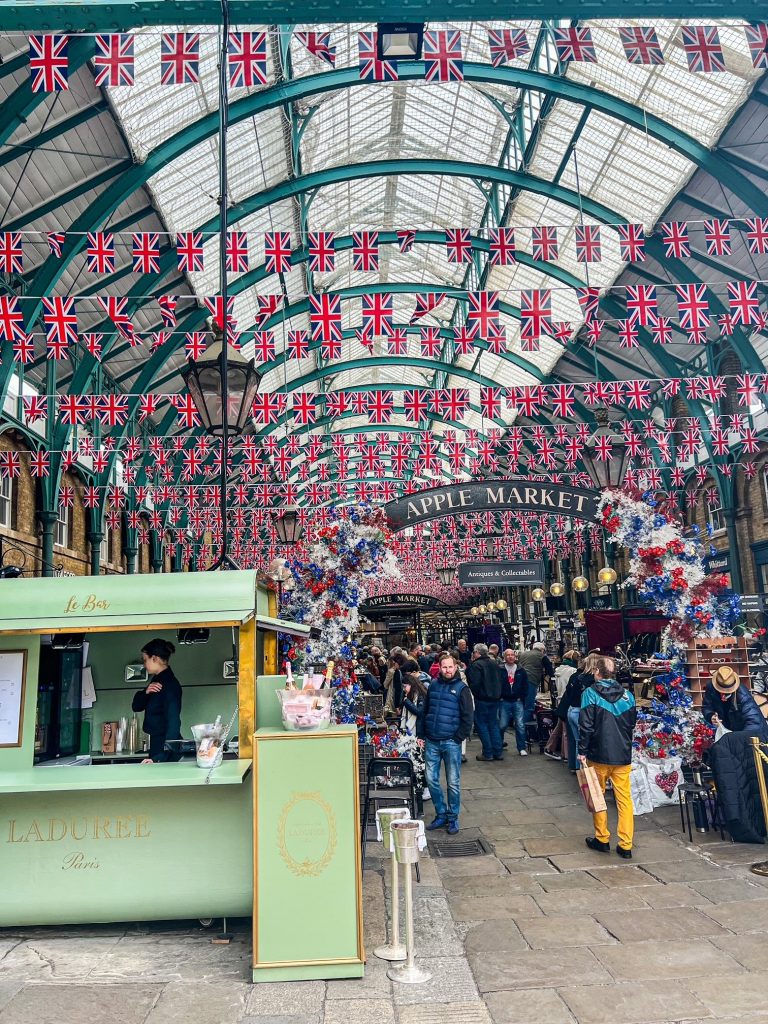 We settled on a soft yet chic pair of navy blue pants, pink suede chunky heels, and a white oxford. I had no idea when my luggage would come and I knew the pants could be worn with sneakers and the one t-shirt I had for walking around town. And the top would be fine with my black joggers.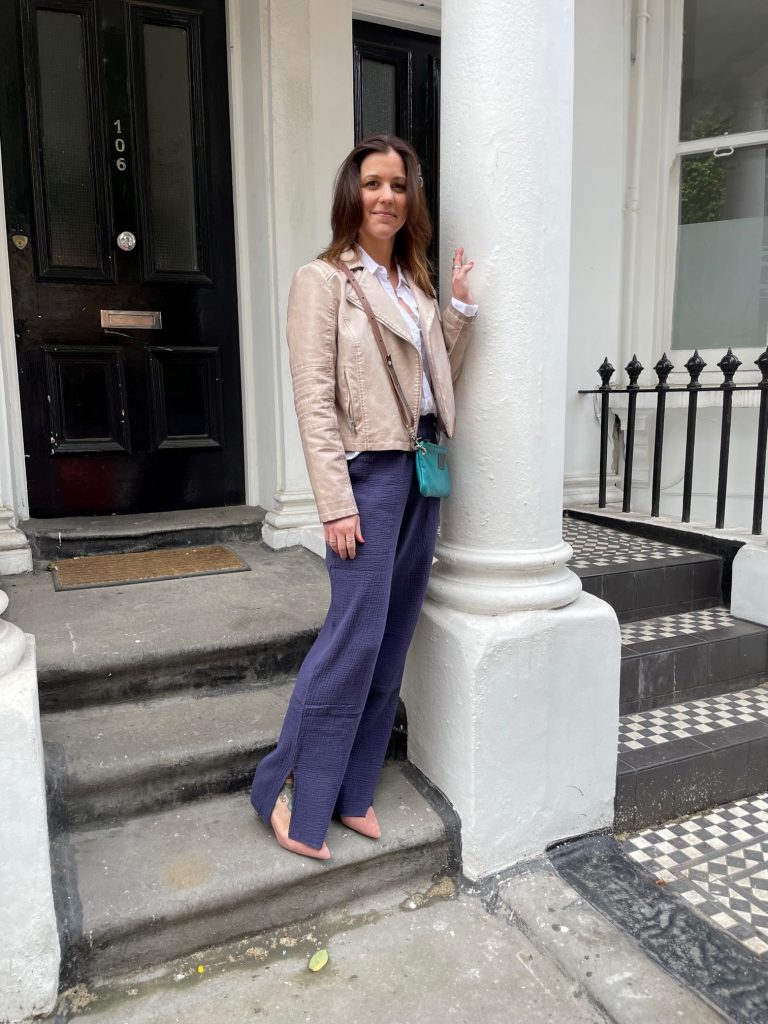 Speaking of Tea at the Mandarin Oriental…Oh my goodness was it an experience!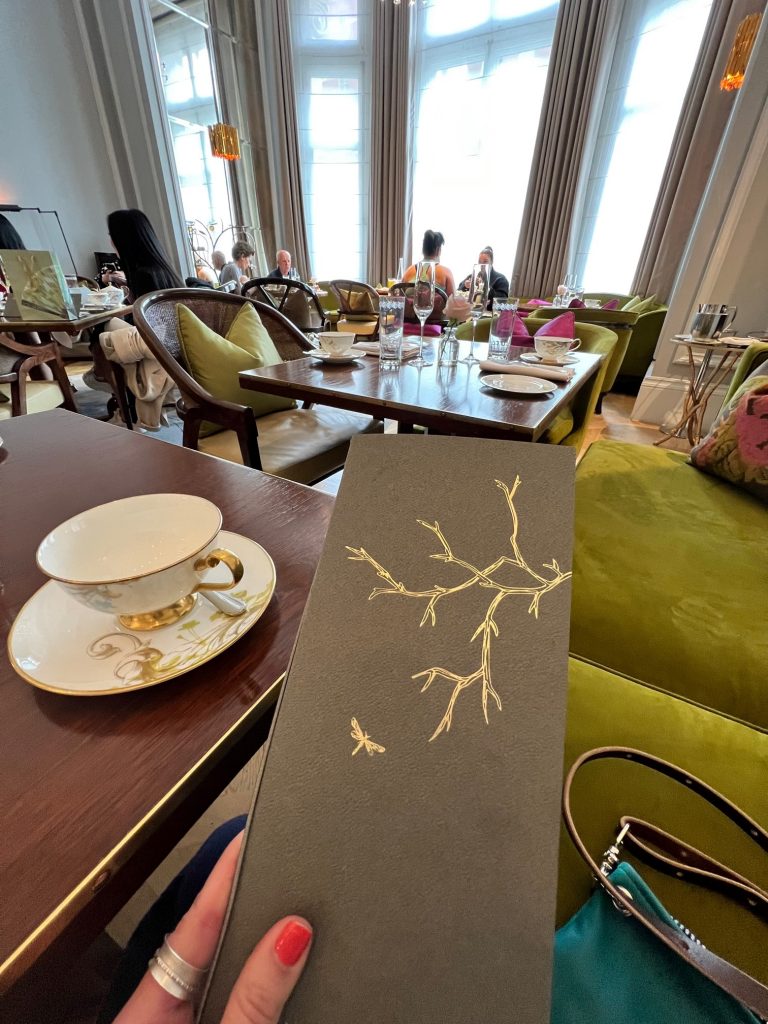 We began with Champagne and a choice of tea from a list of 30. The purple tea is a special cup of the Queen's favorite and is purple in celebration of the Jubilee.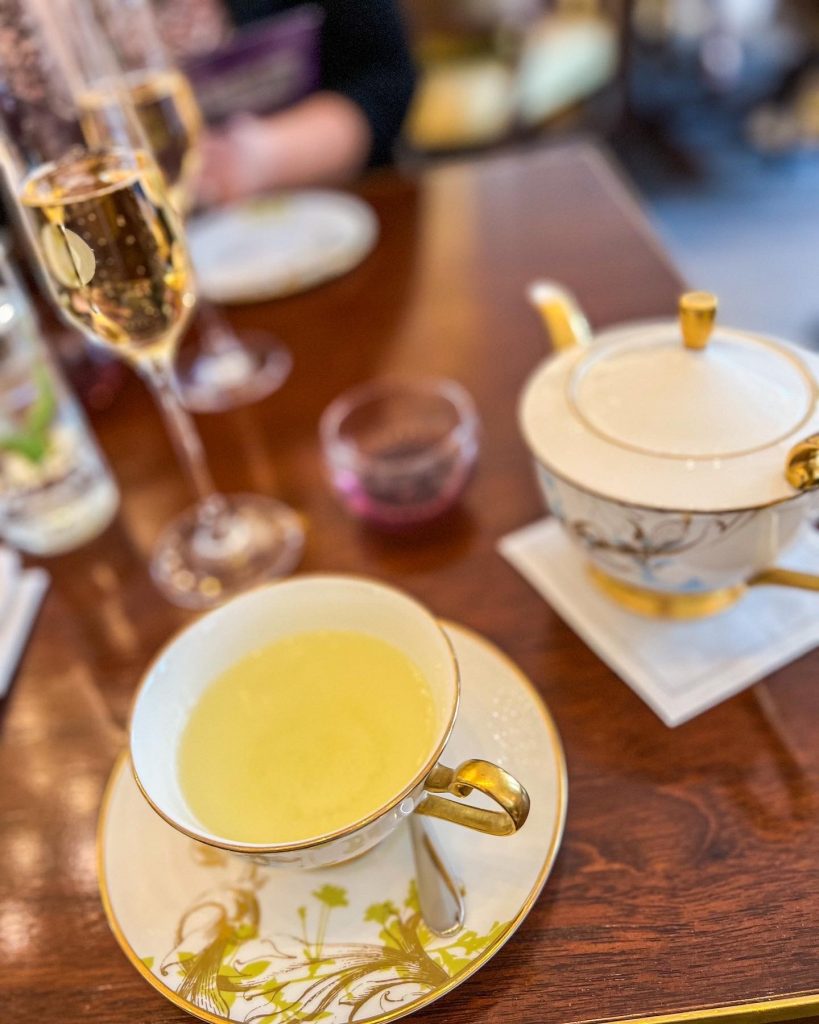 First was a selection of tea sandwiches. The Coronation Chicken and Egg Salad were my favorites!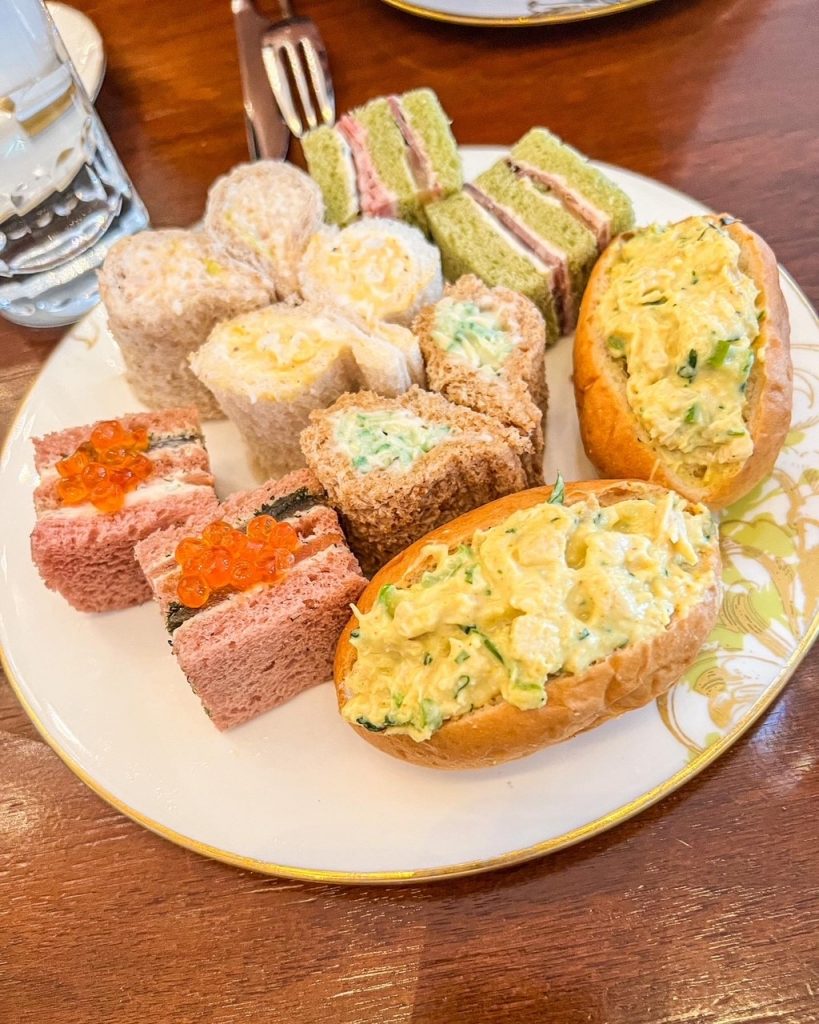 Then it was time for Scones with clotted cream and jam…yum.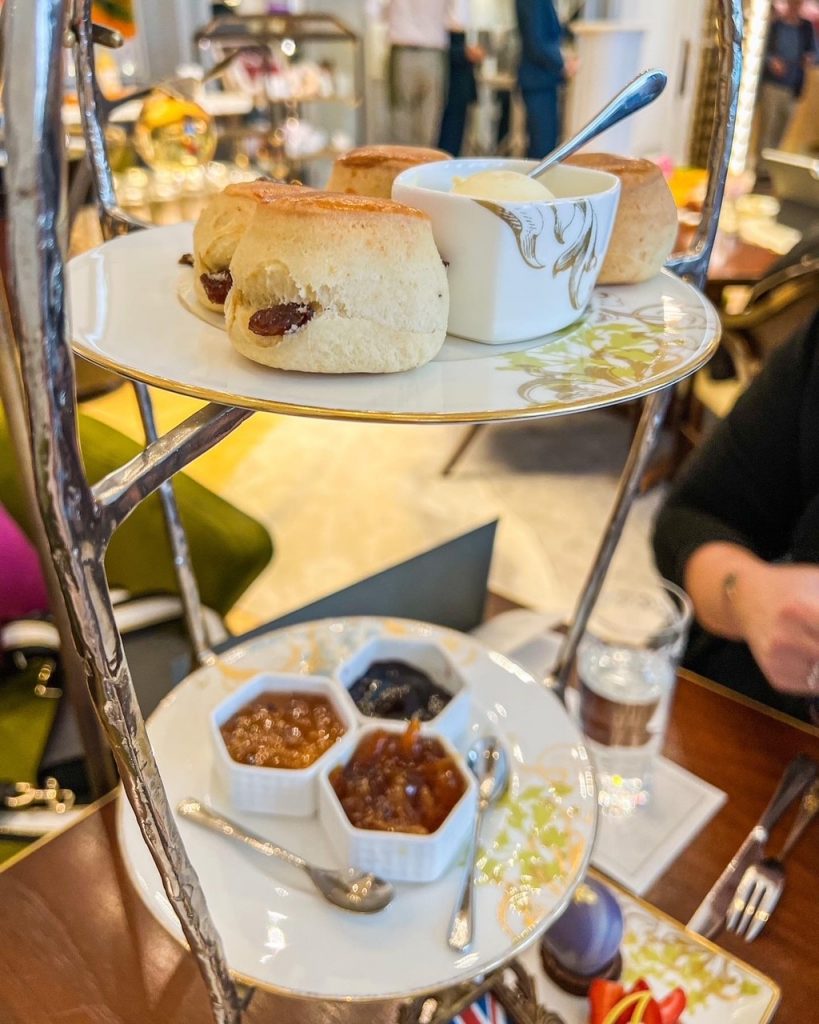 We finished with dessert. I used to wonder why everything was so small with the teas, but now I understand. It's so you can try everything!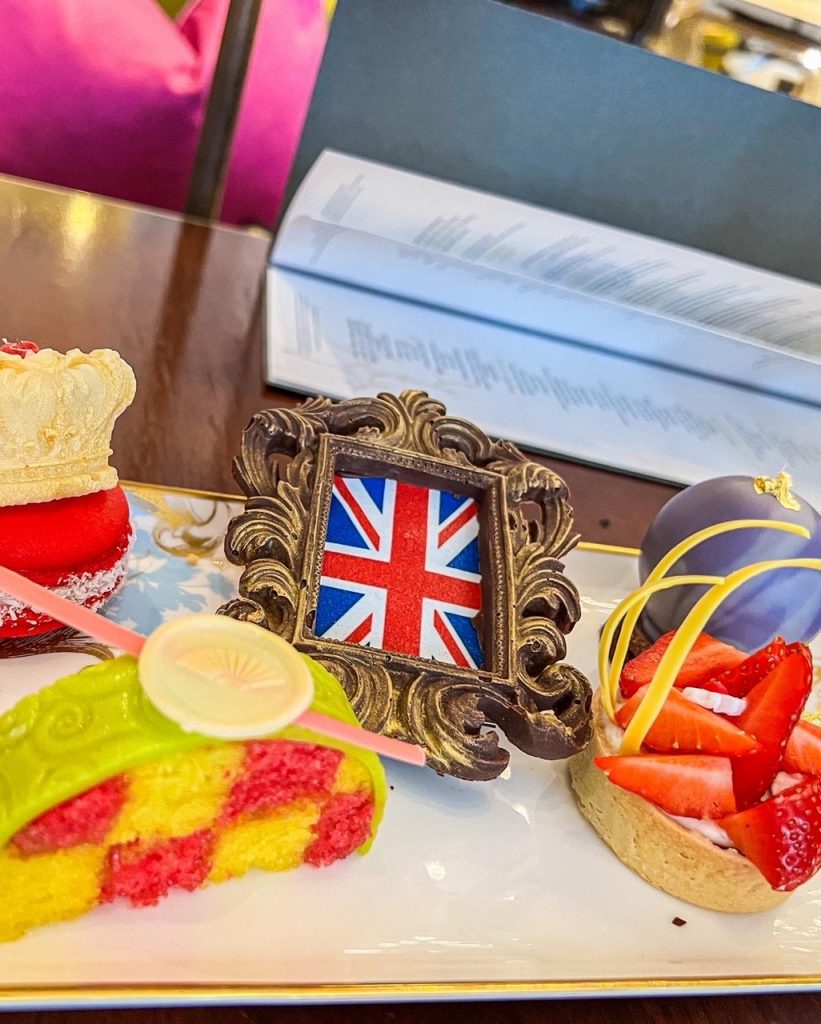 We had planned to walk in Hyde Park but the rain forced us to go to Harrods where we walked around and looked at all the LUXURY clothing brands…but definitely, no purchases were made!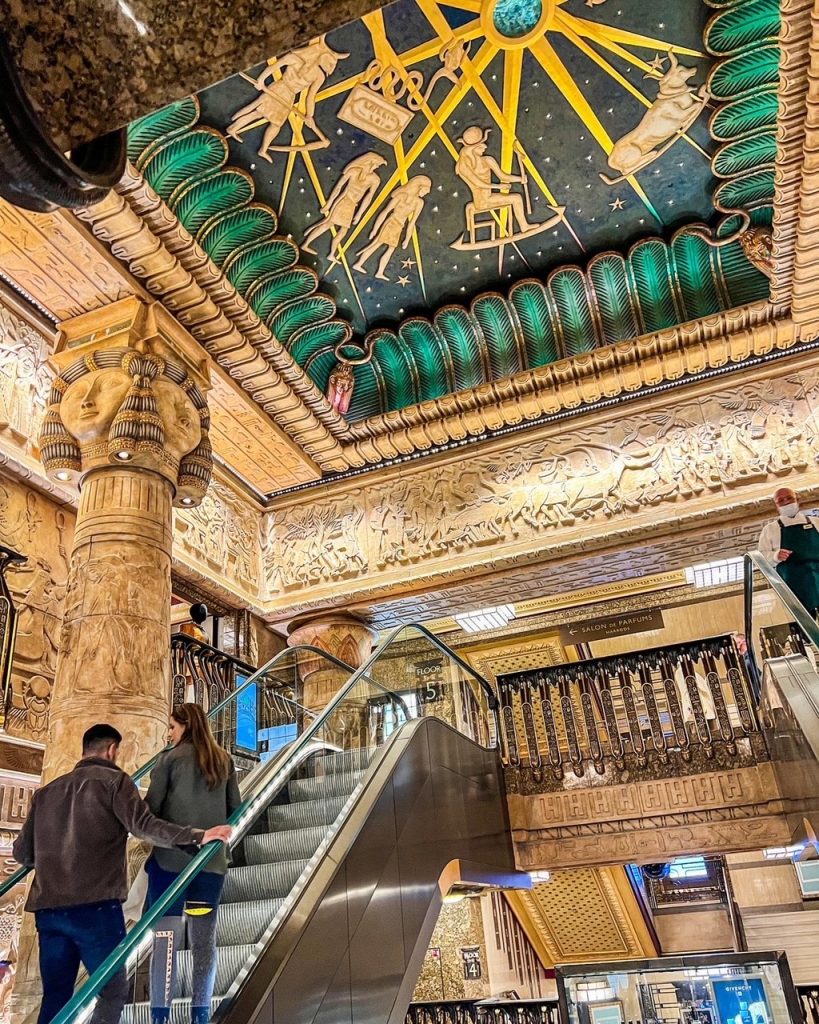 Then the last of our trio arrived!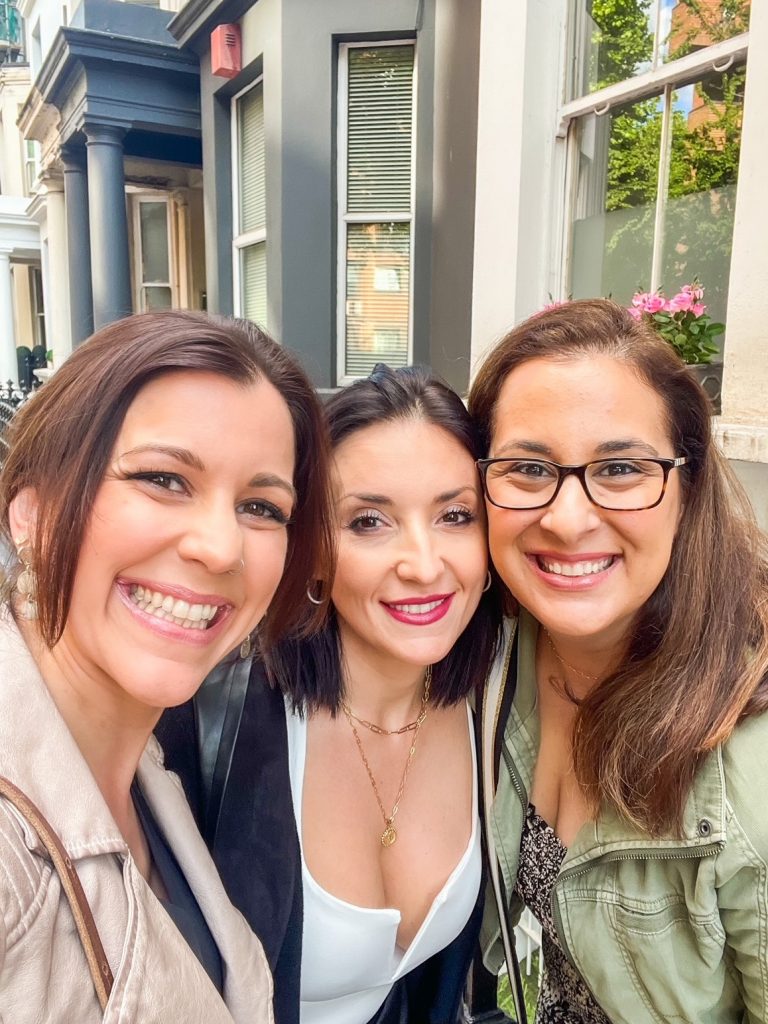 We headed to the British Museum for a quick look around after we grabbed a bite to eat.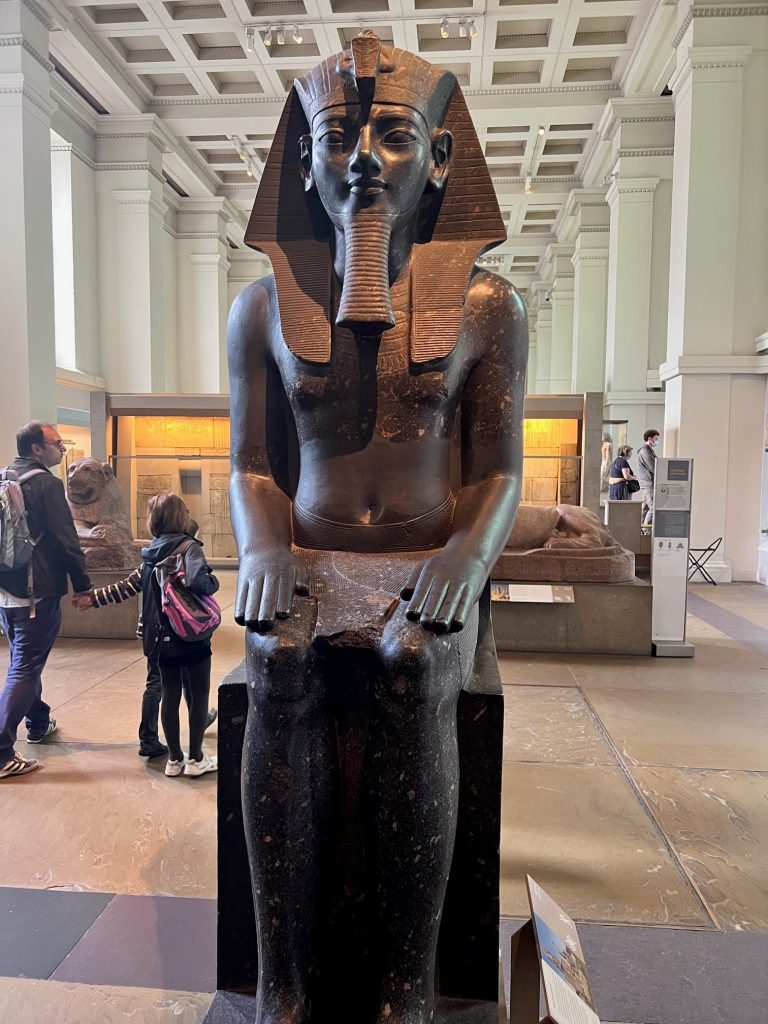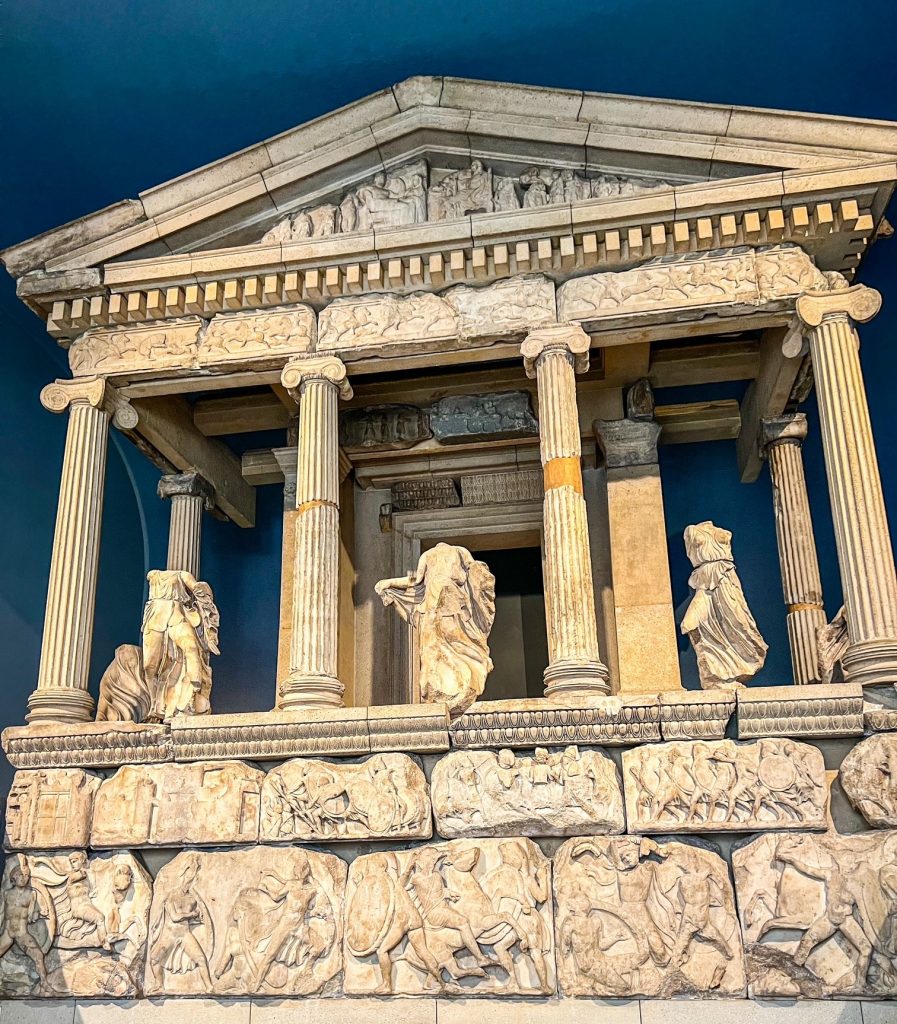 We headed to The Globe for some Shakespeare, and I have to say it was one of my favorite things that we did!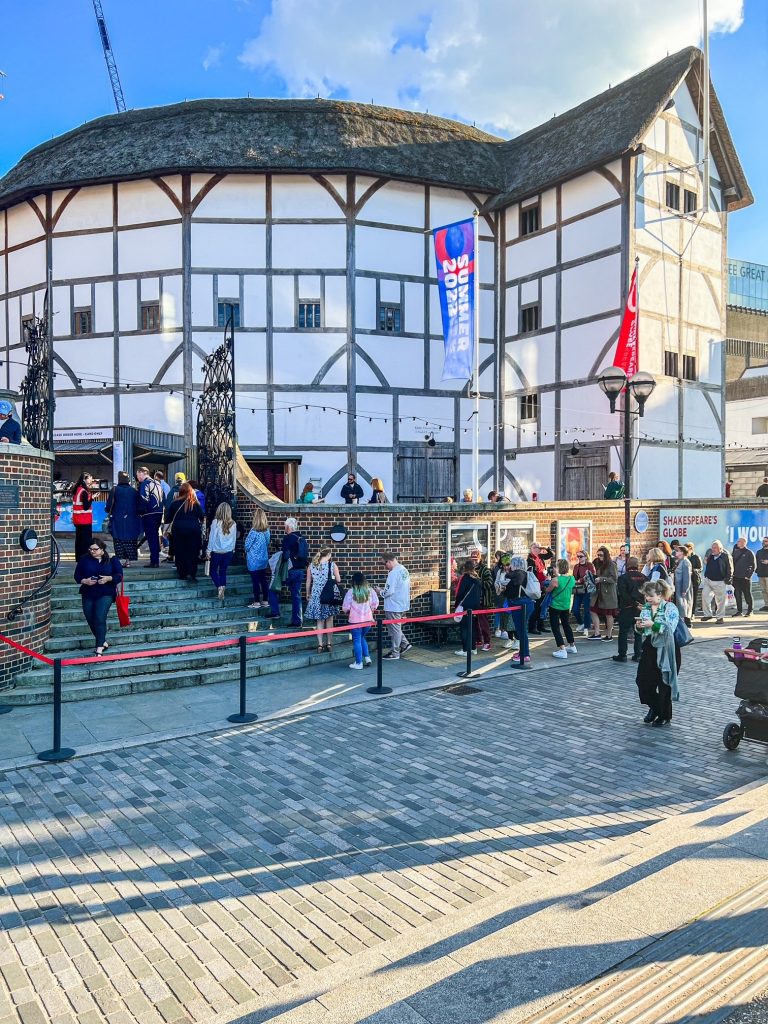 We saw "Much Ado About Nothing" and it was hilarious. They set it in a time period after WWII and it was a blast watching the actors interact with the groundlings (people standing in front of the stage) as well as the crowd as a whole.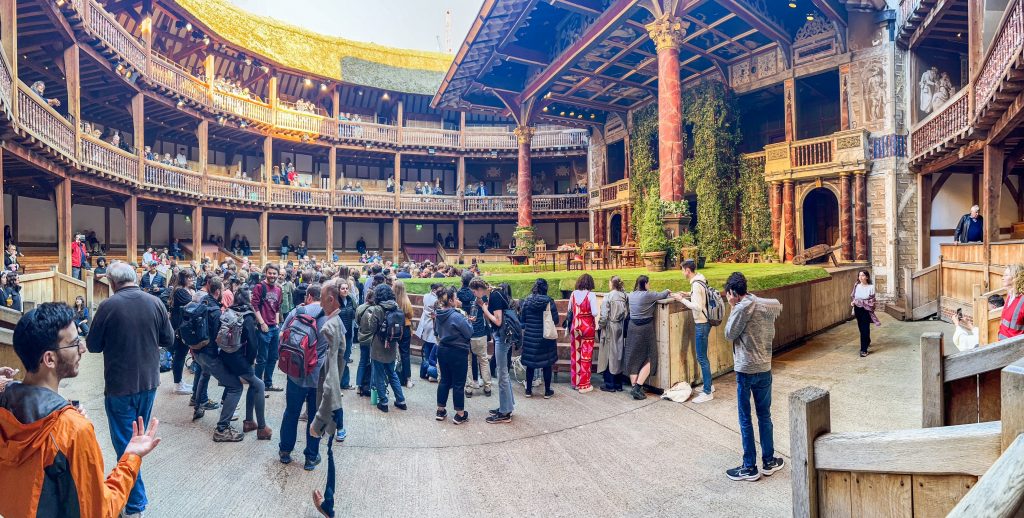 When I planned the trip I had no idea we would be there on the weekend of the Queen's Jubilee, a massive celebration of her 70 years as the monarch. We decided to attend the Trooping of the Color which is a large parade. On our way to try and find the route, we met up with some lovely ladies who took us under their wing.
Thanks to their determination we made it up to the gates that led to Buckingham Palace! We were able to see all the royals as they passed in carriages, and you can watch the video here.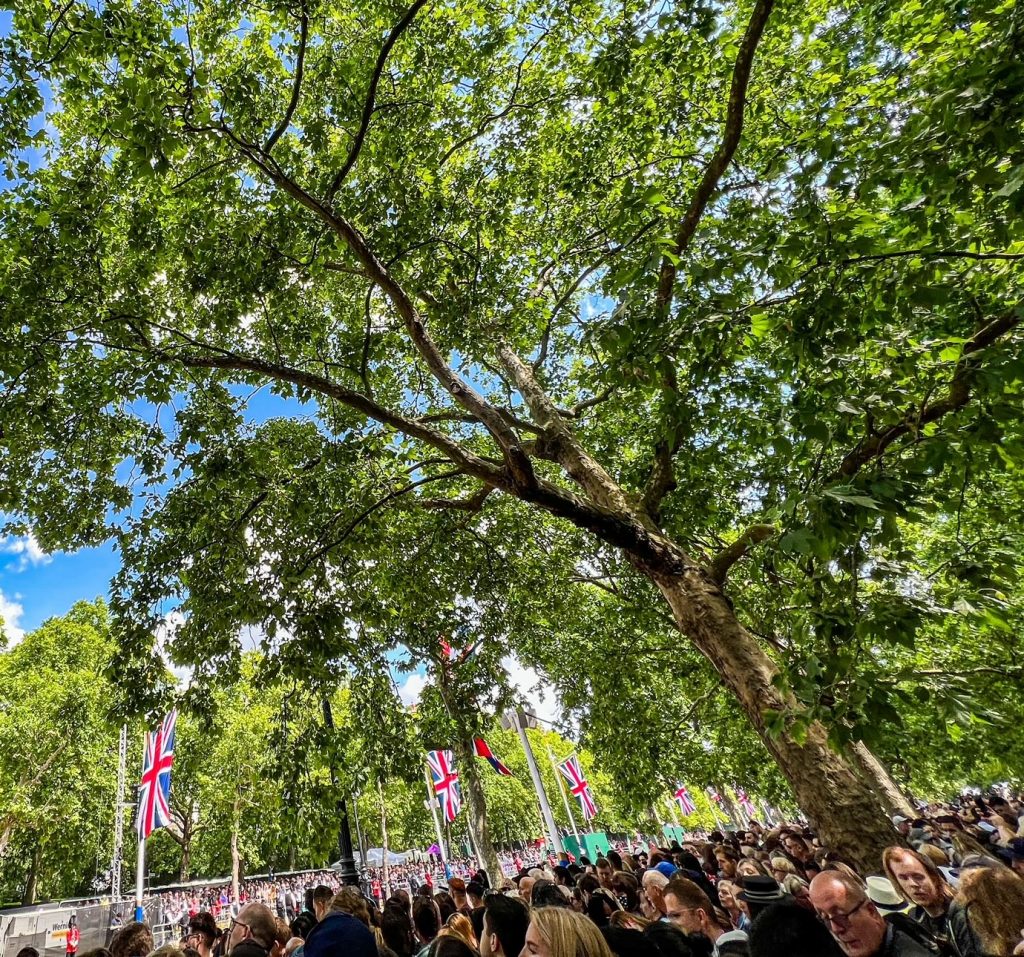 There were thousands of people at the event, but it never made us feel overwhelmed or unsafe…in true British form, it was completely orderly! And we even had a chance to see Duchess Kate UP CLOSE!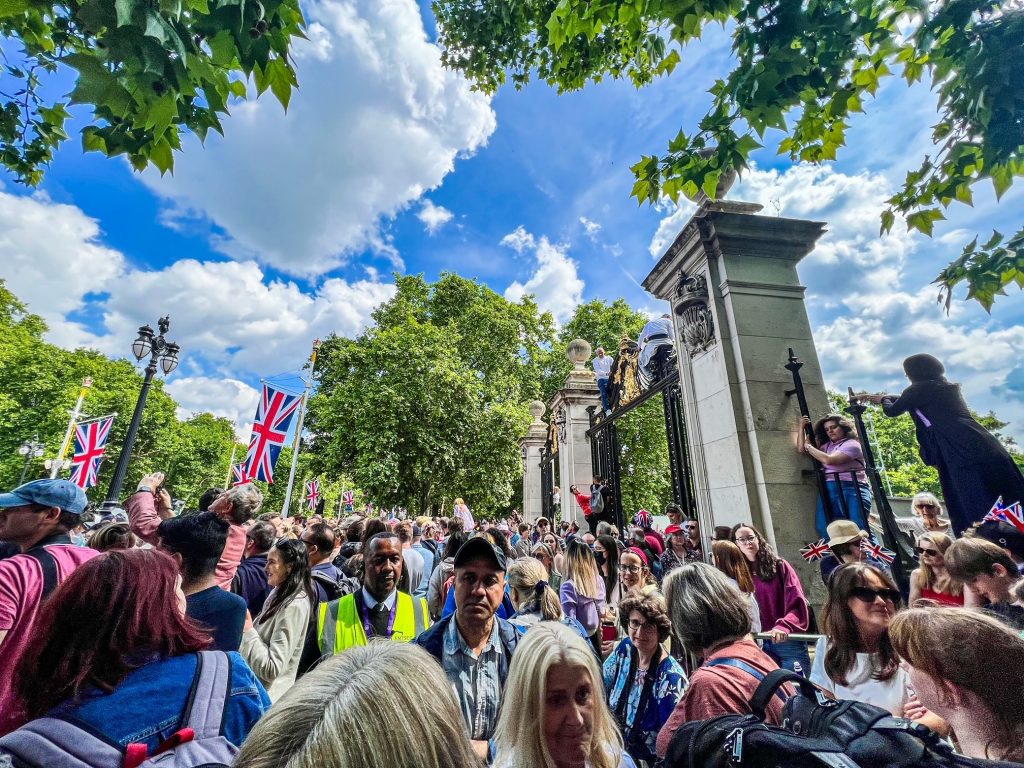 After the Trooping of the Color, it was time to catch the train to Oxford, which is one of my favorite towns in England. After the rush of London, it seemed so much quieter. And the architecture and overall vibe are historical in a way that you can't help but appreciate.
Don't you just want to curl up here under a tree and read for hours? If you want more views of the city you can watch this quick video.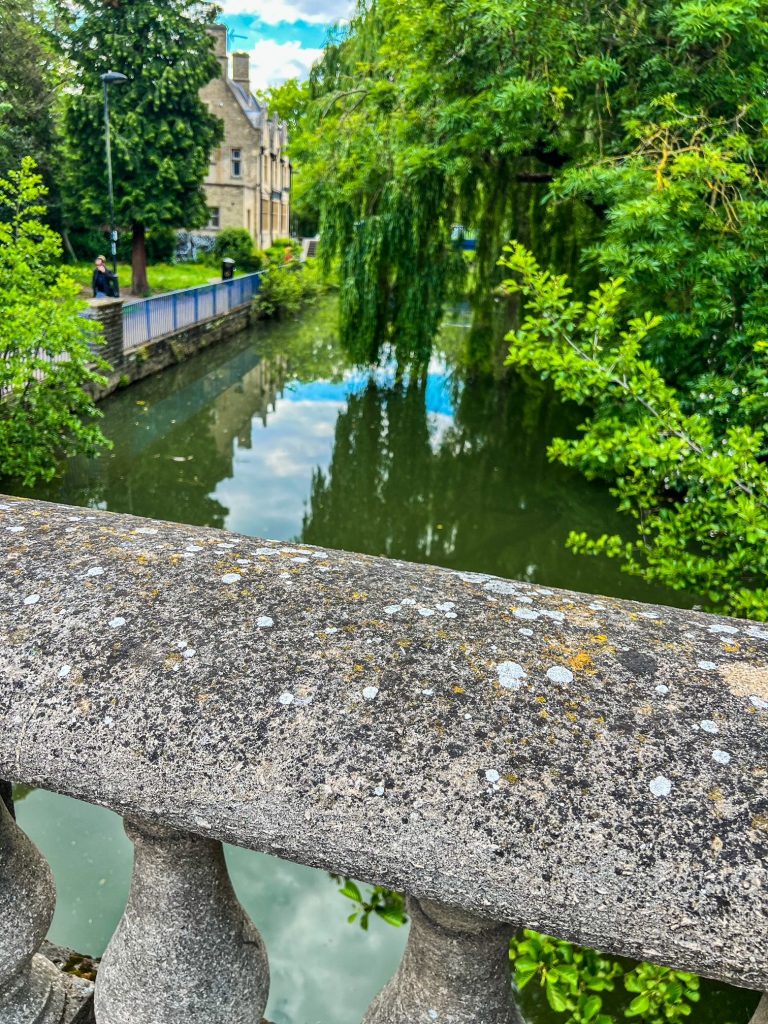 We took a tour of the Bodleian Library,  the main research library of the University of Oxford. It's one of the oldest libraries in Europe (built in the early 1600s) and the collection dates back to books collected in the 1400s. You aren't allowed to take pictures in the main part of the library, but you can in the divinity room! Which you may recognize from two of the Harry Potter movies.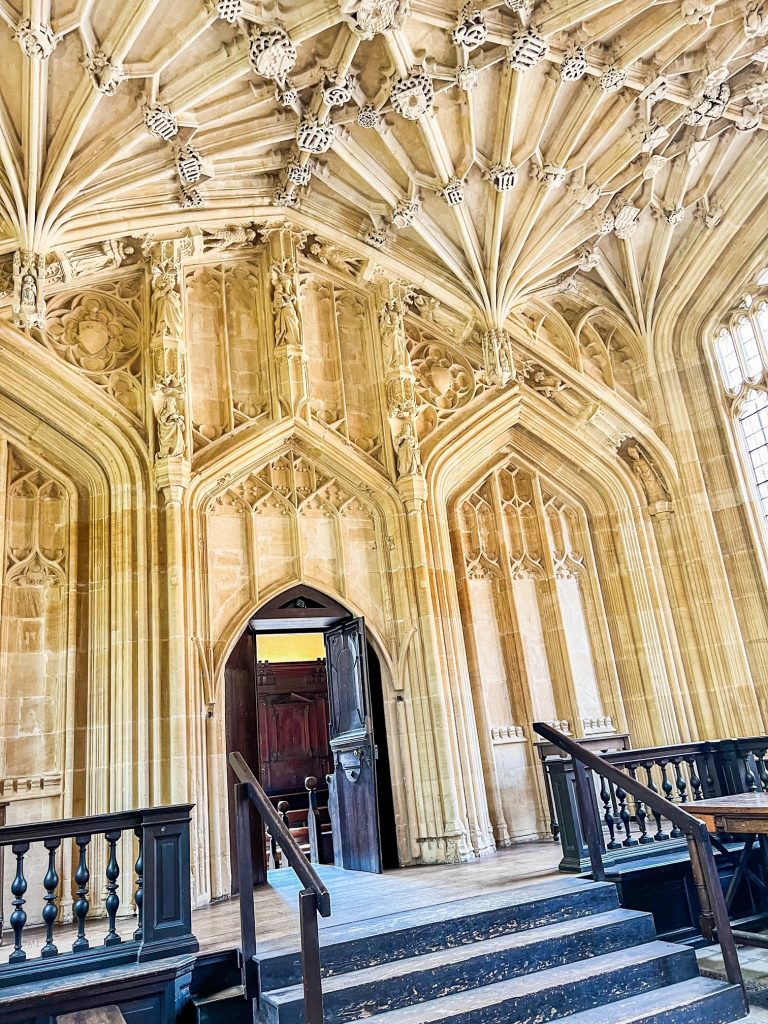 After Oxford, we stopped by the cottage in Malvern for a night of rest, then the next day we were back on the train. This time we went to Bath. I was really excited to see this town, after all, I am a huge Jane Austen fan…as well as a fan of historical fiction. And in all the books, Bath is notoriously where they would all go for vacation, or to recover from an illness.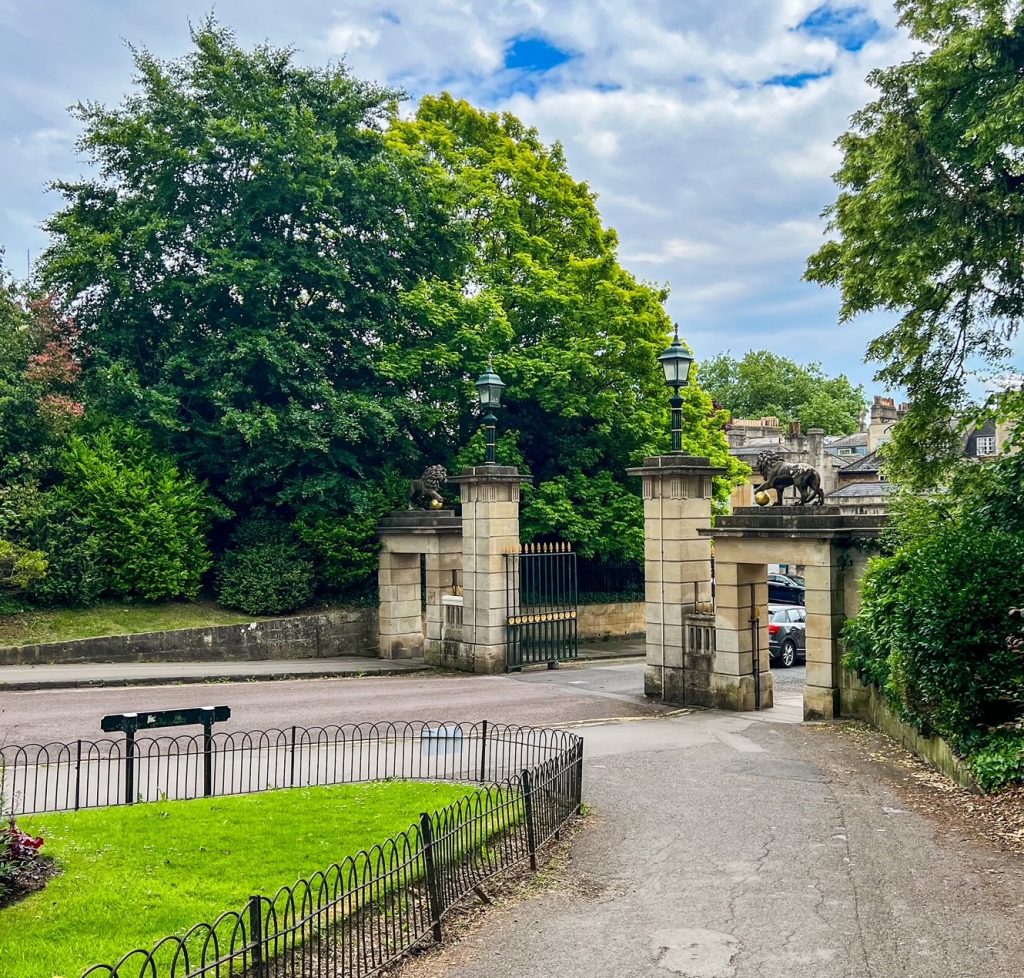 I adored all the curved groupings of houses, one large group formed a circle around a park, it was wonderful!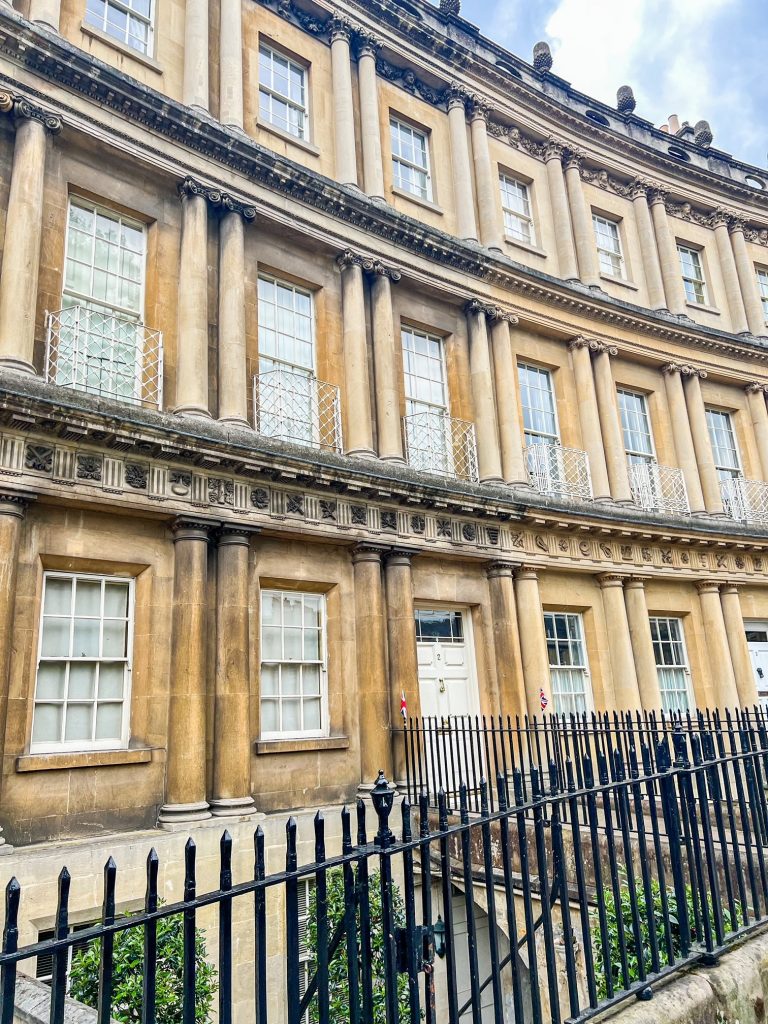 We stopped by the Roman Baths, which were interesting to see, and the whole reason why Bath was considered a resort town. It has been a place known for relaxing for thousands of years!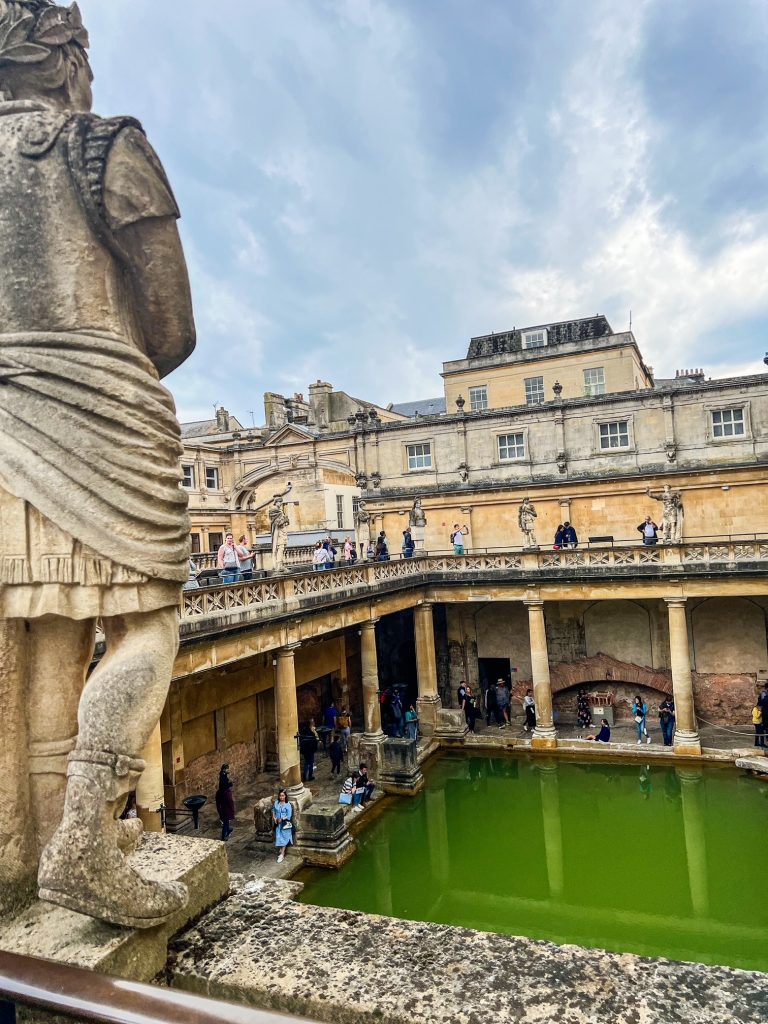 Our planned spa day ended up not being able to happen, but we consoled ourselves with some Mr. Whippy Ice Cream which was delicious!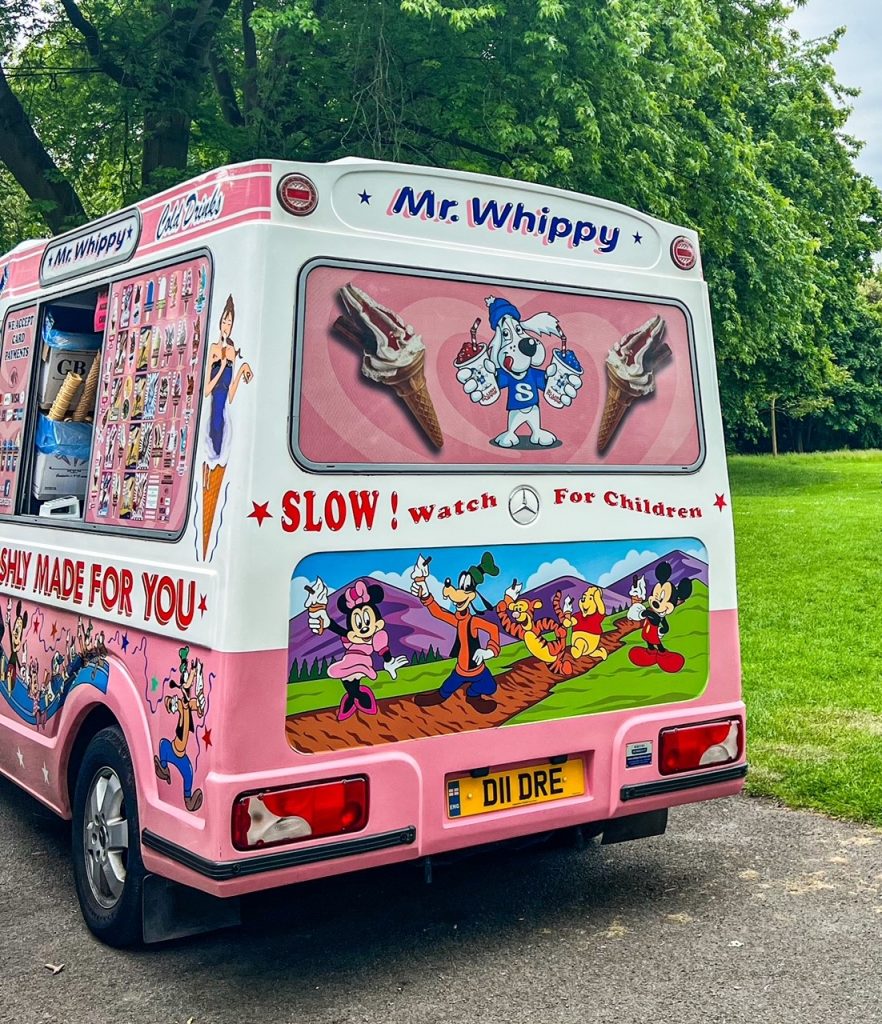 Far too soon it was time for our last day and the Cukoo Derby (locals pronounce it d-ARE-be) at Epsom Downs. We took the train back to London and ended up with some extra time. We took a walk around Kensington Park, or I should say "some" of Kensington Park because it's massive!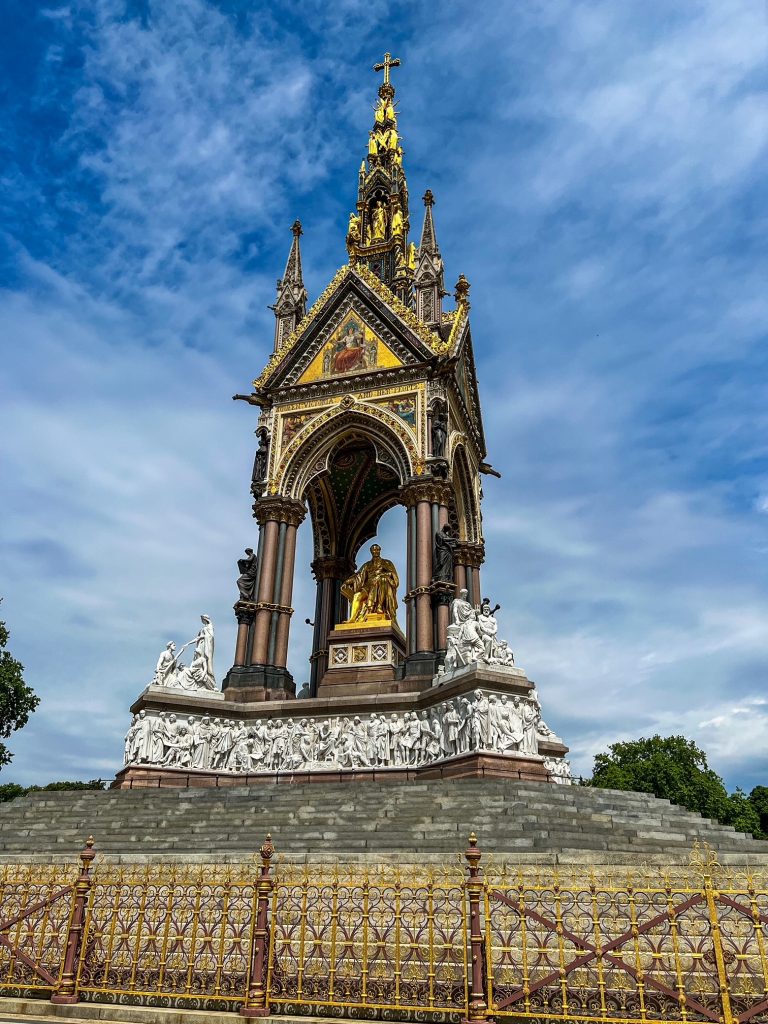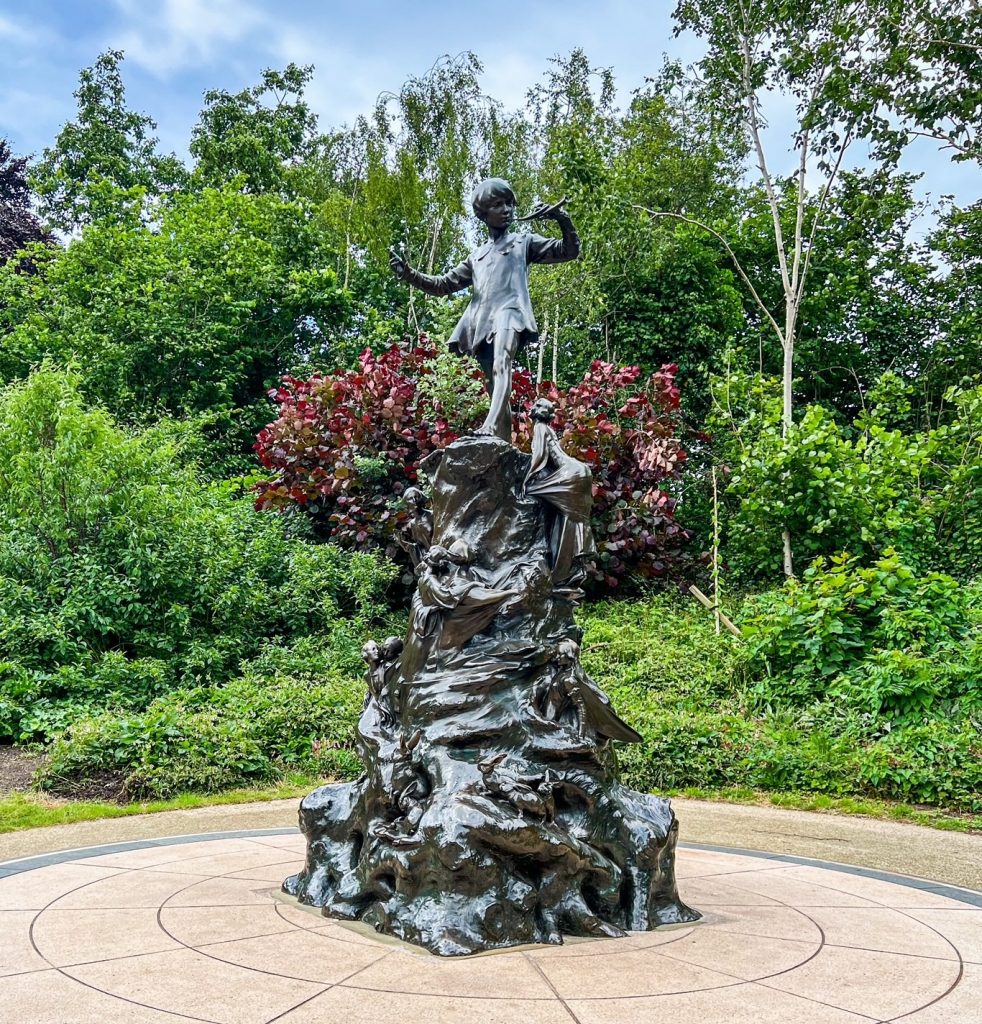 As we walked around the neighborhood we came across so many cute homes, and I couldn't resist taking a picture of this one.
We went back to the hotel and got dressed up in our Derby finery, including our Fascinators (the fancy hats we wore).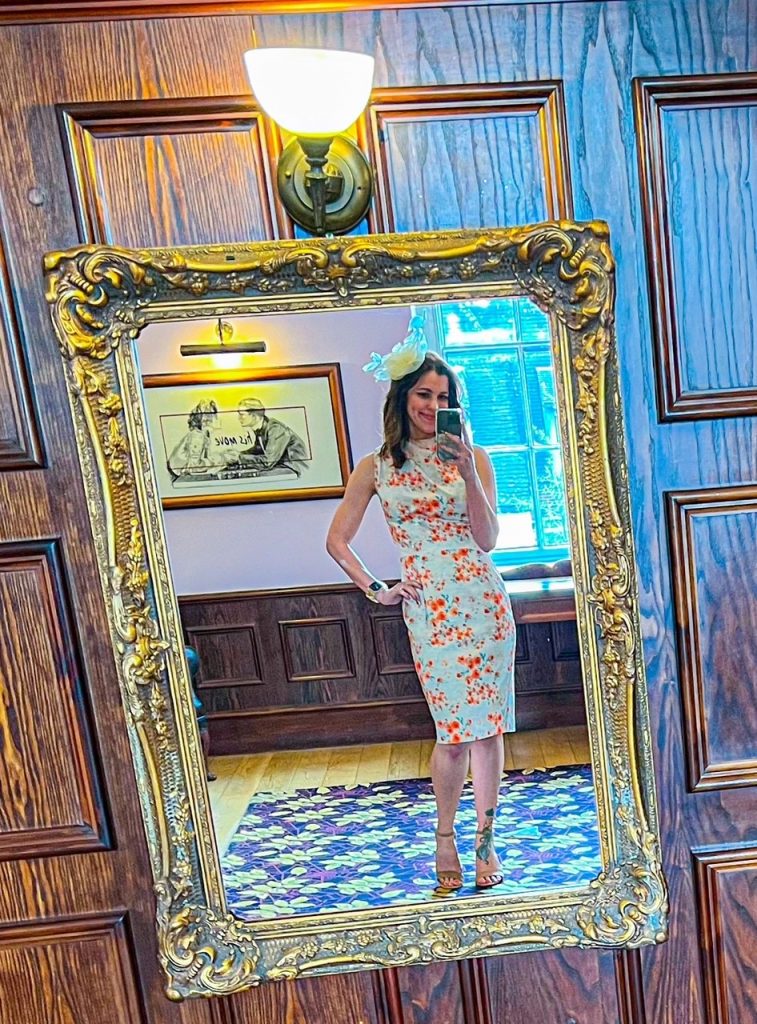 The races were a whole EXPERIENCE! There were so many people, and everyone looked amazing. We were nervous we'd be overdressed, but we fit right in.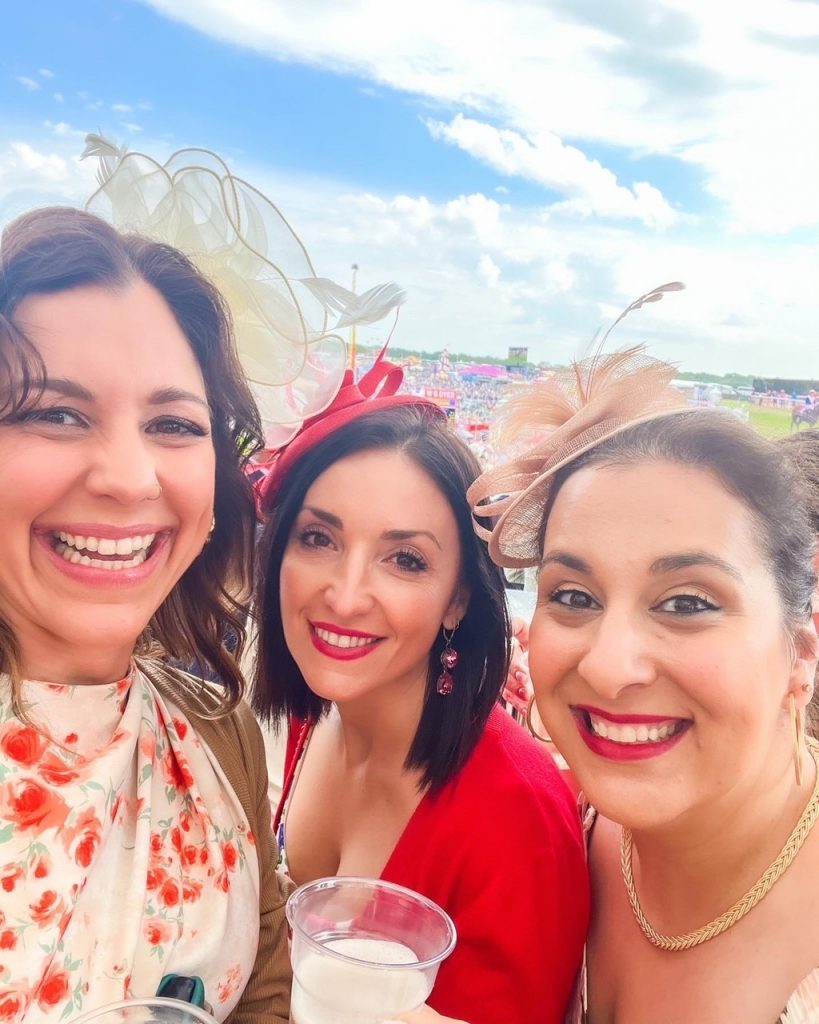 I bet some money on a horse who I thought had the best name "Nations Pride" but darn it…no money was won! We loved talking to the locals that were attending the race, and it was the perfect way to end our week together.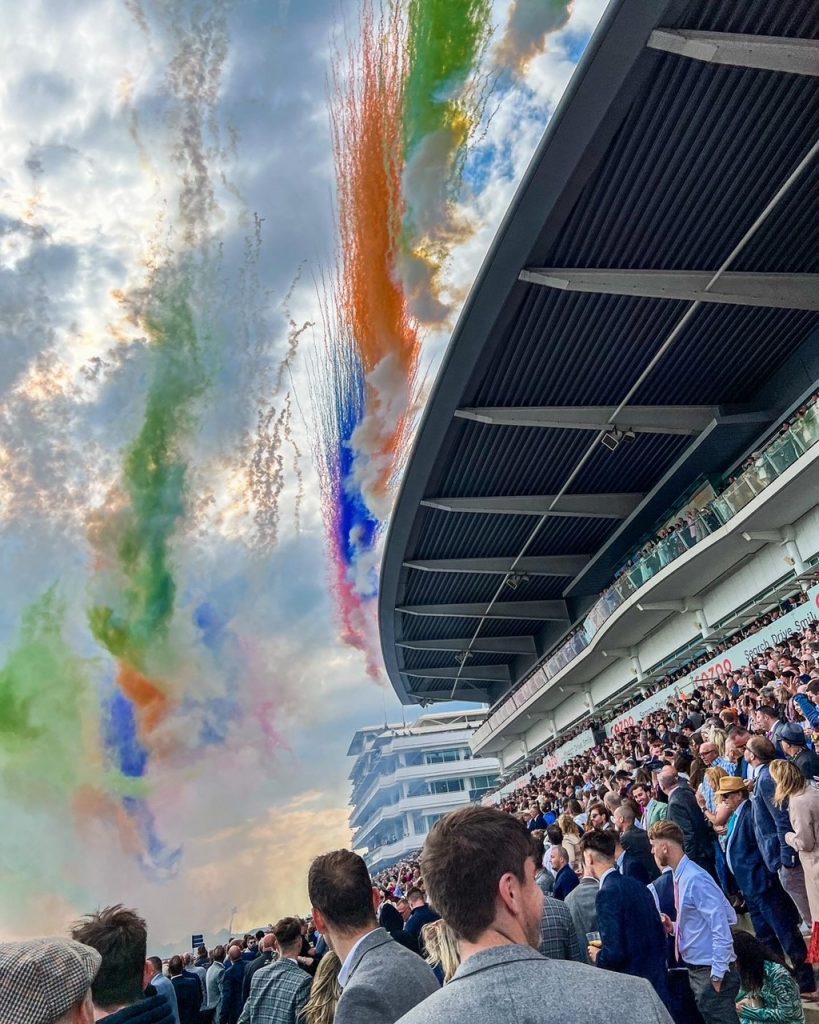 The next morning I headed back to Malvern on the train and got ready for some alone time and hiking around the British Countryside!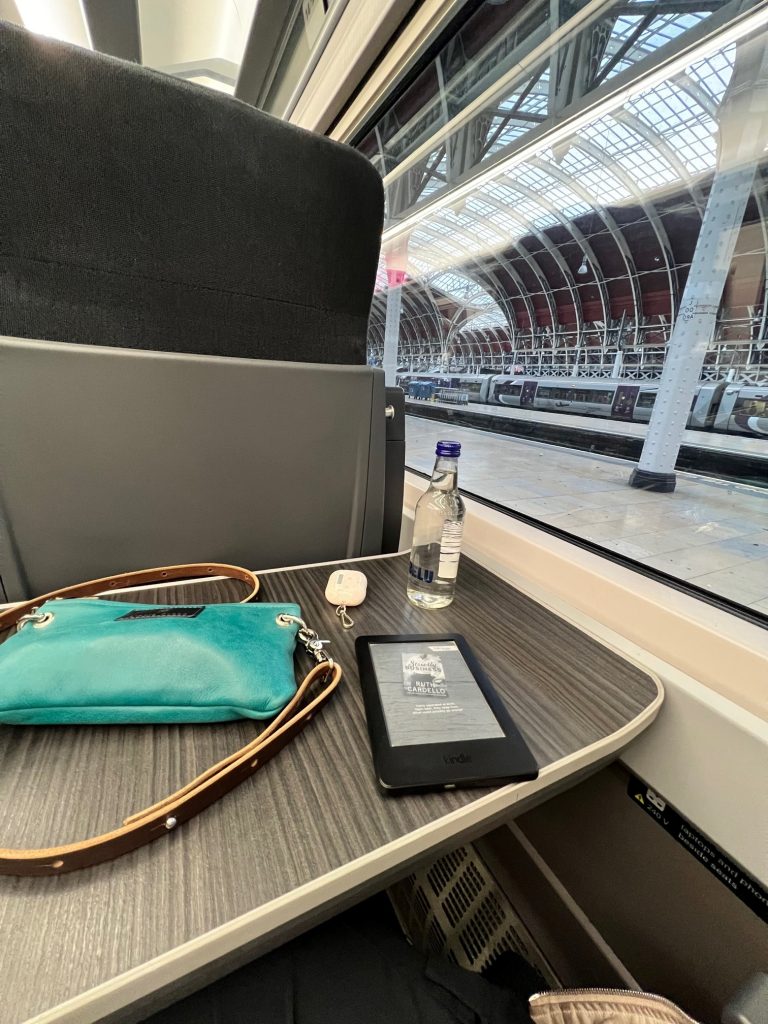 Questions? Leave them in the comments and I'll get to them as soon as I can!
Categories: Life As It Happens, Prairie Life
Tags: , bath, bestie british holiday, British holiday, chelsea london, england vacation, epsom downs, kensington park, London, oxford, traveling england, trip with friends