Prairie Wife Virtual Book Club: November 2022
Posted November 1, 2022 by Prairie Wife - 10 comments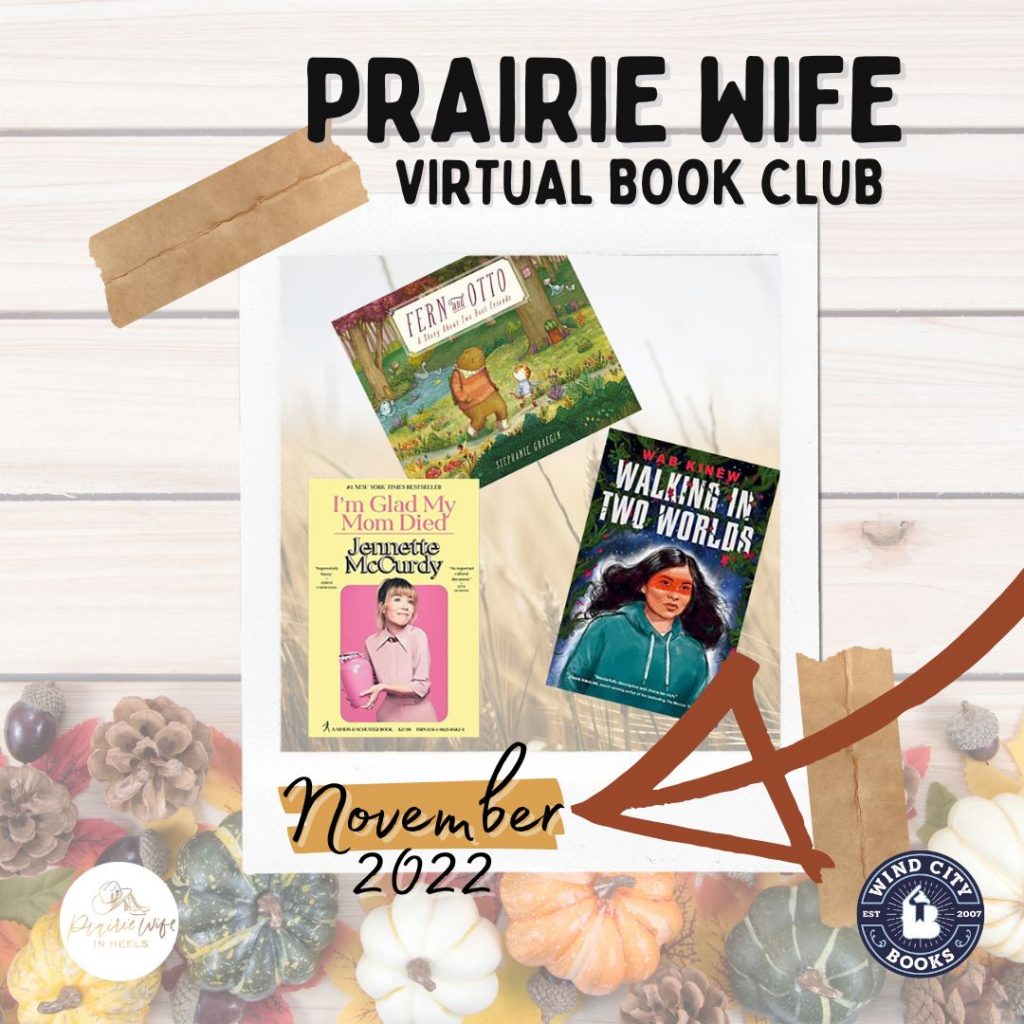 It's time to announce our books for the Prairie Wife Virtual Book Club: November 2022!
This monthly Virtual Book Club is all thanks to Wind City Books, an Indie Bookstore in Downtown Casper, Wyoming.
We will have three monthly books as part of our Prairie Wife Virtual Book Club.
One Children's Book, one Young-Adult Novel, and one Adult Novel. The genres will change each month, so we make sure we have a little something for everyone!
Thankfully Miranda from Wind City Books can ship you our book club books WHEREVER YOU LIVE, so please use the links provided to purchase your Prairie Wife Book Club books.
If you're feeling lucky, you can also enter the giveaway at the end of this post to win ALL THREE BOOKS. The winner will be chosen Tuesday, November 8, so there will be plenty of time for the books to get your way before we have our Prairie Wife Book Chat.
So, how does The Prairie Wife Virtual Book Club Work?
It's easy (I promise) and available to anyone who wants to join.
You don't need social media because we're doing it all with Zoom!
The Prairie Wife Virtual Book Club will "meet" twice a month via Zoom.
During the mid-month chat, we will lightly discuss ALL THREE BOOKS. 
30 Minute Afternoon Virtual Meeting
This month's meeting is Monday, November 14, at 2:30 PM MST
During our end-of-the-month chat, we will HEAVILY DISCUSS the adult novel.
1 Hour long Evening Virtual Meeting
This month's meeting is Monday, November 28, at 7:00 PM MST
So now that all that business is taken care of, here are the books for the Prairie Wife Virtual Book Club: November 2022!
Fern and Otto: A Story About Two Best Friends, Written and Illustrated by Stephanie Graegin
"Fern and Otto" is a book about two best friends who travel into a fairytale world looking for adventure! As an ex-first-grade teacher, I loved this book, not only for the tale of two friends but because it has so many fairytales and nursery rhymes within it as well. If you're a teacher, this book would be perfect for reading at the end of a unit on fairytales.
My two youngest Cowkids loved reading this picture book (though my 2nd grader needed some help with the more challenging words), and I thought the illustrations were adorable!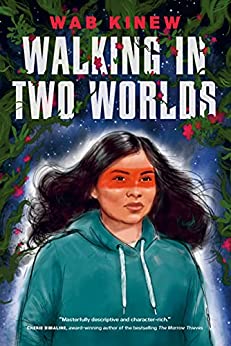 Walking In Two Worlds by Wab Kinew
My 7th-grade son, who loves to play video games but wouldn't be considered a "gamer," is currently reading this book and is enthralled!
Here's what the publisher says about the book, "An Indigenous teen girl is caught between two worlds, both real and virtual, in the YA fantasy debut from bestselling Indigenous author Wab Kinew.
In the real world, Bugz is a shy and self-conscious Indigenous teen who faces the stresses of teenage angst and life on the Rez. But in the virtual world, her alter ego is not just confident but dominant in a massively multiplayer video game universe.
Feng is a teen boy who has been sent from China to live with his aunt, a doctor on the Rez, after his online activity suggests he may be developing extremist sympathies. Meeting each other in real life, as well as in the virtual world, Bugz and Feng immediately relate to each other as outsiders and as avid gamers. And as their connection is strengthened through their virtual adventures, they find that they have much in common in the real world, too: both must decide what to do in the face of temptations and pitfalls, and both must grapple with the impacts of family challenges and community trauma."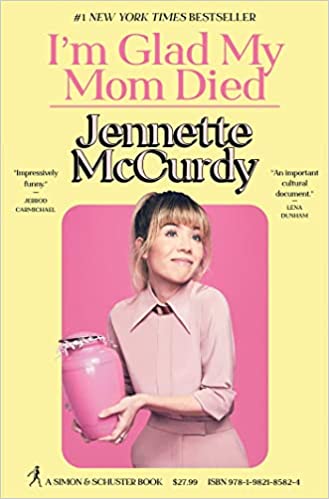 I'm Glad My Mom Died by Jennette McCurdy
Don't let the title of this memoir throw you off! Yes, it's dark and brutally honest, but once you read the book's first page, you'll 100% understand why this title is the ONLY one that McCurdy could have picked. This book about "iCarly" child star Jennette McCurdy and her relationship with her momager is everything you'd expect from a raw and real book about the life of a young girl thrust into fame to fulfill her mother's own dreams. This book covers a lot of trauma, so please be aware of this before you begin this month's pick.
Here's what the publisher shared about the book, "Jennette McCurdy was six years old when she had her first acting audition. Her mother's dream was for her only daughter to become a star, and Jennette would do anything to make her mother happy. So she went along with what Mom called "calorie restriction," eating little and weighing herself five times a day. She endured extensive at-home makeovers while Mom chided, "Your eyelashes are invisible, okay? You think Dakota Fanning doesn't tint hers?" She was even showered by Mom until age sixteen while sharing her diaries, email, and all her income.
In I'm Glad My Mom Died, Jennette recounts all this in unflinching detail—just as she chronicles what happens when the dream finally comes true. Cast in a new Nickelodeon series called iCarly, she is thrust into fame. Though Mom is ecstatic, emailing fan club moderators and getting on a first-name basis with the paparazzi ("Hi Gale!"), Jennette is riddled with anxiety, shame, and self-loathing, which manifest into eating disorders, addiction, and a series of unhealthy relationships. These issues only get worse when, soon after taking the lead in the iCarly spinoff Sam & Cat alongside Ariana Grande, her mother dies of cancer. Finally, after discovering therapy and quitting acting, Jennette embarks on recovery and decides for the first time in her life what she really wants.
Want to listen to this book instead of reading it? Did you know that you can listen using Libro.fm for the same cost as Audible? AND you'll be helping out small Indie Bookstores like our Partner, Wind City Books. Click here to learn more.
PREP QUESTIONS FOR END OF MONTH VIRTUAL BOOK CHAT: "I'M GLAD MY MOM DIED"
What do you think of the book's title?

How does it relate to the book's contents?
What other title might you choose?

What do you think motivated the author to share her story?

Do you think it was healing for her?
Now that it's a best-seller, do you think she has regrets?

Did this book seem realistic?

Why do you think no one in her family helped Jennette?
Would you let your child get involved in the entertainment industry?

Are there any people in the book whose perspective you wish you had?
Do you think the author was honest?
To enter the GIVEAWAY all you HAVE to do is let us know in the comment section below which one of these three books from our Virtual Book Club November 2022 are you the most excited to read?!
You can earn more points towards the giveaway by using the Rafflecoppter form below.
Looking for more books to read? Take a look at last month's Virtual Book Club picks.
Categories: #GiveAways, Book Reviews, Reviews
Tags: , adult books, book club, fern and otto, I'm glad my mom died, memoir, online book club, picture books, virtual book club, walking in two worlds, young adult books