Off To Italy: Airbnb and Tour Links
Posted June 16, 2023 by Prairie Wife -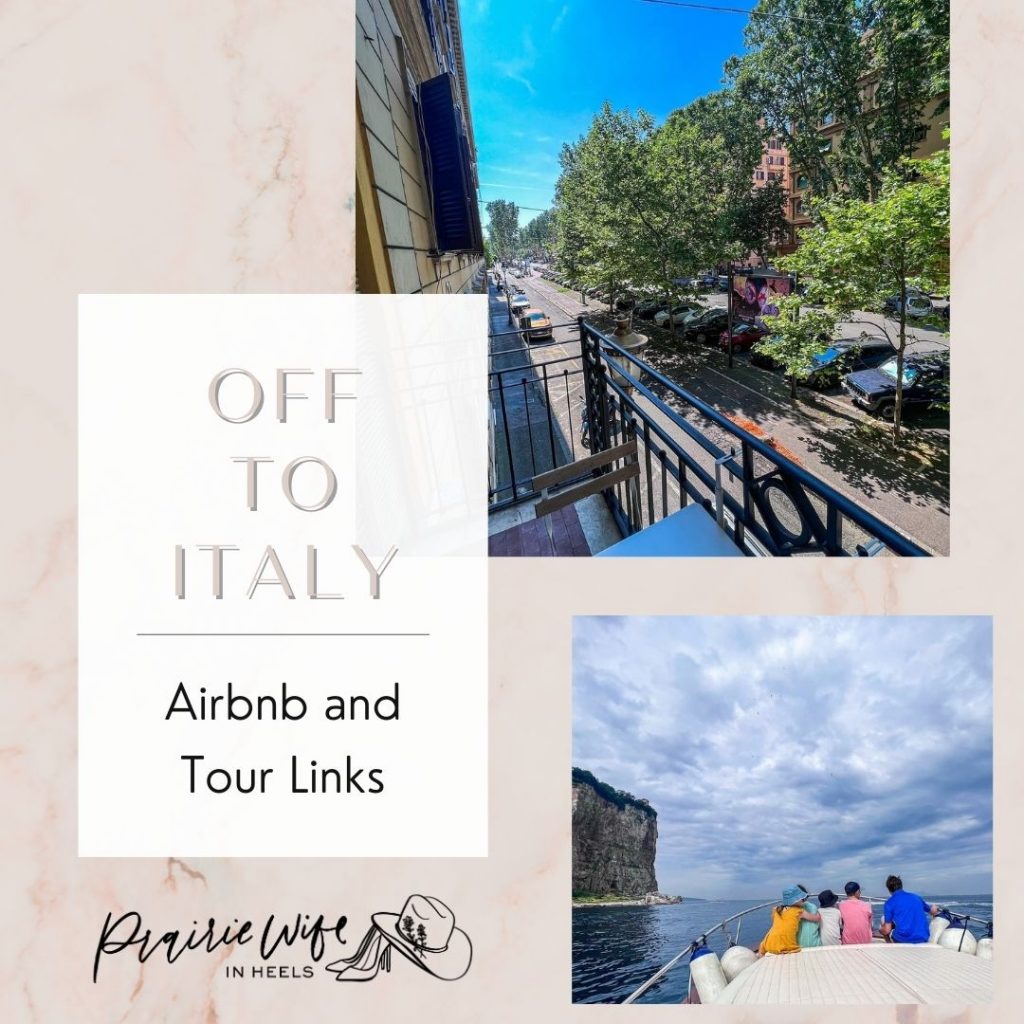 The most often asked question, as I posted and shared our two-week vacation to Italy with you, was, "Can you please share your Airbnb and Tour links?"
My answer?
"Of course!"
If you're wondering why I didn't share all of this information in our original itinerary, it's because I wanted to ensure I had a positive experience before I told you to do something!
Let's start with our Airbnbs.
Before you go ahead and book an Airbnb overseas, I recommend watching the video below, which has some really helpful information.
Keep in mind that for the first week of our trip, we were a family of 8 traveling (we had our Spanish Exchange student with us), and for the second week, we had our family of 7. That means we need to book a large Airbnb. Two of our hosts have smaller spaces available, so I have also shared the link for those!
Rome
Our first apartment was a three bedroom with a kitchen and living area and included a washer and two full bathrooms.
Luigi, our host, was excellent, spoke flawless English, and was SO kind! He set us up with pickup and drop-off at the airport and gave us fantastic recommendations.
The apartment location is perfect for someone who wants to explore the city.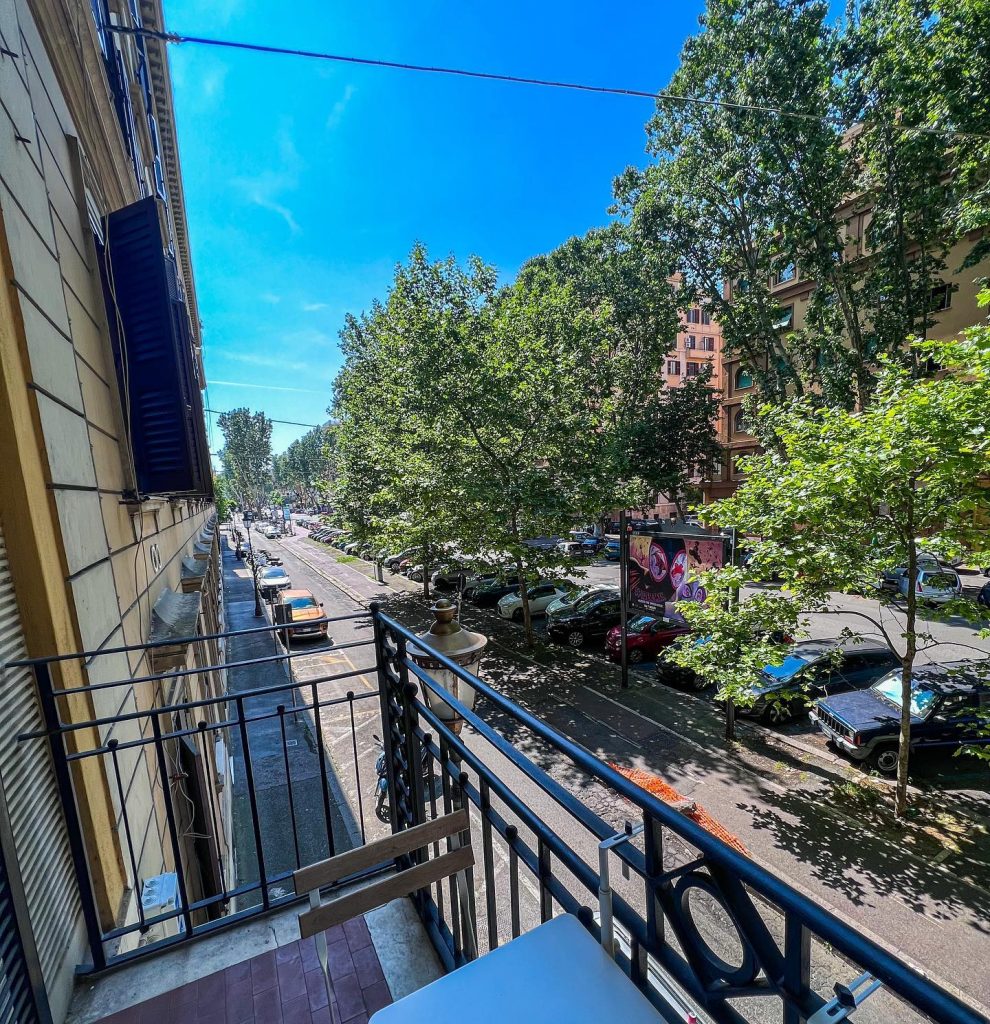 It's less than 10 minutes away from the Vatican and a metro stop and surrounded by wonderful places to eat. It's well-lit and very quiet at night.
It's also incredibly close to a grocery store which was very convenient for our family.
Here is the link to the exact apartment we stayed in.
Here is a link to a single-room rental and a double-room rental he has in the same apartment building.
Our second apartment that we stayed at in Rome was about 3 minutes away from the Trevi Fountain, and it was a very swanky neighborhood!
There were many places to eat, and we walked past many boutiques and high-end stores.
Our host was perfect and happily helped us book a ride to the airport.
The apartment was HUGE and had a lovely balcony in a quiet courtyard…so quiet that I even took a nap on the couch.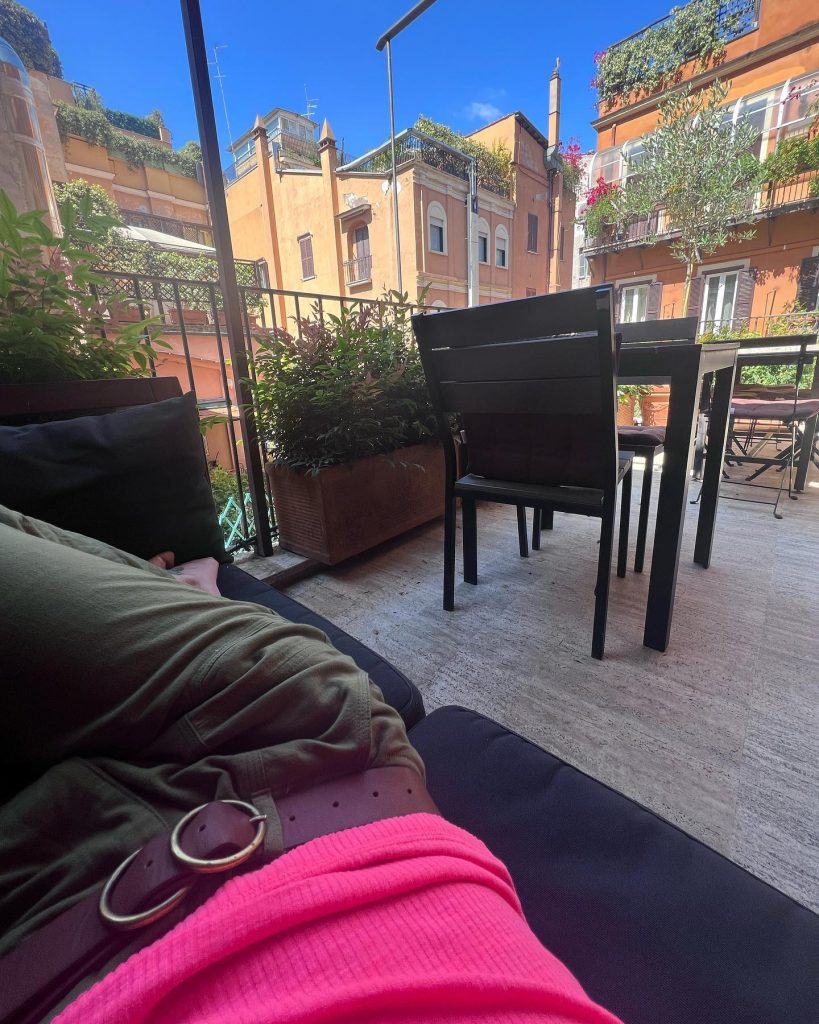 The building itself was incredibly old and beautiful, with a very authentic Rome feel!
It was fun to stay in a new location and feel how the vibe in this area of Rome was decidedly different from where we spent our first week.
I believe that this "host" is actually a larger company, but because our experience was 100% positive, I'll put this link that shows all the other properties they Airbnb so you can take a look.
Vico Equense
When the gates of Villa De Luca opened, and we saw where we would be staying for our week in Southern Italy, I swear I had an out-of-body moment!
Take a look at this quick video showing the terrace and the view…

The location was perfect for walking to eat or heading out to the beach.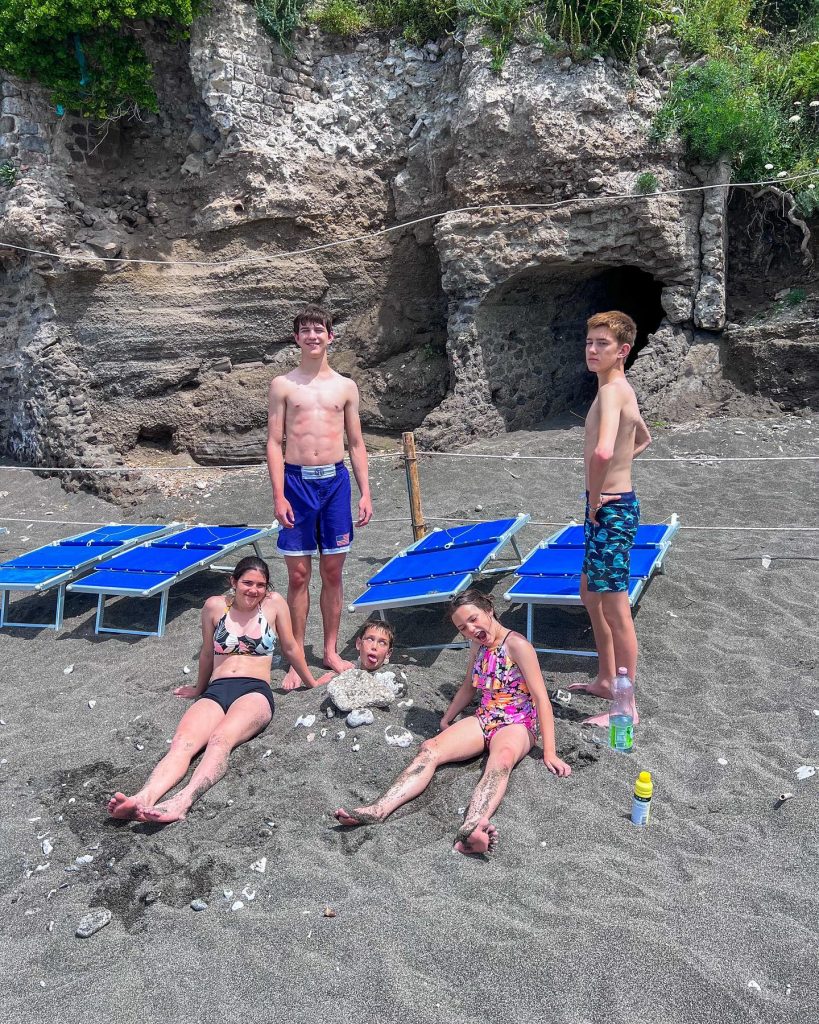 While the home's interior was stunning (with a great kitchen set up), we spent most of our time on the terrace. The Cowkids read or played tech in the shade while I soaked in the sun on a lounger. The Cowkids also loved the jacuzzi and spent hours and hours hanging out there!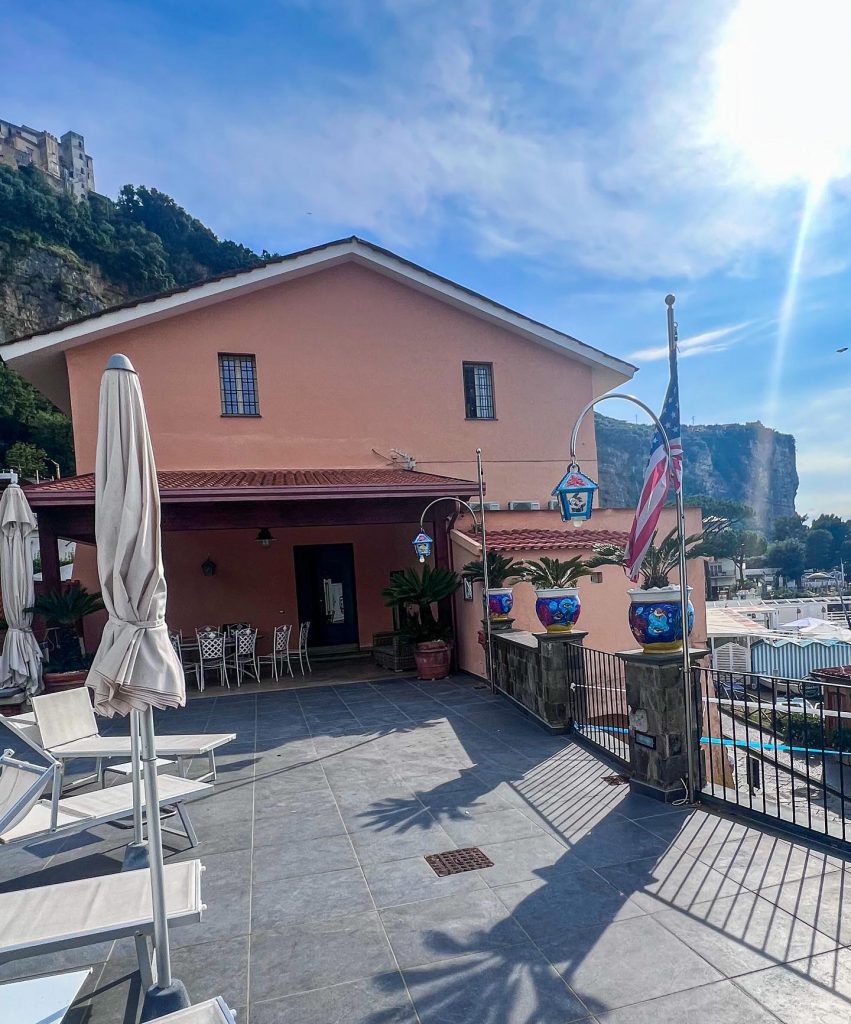 The Cowboy has never been good at sitting still, so he often went into the center of town to get groceries or sneak in some Gelato. The walk takes about 15 minutes and involves 220 steps (Little Miss H counted them one night), but it is absolutely doable and incredibly charming!
Massimo, the host, is gracious and kind and took the time to share with us the history of this home which has been in his family since the mid-1700s. He was also happy to set us up with a ride to the train station so we could go explore Pompeii, which is only a few stops away from Vico Equense.
I can't emphasize enough how wonderful our time at Villa De Luca was. I hope that even if you don't stay at one of Massimo's properties, you consider staying in this town if you're ever in Southern Italy.
Here is a link to the home we stayed in, Villa De Luca.
This is a link to Villa Katerina, another one of his properties. It has five bedrooms and can sleep up to 11 guests.
This is a link to Villa Alexandra. It has four bedrooms and sleeps up to 8 guests.
Links For Tours
Before I share the exact links for tours we went on, I want to emphasize how helpful it was to have @ItalyOffCourse help us with our itinerary. I HIGHLY recommend using her to help you with the beginning plans of your trip, or if you want she can plan the entire thing for you!
NOTE: Please tip your guide/boat captain/driver if you think they did a great job.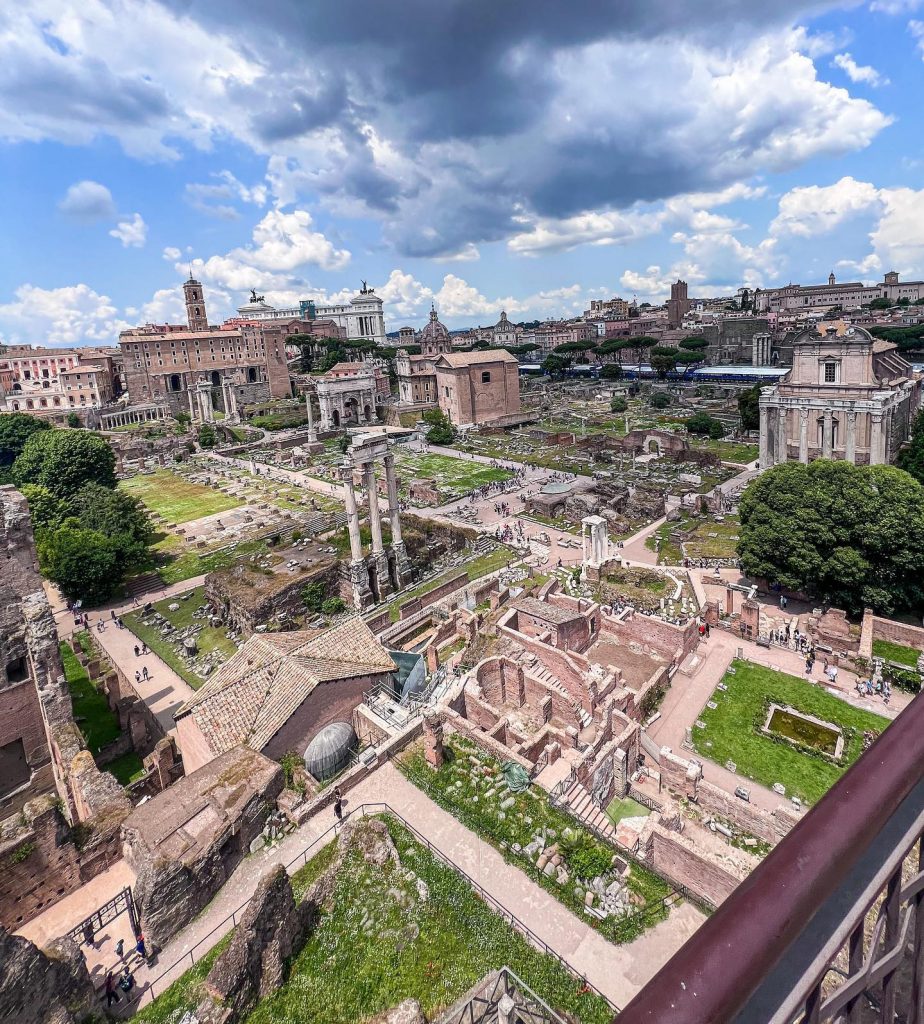 Colosseum and Palatine Hill Group Tour with City Walkers
We loved this tour, and our guide was incredibly informative and enjoyable to listen to. This tour did involve a lot of walking, and plan to arrive 30 minutes ahead of your scheduled time to make sure you can find the meeting spot (it's not at the gates).
Vatican and Sistine Chapel Tour with Enjoy Rome
I am very thankful that we had a guide for this tour, not only for all of the facts we learned but to guide us around this massive area! Be aware that this will be a packed area and that no talking or pictures are allowed in the Sistine Chapel. Also, women and men need to have their knees and shoulders covered.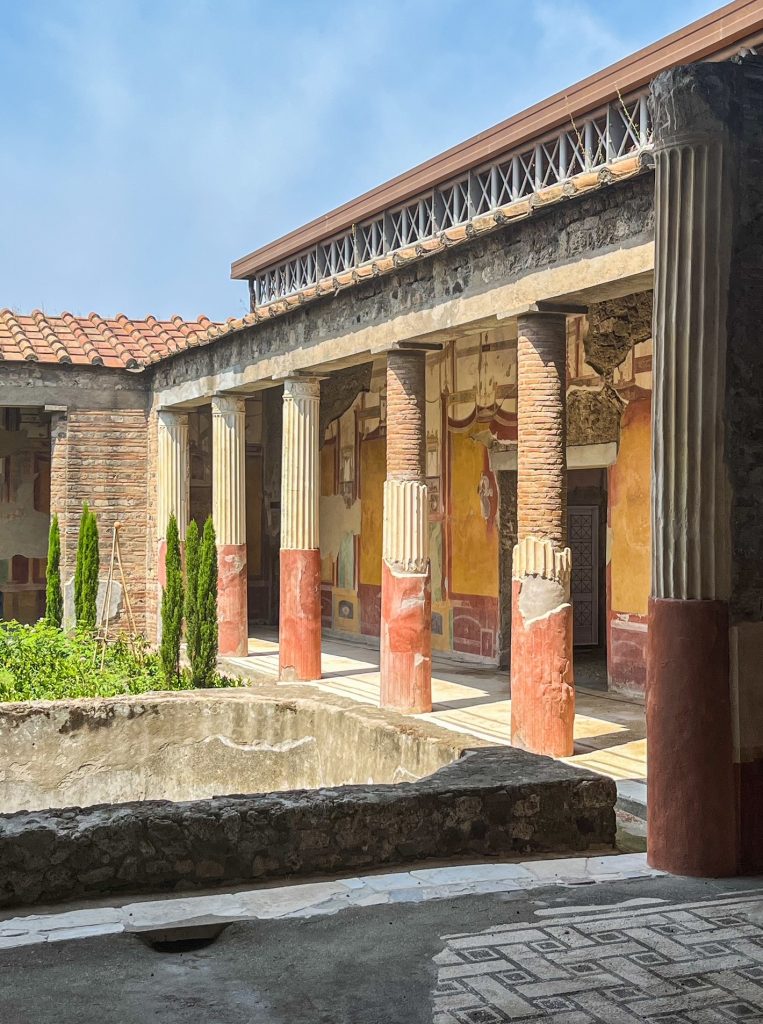 We did NOT pay for a guided tour of Pompeii, and I am thankful because the area was massive (we walked 5 miles that day), and being on our own allowed us to take it at a slower (or faster) depending on our mood. Cowboy C is a Roman history buff, so he was an excellent guide, but we were left with some unanswered questions that maybe a guide would have been able to help us with.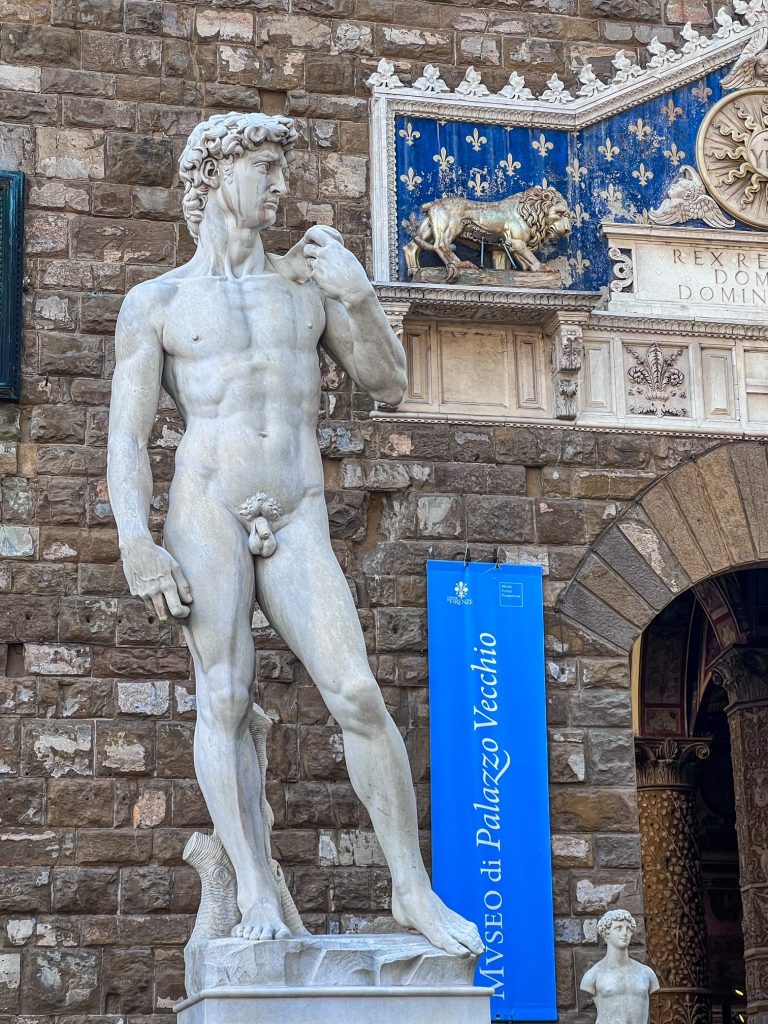 Medici Free Walking Tour in Florence
This was an incredibly enjoyable tour, and our guide was wonderful. While we definitely focused a lot on the history of the Medici Family there was a lot of Italian history as a whole and other fascinating tidbits as well.
Alfamarine Boat Charter in Vico Equense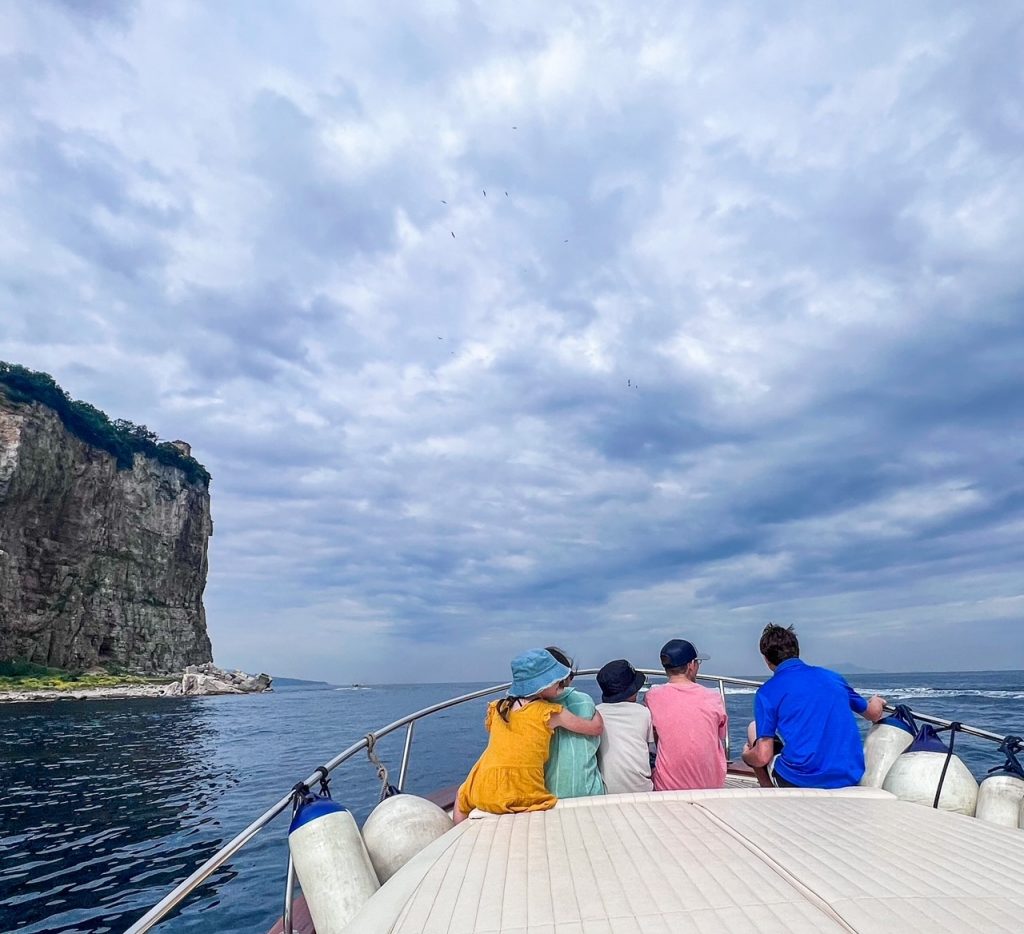 If I had to pick my favorite thing we did in Italy, it would be this day-long boat tour of the Amalfi Coast. Our Captain Andrea was excellent, and he not only took us right to the dock of Amalfi and Positano so we could hop off the boat and explore these beautiful cities…but he also stopped as several gorgeous grottos, told us all about the history of the area, and anchored the boat so we could swim.
Below is a quick video that shows some highlights from our day-long tour.
And this was even a bit of a cloudy day! There were multiple options for what kind of tour or boat you'd like to take, and we were absolutely 100% satisfied with every aspect of the tour.
Here is a link to the Alfamarine Boat Charter Website.
Favorite Places to Eat (to find the locations of these restaurants just copy the name and paste them into Google or if you're already in the city your Maps App)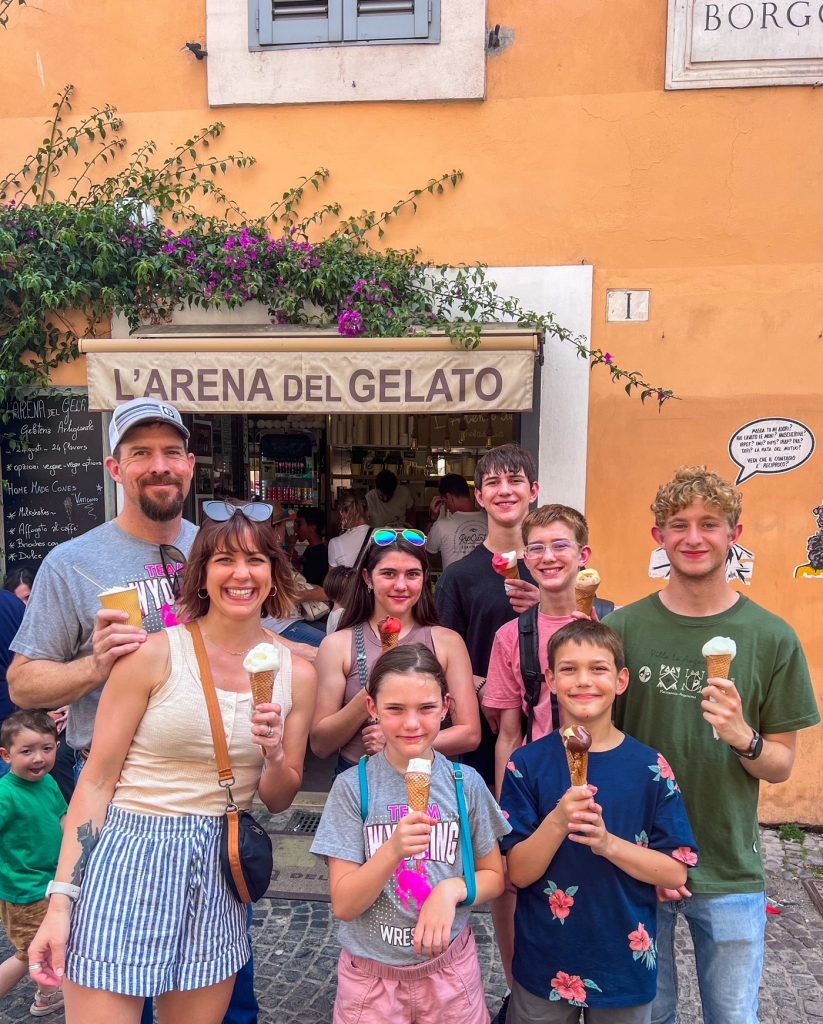 Gelato in Rome L'Arena Del Gelato and Gelateria Del Viale
Restaurants in Rome Tonarello and L'Abruzzese
Gelato in Florence Gelateria dei Neri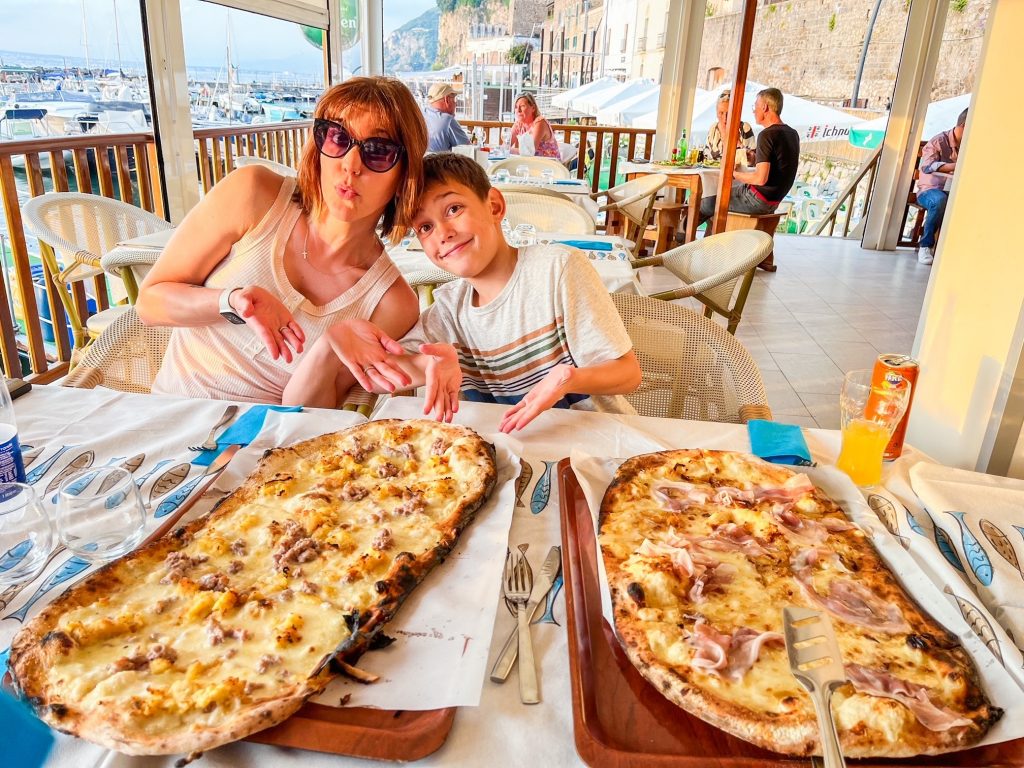 Restaurants in Vico Equense Zerilli (they also have an amazing dessert shop) and Aequa Bar-Pizzeria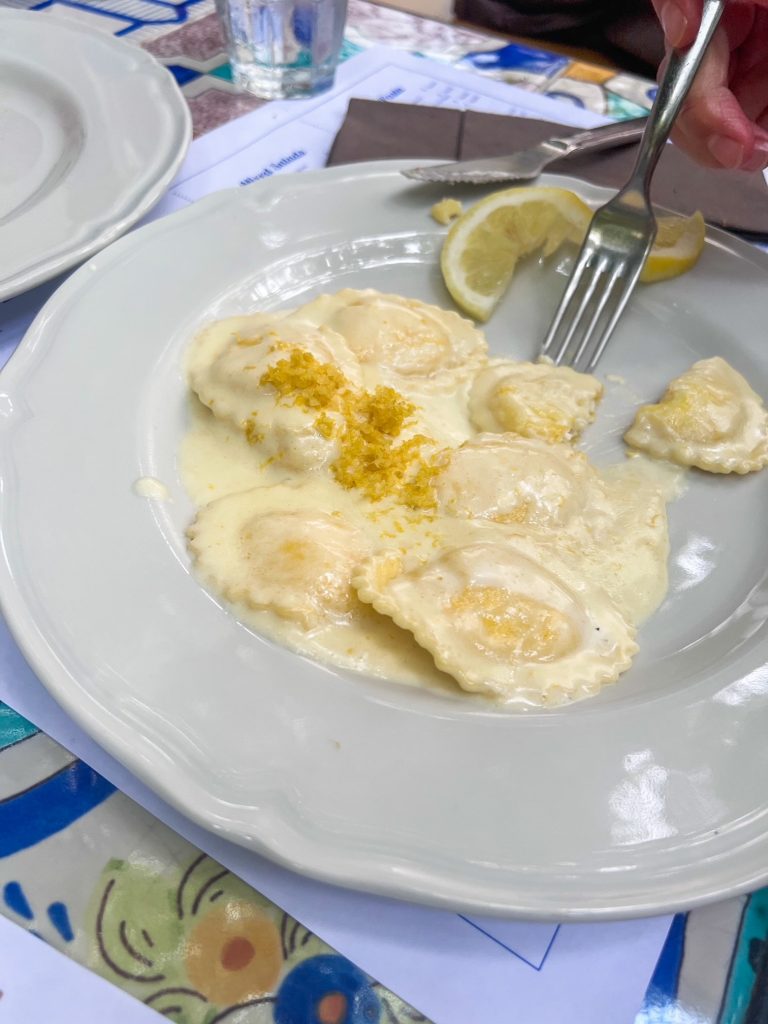 Restaurant in Amalfi Donna Stella Pizzeria
Looking for more posts about our trip to Italy?
Off To Italy: Packing For a Large Family
Off To Italy: Basic Trip Planning and Safety Tips
6 Must Have Apps When Traveling
Categories: Life As It Happens
Tags: , airbnb, almalfi coast, family trip in italy, gelato in italy, italian airbnb, italian tours, italy, rome, tours to take in italy, vico equense, where to stay in italy