It's The Most Wonderful Time Of The Year
Posted December 9, 2022 by Prairie Wife -
"It's the most wonderful time of the year…"
Songs, commercials, social media posts, t-shirts…
The messages about how the holidays are the most wonderful time of the year are EVERYWHERE.
So, I just wanted to take a moment to remind you that what makes the Holidays the most wonderful time of the year isn't having every single moment and memory be picture-perfect.
PLEASE remember that everyone's idea of what a wonderful holiday looks like is different!
In the past, the time leading up to Christmas was full of parties, holiday programs, hundreds of Christmas cards, stressing out over gifts, and trying to meet up with everyone. We spent hours traveling here and there, dragging the Cowkids around, and I was a frantic, stressed-out mess trying to do everything I could to make it all perfect. I ended the season with a HUGE New Year's Eve party that often took me days to recover from.
Now, while the time leading up to Christmas is still busy, it's decidedly more low-key. We only have one party at our house, and it's one where I don't have to make any food (other than cookies), and we kick everyone out after 4 hours.
We welcome out-of-town family to stay at our home for the Holidays but no longer spend the entire break traveling.
On Christmas Day, we lounge around all day in sweats and hoodies. The Cowkids can play as much tech as they want, and The Cowboy and I usually doze off around 11 am. We have a big meal (but keep it low-key and casual) and typically have a hodge podge of guests that changes yearly.
I still hold fast to our traditions of decorating the tree and writing letters to Santa, and while I admit I'm still struggling to make the Cowkids see how vital this time is, I've tried to be more flexible… #workinprogress
I used to insist on ALWAYS going and cutting down our Christmas Tree. Now we only do this when it can be done in an unrushed and enjoyable way. I still insist on a real tree, but some years it just makes more sense to buy one rather than spend a day in the mountains.
Some years I miss my family more than others, and those years I allow myself to be sad.
Some years the absence of loved ones seems almost unbearable, and during those years, we do what we can to remember the life they lived…but aren't afraid to turn down invitations or say no to activities that seem too much to bear while battling our grief.
When The Cowboy and I were first married and had the first few Cowkids, our budget was tight always…every day…and Christmas time didn't make that change.
We comforted ourselves with the thought that our kids would remember how they felt on Christmas day, not what gifts they received.
Over the years, this has proven to be true over and over again.
This encouraged us to let go of old traditions that no longer worked for our home full of school-age kids and teenagers and make new ones that fit where we are in life now.
It's the most wonderful time of year because we focus on the things that bring us joy…
Cheesy Christmas movies and Christmas Music blaring in the house.
Decorating our tree as a family
Letting the Cowkids decorate our entire home, even their rooms.
Christmas Eve mass followed by a drive home searching the sky for Rudolph's red nose and chili and cinnamon rolls.
Reading a Christmas story on the couch and running like heck for their rooms when they hear Santa's sleigh bells.
Being grumpy and telling the Cowkids they cannot wake us up before 6:00 in the morning (they've never made it past 4:30).
Leftover cinnamon rolls for breakfast and a cheesy picture of all the Cowkids in their jammies with their gifts.
This year make the Holidays wonderful for you and your family.
Don't worry about what other families do or what you imagined this time of year to be like.
Create a house full of joy in the best way that you can. Slow down and make sure you're doing "all the things" because you want to, not because you have to. Set boundaries for your family, and ask for what you want and need.
And take time to remember, "And the angel said unto them, Fear not: for, behold, I bring you good tidings of great joy, which shall be to all people." – Luke 2:10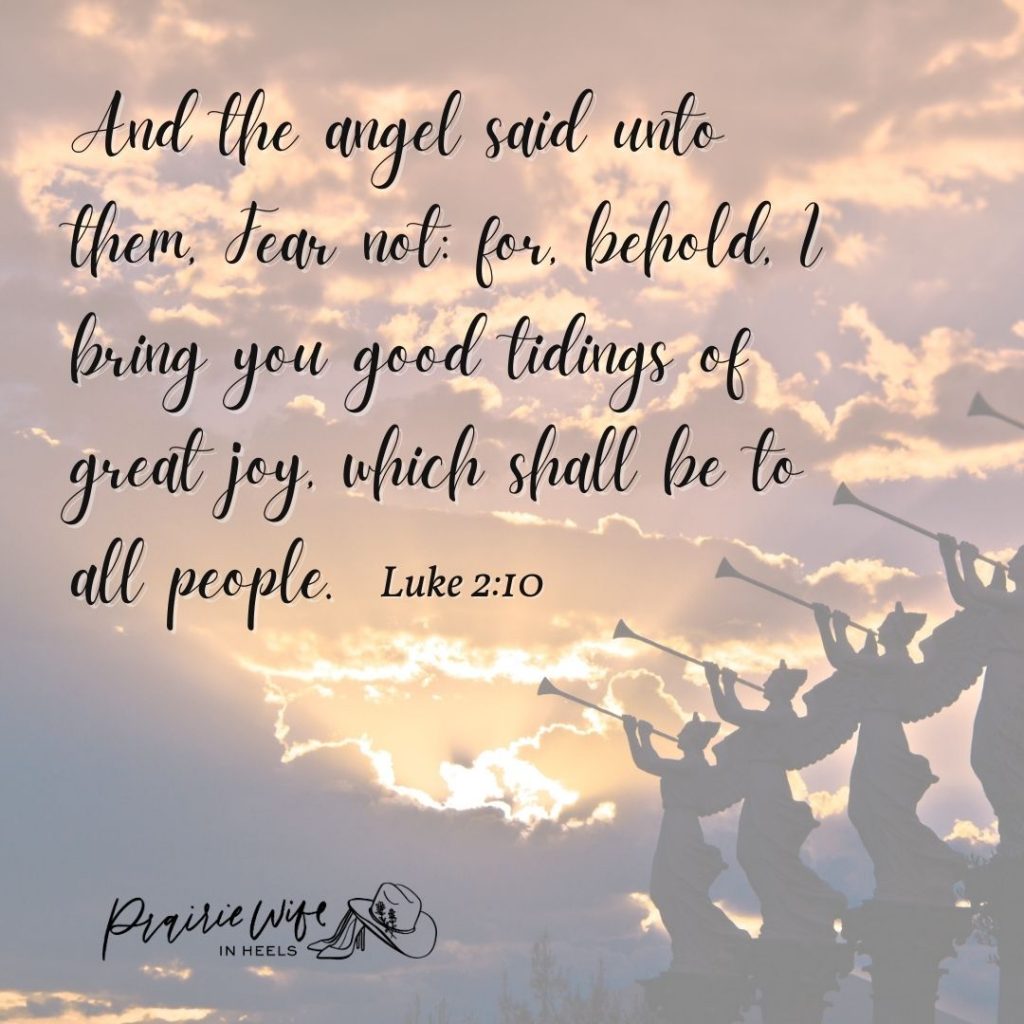 It's the most wonderful time of the year.
Categories: Life As It Happens
Tags: , Christmas, family tradition, finding joy in the holidays, Holiday stress, holidays, parenting, support partenting, teens and holidays