Salted Caramel Chocolate Cookies
Posted August 2, 2018 by Prairie Wife - 4 comments
These are The Cowboy's all time favorite cookies!
He normally only gets them at our St. Nicholas day cookie party. I made a batch for his birthday this year and the response to the pics I posted was large enough that I promised I'd get the recipe up on the blog.
This is a modified recipe.
The original recipe I used to use had caramel in the center, but trust me when I say that these are twice as good AND waaaay easier to make.
These are cake like cookies so they are thick and not super sweet. It's a perfect match for the sticky sweet salted caramel topping. If you like your cookies more chewy you can take away 1/4 cup of flour from the recipe.
ENJOY!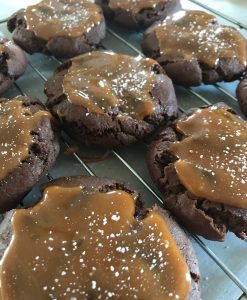 Salted Caramel Chocolate Cookies
Prep: 15 min (chill dough 15-30min) Baking Time: 15 per cookie sheet Makes: 36 cookies
Ingredients
3 cups flour (I do a 1/2 wheat 1/2 white mix)
3/4 cups unsweetened cocoa powder
1tsp baking soda
1/4tsp  salt
1 cup butter (softened)
1 cup granulated sugar
1 cup packed brown sugar
2 eggs
2tsp vanilla
1 11oz bag of Kraft Caramel Bits (or a bag of square caramel candy unwrapped)
1/3 cup heavy whipping cream
Sea Salt
In medium bowl stir together flour, cocoa powder, baking soda and salt, set aside.
In a large bowl beat butter with a mixer on med/high for 30 seconds.
Add granulated and brown sugar, beat until combined.
Beat in eggs and vanilla.
Add flour mixture a bit at a time, making sure it is well combined.
Chill dough for 15-30 minutes.
Shape dough into 1 1/2 inch balls and place on cookie sheet sprayed with non stick spray.
Bake at 375 for 15 minutes or until edges are firm.
Transfer to wire rack to cool.
While cookies cool, combine caramel bits and whipping cream in sauce pan. Stir until combined and melted.
Using a spoon spread caramel on cooled cookies.
Sprinkle with sea salt while caramel is still soft.
Categories: Recipes, This and That
Tags: , chocolate, chocolate cookies, cookies, Dessert, recipe, salted caramel, salted caramel chocolate cookies, sweet treats