It's All About Intention
Posted August 3, 2016 by Prairie Wife - 3 comments
I was at Target today (well now it's yesterday but you know what I mean) without kids…let's all gasp for a minute.
I admit I did hit the clearance rack. Where I bought a few new tops (all button downs I can wear after my surgery next week). And now that I typed that I'm super thankful The Cowboy never reads my blog.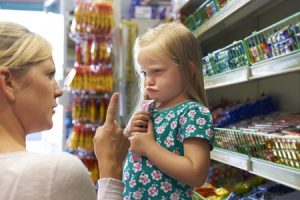 As I waited in the checkout line the mom in front of me was struggling with a cranky 3 year old. He was over shopping and wanted candy and she was telling him "No!"
In true Prairie Wife fashion I told him he could come live with me and that I was a lot meaner than his mom. I told him we had dog poop to pick up and horses to do chores for blah blah blah.
It was a ploy to distract him and allow his mom to finish paying without him screaming and hanging on her leg, and it worked.
As I was chatting away with the checkout gal it occurred to me that perhaps she saw my comments as rude and insulting and I began to wonder if I had made her trip to Target worse instead of better.
I happened to run into her on the way out and I took the time to say. "I hope you didn't think I was being rude, I was just trying to help you. We've all been there!" She assured me all was well and I left and went on with my day.
As I perused Facebook later that afternoon I came across several posts where people were complaining about hurtful comments they had heard recently, how insensitive people can be. As I read the post I thought back to the mom at Target, and began to wonder if I had turned into a similar post on her timeline.
After a few moments of thought I took a deep breath and allowed myself to move on.
After all, I knew my intentions were good.
And that right there readers is the point of my post.
I myself have been guilty of reacting emotionally to the comments of others. Let's take a look at some of my most popular posts…
Letter to the Grouchy Lady at Church
Don't You Know What Causes That?
All of them were created as a reaction to something that someone said, something that hurt my feelings or made me angry.
Here's the thing though.
If you look at Women Can't Win you'll see where I say over and over that I know the woman who approached me had no intention whatsoever of making me feel bad. That I knew she didn't think I needed to loose weight, that it was my emotional baggage that resulted in the rant.
Even though I got upset, I knew that her intention was pure, that she would never want me to feel the way I did.
And that helped me to take a deep breath after I vented and move on…without looking back.
Some people may claim I'm being fake…how can I smile and be friends with someone that hurt my feelings, that I vented about just the other day?
But I assure you it's not being fake, it's forgiveness.
I've had a lot more chances to have my feelings hurt (when you make the choice to chop off your boobs it seems everyone has an opinion) but, I've been practicing my new trick.
Now when someone says something that hurts my feelings or makes me pause I try not to react right away but instead, pause and take a moment to think about their intention.
Lately I've come to realize that people really do usually mean no harm with their comments.
Do my feelings still get hurt? Do I still sometimes find a need to vent? Heck yes!
But, lately I've found that when I take some time to think about the true intention behind their words it's easier to forgive, forget, and move on.
Give it a try and let me know if thinking about the intention behind other's comments helps you to stay calm!
Copyright: highwaystarz / 123RF Stock Photo
Copyright: petunyia / 123RF Stock Photo
Categories: Life As It Happens
Tags: , advice, Friendships, Intention, motherhood, Prairie Life, Prairie Wife, support, women, words of wisdom