Wyo Sal: Cruising the Hills
Posted August 4, 2016 by Wyo Sal - 4 comments
A Note From Prairie Wife: I'd like to take a moment to welcome a new frequent contributor to our site. Wyo Sal is a past Prairie Wife of the Week and a someone that I look up to as a woman, writer, mother, and of course…chef! Enjoy and don't forget to welcome her 😉
So the first time I was ever on a motorcycle for more than a spin around town, we went 500 miles roundtrip in 12 hours and I was sitting on the unpadded luggage rack.
I survived. In fact, I loved it.
Since then, the ride has been upgraded, and while I still long for a cup holder, wraparound armrests and SiriusXM radio — in that order — I now have a backrest and a seat that is more comfortable than the luggage rack.
We are old — and while we wear black leather and love patches that are a bit "off,"as in offensive — we chafe at the term "bikers." We prefer to think of ourselves as old people with an old Harley.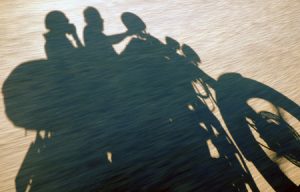 Blessed to live in Wyoming, we marvel at how coming "out here" is a life's dream for so many. One of our favorite parts of traveling to the Black Hills in August is to hear the stories of others who have aspired to this one vacation for years.
We met a couple who had just retired from the Pentagon. He always said, "when I retire, we're going to Sturgis," and they did.
We met a couple from Canada, who were hustling back for their son's wedding. They told him if he got married during Rally, they'd miss the wedding.
And we have met lots and lots of groups of men taking a "boys only" trip. My man has gone a time or two without me on day trips while I worked, but I hated it, and vastly prefer the hotel, hot tub, fine dining experience as a shared vacation.
So we don't camp. If I had the Prevost diesel pusher motor home I covet, maybe some would classify that as camping. But until then, it's hotels with hot tubs and one nice sit-down meal a day for us.
There are some great places to eat in the Black Hills, but it can be overwhelming to find during Rally, when the majority of food is of the fair stand, corn dog variety.
Oh, but speaking of corn dogs, the best I've ever eaten was a footlong from a stand on Main Street in Hulett. It's tough to manage the ketchup on a footlong, but it is possible with practice.
So back to real food.
Here are some spots you must try:
1. Lewie's — best cheeseburgers and onion rings you'll find. Great, friendly wait staff. Clean restrooms with TVs in each stall. Family friendly, Rally goers mix with camping families with ease. 711 S Main St, Lead, SD 57754; phone (605) 584-1324; 11 a.m. to 11 p.m. or later.
2. Dakotah Steakhouse — super nice place for a great dinner in east Rapid City. Steaks, as well as fish and game are their specialties, so if you do not get to eat game regularly, you'll enjoy this. Families welcome. Reservations strongly suggested in August. 1325 N Elk Vale Rd, Rapid City, SD 57703; phone (605) 791-1800; 4 to 10 p.m.
3. Loud American Roadhouse — yes, you must order the breaded steak tips, which you could make at home for a fraction of the price. But it's a tradition and you must. Long tables inside promote talking to people you don't know. The last time we were there, there were tiny dogs sleeping under the table unaware of the deafening din around them. And anywhere that Moorcroft's own Chancey Williams and the Younger Brothers Band play is good enough for me. Because we are old, we love to get there early in the morning, stake out a table out front, and people watch. Have an early lunch and beat the larger crowds if you'd like. 1305 Main St, Sturgis, SD 57785; phone (605) 720-1500; 11 a.m. to 2 a.m.
So this gets you through three days — four if you have a corndog for breakfast in Hulett.
The rest of the time, we make do with a six-pack and a pound in the hotel room, or ice cream and beer as a meal (yes, they go together).
You can definitely make this trip without a motorcycle. It's the best people watching on the planet. If not this year, make a plan to go another time. If you're in Wyoming, it's right next door.
How lucky are we?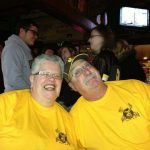 WyoSal is a Catholic mom and grandma and works full-time. She loves football and food and books. She hopes to win the lottery some day.
Copyright: xuanhuongho / 123RF Stock Photo
Categories: This and That, Wyo Sal
Tags: , bikers, cruising, food, motercycles, riding motercycles, South Dakota, South Dakota restraunts, sturgis, sturgis restraunts, Wyo Sal, Wyoming