Prairie Wife of the Week: Sally Ann Shurmur (Journalist)
Posted January 18, 2016 by Prairie Wife -
You would think that there would be a time when I would stop being amazed by the twists and turns that bring people into my life…but as of today I am still finding myself feeling blessed beyond measure by this blog. Last year an article was published in the Casper Star Tribune that was brought to my attention by a friend. It turns out that The Cowboy's yearly outdoor Christmas light display had caught the attention of a local newspaper writer Sally Ann Shurmur. She wrote a lovely article so, I sent her a thank you email. We chatted back and forth a bit and eventually became Facebook friends. I quickly became a fan of her writing and through Facebook I came to know the witty and loving woman behind the words. Over the course of a year I began to feel like I had found both a mentor and a friend is this strong fellow Midwestern transplant…yet we had never met in person! When I finally had the pleasure of meeting her I admit I may have squealed jumped at her and enveloped her in a big hug. I'm surprised she didn't run away in fear. In what I now can appreciate as her style, she simply laughed and brushed off all my praise.
When she agreed to be a Prairie Wife of the Week I was excited to not only share her story but, to get a chance to sit down and talk with this writer and woman I had come to admire so much. I didn't realize how much we take for granted today until I heard her talk about how much she loved sports, yet was limited by the gender biases of the time in how she could participate. She persevered as a working mother in a time when there was neither the respect or support that we have today, and not once did she complain. I could see that it never even occurred to her to do anything but roll with the punches and keep moving forward. An attitude that was clearly passed down to her from her beloved and hardworking parents. Make sure you stop back by this Wednesday to read one of her most popular recipes and to enter to win a signed copy of her cookbook!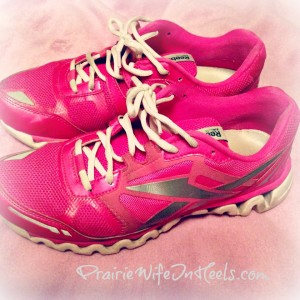 Prairie Wife (PW): First tell us a little bit about your family.
Sally Ann Shurmur (SAS): I am the oldest of three children and was born on the outskirts of Detroit Michigan. Now, I live in Glenrock, Wyoming a few blocks away from my significant other, with Sophie my beloved dog. I have an 8 month old granddaughter who lives close by as well. She has added to our lives in so many unexpected and wonderful ways!
PW: How did a Midwestern girl end up in Wyoming?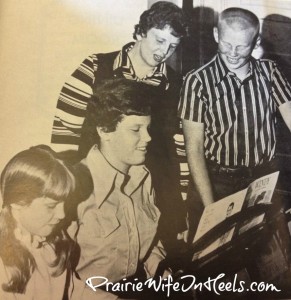 SAS: In the winter of '62 my dad received a job as the assistant coach at the University of Wyoming in Laramie, Wyoming. It was the first time my dad had ever left Michigan! My mom was pregnant with my sister (the youngest) and we stayed in Michigan through the winter and then moved to Laramie in June of '63. We lived there for 13 years. When my dad moved on to the Detroit Lions I was in the middle of my freshman year at UW so I stayed.
I loved every minute of my time at UW! I joined the Pi Beta Phi Sorority and those girls became a huge part of my life. Eventually, my dad realized that perhaps I was spending more time enjoying the social parts of college more than I was working on expanding my mind. In the no nonsense way that only he had, he told me in no uncertain terms to get my butt in gear and back on track.
PW: While at the University of Wyoming you received a degree in journalism, what led you to that field?
SAS: I was reading at an early age and I loved words and stories. As a young child I can remember reading The Detroit Free Press newspaper. Newspapers were always a part of who I was.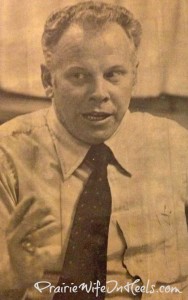 As I grew older the only thing I cared about was sports (those that know me now would say that I haven't changed much). I know that my love of sports was directly related to my father and his passion. Things were different for girls when I was younger. The only sports that we could participate in were swimming and track. Not only were my options limited but, I am also the most uncoordinated person ever. It eventually occurred to me that while I couldn't play or coach, I COULD write about sports.
I started writing for the school paper in junior high and then in high school I was invited to hang out at the Boomerang office (Laramie's newspaper). After spending time there helping in any and every way they would let me, I knew that's what I wanted to do. My dream was to write articles for Sports Illustrated, but things don't always happen the way you plan.
While I was at UW Kevin McKinney from the UW sports information office asked if I wanted to be an intern. I started proofreading and answering the telephone and eventually I ended up acting as a support person for Margie McDonald, the Cowgirl basketball coach. She was amazing, and had to do everything for that team from coaching to washing uniforms, it all fell on her. When I could, I went on the road with them and I helped with game stats and press releases. I absolutely loved it! So much so, that I thought maybe I should change to sports information. I wanted to cover ALL sports not just women's and it became clear that wouldn't be an option. So, I went back to dreaming of being a sports writer…
PW: You've worked as a writer for the Casper Star Tribune for almost 34 years all together; can you share what it's been like to be a part of such a local institution for so many years?
SAS: When I was a senior at UW the sports editor at the Casper Star Tribune called me and asked if I wanted to write for them. Without a second thought I accepted! I did a series of profiles on the coaches wives which were included in weekly inserts about Cowboy football. He called me and asked if I wanted to write sports for them in May when I graduated…I don't know who was happier, me or my dad when I called him with the news!
June 5th 1978 was my first day as a sports writer for the Casper Star Tribune; it was everything I thought it would be. When I was married in 82 I was asked to become a writer for the Catholic Register. To me it seemed like perfect timing. While it was extremely hard to leave the Newspaper, writing for the Catholic Register allowed me to both stay home and write. My oldest was born in Feb of '84 and I found that between having a young child and a husband on the road (as most Wyoming men still are) I was beginning to feel isolated.
The Newspaper asked if I would come back to write sports in '86 and I accepted. I enjoyed every minute of it! We made it our mission to do the best job we could covering all of Wyoming's 72 High Schools and their sporting events. It was exhilarating and exhausting (lots of weekend and evening hours) at the same time. I'm so proud of what we accomplished; we won several awards because of our coverage.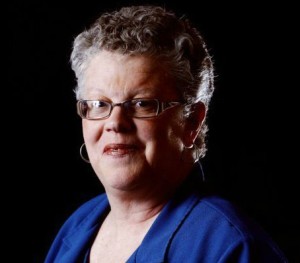 In '95 I was offered an 8-5 job and I took it. It was the community news, and it's what I continue to do today. I began by writing the obituaries and weddings and answering the phone. We added food/recipes and my Sunday column in 2000. Officially, my title is now community news editor…the town crier if you will! Occasionally, I get out and about and report but, I prefer to do the other things. I look back and think of how I started, and I'm proud of how I've survived. Change can be hard but I've learned time and again that I'm a survivor. Unsuccessful people are afraid of change…
PW: Talk to me about writing and what it does for you as a person?
SAS: It's the cheapest form of therapy there is and I receive it every time my fingers hit the keyboard. When I write I find that it allows me to look at things with a new perspective and it gives me an opportunity to change my focus and adjust my attitude.
PW: The topics you write about are many and varied. Where do you get your inspiration?
SAS: Life. I've often said that I write about stuff that happens to everyone but, not everyone feels that they can share. When my kids were young that's what I wrote about but, life evolves and my column offers me the opportunity to talk about where I am now. I've found that what I write now is no less important or relatable for my readers. A while ago, I wrote several columns about my spur of the moment decision to move. I heard later from a reader that reading about my experience gave her the strength and inspiration to do the same thing. It's stunning and humbling at the same time to know that something I write can impact someone's life in such a huge way.
PW: Many people aspire to be professional writers, do you have any advice for them?
SAS: Just do it. No project or opportunity is too insignificant for your time. If it's your passion you need to take the time to make a part of your life.
PW: You are known for your amazing recipes and have a cookbook, what does creating a meal from scratch mean to you?
SAS: My mom was the best cook I know; she was the typical 1950's Midwestern housewife. Everything I know about cooking I learned from her. When in '97 my editor said he wanted to add food to what we were doing I said "I want to do this." I love to cook and I love to eat…what more references did I need? I use my own cookbooks that I've collected and my mom's recipe collection. I know I'm making Wyoming fat one recipe at a time, but they enjoy every bite!
Convenience is a big part of cooking, if a recipe is too complicated I won't take the time to do it and I assume the same thing about my readers. I guess for me, cooking is a form of stress relief. When I'm making a meal I'm focused on the recipe and the process instead of what's bothering me. I end up with a wonderful meal to put in front of someone I love. That act of giving to another person at the end and spending the time enjoying a meal together is a balm that soothes my soul.
PW: Any last Prairie Wife words of wisdom?
SAS: We have so much to be grateful for! I understand that sometimes it takes effort to see it. When you make yourself focus on the good things, you'll see that life will calm down, the right options will become more clear, and you will be able to embrace all the good that is waiting for you.
Categories: Life As It Happens, Prairie Wife of the Week
Tags: , Casper Star Tribune, female sports writers, interview, Newspaper writer, Prairie Wife of the Week, Sally Ann Shurmur, sprots writer, writer