Anita's Chicken #giveaway
Posted January 20, 2016 by Prairie Wife - 7 comments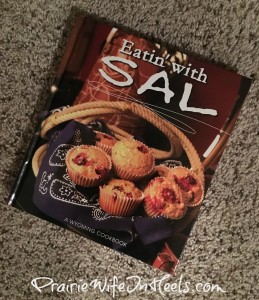 On Monday we introduced you to longtime writer at The Casper Star Tribune Sally Ann Shurmur. Besides being the self proclaimed "town crier" she shares many of her simple yet tasty recipes in a column called Cookin' with Sal. Her cookbook Eatin' with Sal is a wonderful collection of her recipes as well as recipes submitted by readers from across the state of Wyoming. It's available for purchase at The Casper Star Tribune (on sale now for only $10) and I can tell you that The Cowboy was drooling as he paged through it! The recipe below for Anita's Chicken is one that Sally Ann says is one of the best. I made it for my family last week so that I could have a picture and Cowboy W said "I am a chicken eating maniac when it's this chicken!" Needless to say it was win. Per her suggestion I paired it with a side of brown rice/quinoa  and a fresh green salad. It was perfect!
Don't forget to enter our giveaway below to win a signed copy of Eatin' with Sal!
Anita's Chicken
Prep Time: 5 minutes Cook Time:1 1/2 hours
Serves: 8
Ingredients
4 boneless/skinless chicken breasts thawed
2 slices of Swiss cheese
1 can cream of chicken soup (and 1/2 can of water)
1 cup seasoned bread crumbs
1/2 stick (1/4 cup) butter
1. Preheat oven to 350
2. Butter 8×8 inch square pan and place chicken inside.
3. Place 1/2 slice of cheese on top of each chicken breast.
4. Mix together 1 can of cream of chicken soup and 1/2 can of water in a bowl. Pour over the top of chicken and cheese.
5. Melt butter in the microwave and combine with bread crumbs. Sprinkle on top of the chicken.
6. Place in oven uncovered and serve warm.
Note: This is a rich dish so be careful with your side dishes. I suggest a nicely season brown rice, a hot green vegetable or a tossed fresh salad.
Recipe credit goes to Sally Ann Shurmur
Categories: #GiveAways, This and That
Tags: , Anita's Chicken, chicken, chicken dinner, cookbook, eatin' with sal, Giveaway, Main Meals, recipe, wyoming food