Holiday Outfit Inspiration
Posted November 24, 2014 by Prairie Wife - 4 comments
As part of our month of Helpful Holiday Hints we've got some great Holiday Outfit Inspiration! From a casual look perfect for cuddling up with your sweetie and some hot cocoa, to a black tie look for your company party, we've got you covered. With every item priced at under $100 these Holiday Outfits won't hurt your Holiday budget either! Click on the thumbnail pictures to go directly to the site and buy your items.
Cozy and Casual
This outfit is cozy and casual yet still looks put together. I imagine wearing it to a casual family get together or a night in with your sweetie drinking hot cocoa snuggling on the couch! It's also perfect for running those last minute Holiday errands or meeting up with the girls for a little shopping and lunch. The low heeled boots are functional and stylish and the darling boot cuffs add just the right bit of country to the look. The Buffalo Plaid scarf is totally on trend right now and adds a pop of color (and warmth) next to your face. Put your hair in a messy bun to show off these fab statement stud earrings, grab your purse and head out! PS Wouldn't it be super cute for Holiday Family Pictures too?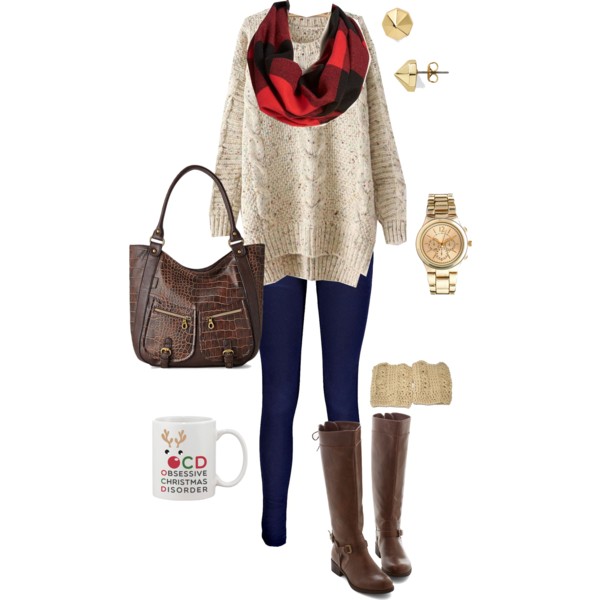 Dressy and Chic
This outfit is dressy, chic and very versatile! The black cigarette pants are a classic look that's back in a big way this winter. Ditch the clutch and wear the booties for dinner at the in-laws (or to meet your partners parents for the first time). The strappy heels and clutch make it perfect for drinks or a hot date after work. The wine colored top is a nod to the Holiday Season without being too festive. Add the matching polish (a look that's everywhere right now) on your toenails and fingers to look perfectly put together. Don't forget to push up the blazer sleeves to show off you bangle bracelets and to keep this from looking to corporate!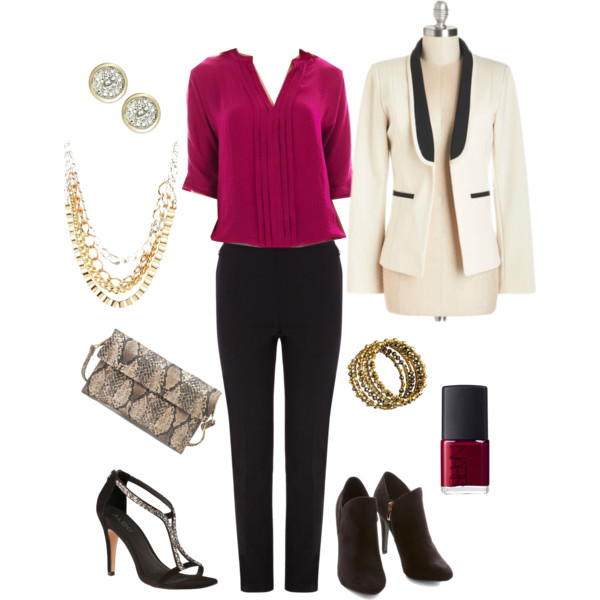 Black Tie Ready
This outfit is black tie ready and sure to make them look twice when you walk in the room. The A-line dress mixes patterns (once again a BIG trend) but in a subtle way. The cut of the dress as well as the patterns will be flattering to any shape and size and the shoulder and neck line allow you to wear a bra so you won't be tugging and tucking all night long. The closed toe strappy heels add a hint of sexy but keep it practical for winter, with the closed toe you can slip on some sheer black tights for extra warmth! The green accessories are a nod to the Holiday Season without going overboard and I just love the bow detail on the clutch! I added my makeup choices including gold eyeliner (see how to wear it right here) and a plum lip. Stop by Kendra Richard's post about Holiday Makeup for some great tips and tricks to look your best. Another reason I picked this dress is it's ability to become a classic in your closet. Throw on tights, knee high black boots and a cozy cardigan for date night. Put a thick cozy sweater over the top and wear it with ankle booties for a fun hipster look…the possibilities are endless!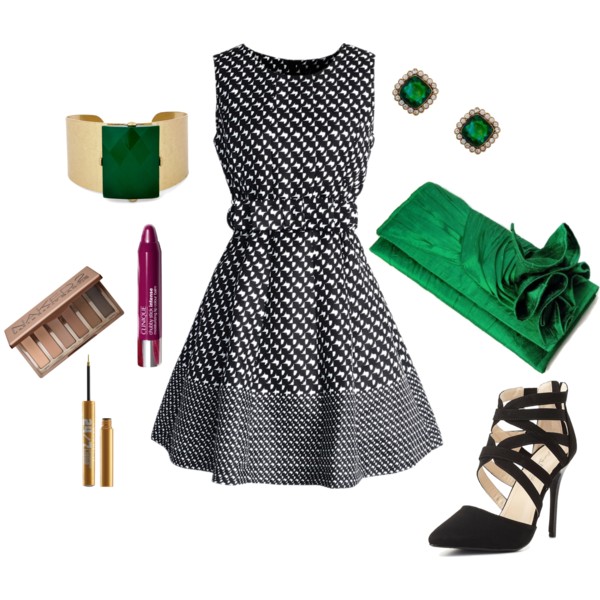 What do you think of our outfit choices, what do you love (or hate)?!
Categories: Fashion, Prairie Wife Style
Tags: , Black Tie, casual, Dressy, Fashion, Holiday Outfit, Outfit Inspiration, shopping