Time to Say Goodbye (to Leftovers)
Posted November 26, 2014 by Texas Two Steppin' - 1 comment
You spent time preparing for their visit so everything would be perfect. You truly enjoyed their company on Thanksgiving day, and shared their photos on Facebook, Instagram and Twitter. They were even welcome visitors the next day. But when is it time for you to say goodbye to your holiday leftovers?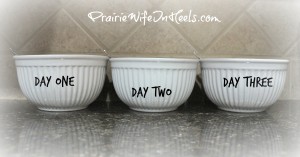 This is a serious question because one in six Americans will get sick from food poisoning this year, according to www.foodsafety.gov. I totally get that it is important not to waste food. However, it is more important not to be known as the hostess who poisoned her friends and family. If you visit their website you will find tons of great information about preparing, cooking and storing food, but here are a few of the most relevant Thanksgiving tips:
Cooked meat (yes, that means turkey and ham): 3-4 days refrigerated, 2-6 months frozen
Any type of salad (lettuce, chicken, egg, etc.): 3-5 days refrigerated, please don't try to freeze it!
Casseroles and stuffing: 3-4 days refrigerated, 2-3 months frozen
Pumpkin or pecan pie: 3-4 days refrigerated, 1-2 months frozen
Custard pie: 3-4 days refrigerated, don't try to freeze it!
Homemade eggnog: 2-4 days refrigerated, and again, don't try to freeze it!
In my family, our basic rule is that if you haven't eaten it by day three, be safe and toss it. And remember, your fridge should be set to 40 degrees or lower and freezers should be kept at 0 degrees or below.
Categories: This and That
Tags: , food poison, freeze, fridge, holiday, leftover, meat, storage