The Cowboy's Scouting Trip
Posted August 30, 2014 by Prairie Wife - 9 comments
As August draws to a close a new season begins here in Wyoming…not Fall but…Hunting Season. Those of you who are not "blessed" with husbands who are hunters may be looking puzzled, and those of you who are familiar with the term Hunting Widow (a woman who is abandon by her husband for weekends/weeks at a time as he sets out for the ever elusive "big one") are now rolling your eyes. I have shared my first Elk hunting experience with you and while I have no qualms about being left behind I am not exactly thrilled about becoming a Hunting Widow yet again. Ever since the invention of my own Elk hunting trips it's become easier to swallow but, being away from The Cowboy for 10 days is hard…after all I do kinda like the guy! This year The Cowboy and his BFF (can guys have BFF's ?) JohnnyRed have a 10 day hunt planned for the middle of September. Imagine my surprise when The Cowboy began talking about their scouting trip a few weeks ago.
It seems that this year to really make sure they have a "good hunt" The Cowboy and JohnnyRed decided they need to take a long weekend trip up to the mountains. This meant that they gathered up the horses and literally headed for the hills for four days. Luckily JohnnyRed left his lovely wife SweetN'Slim and their daughter to keep me company on the Prairie. SweetN'Slim has become a close friend and we have spent weeks living together as JohnnyRed has completed various construction projects for us through the years. Last year she stayed with us while the men went hunting and it was such a blessing! We've got the whole sister wife thing down pat…trading off cooking, cleaning, and kid watching as well as laughing together with friends and curling up with ice cream and watching chic flicks when the kids are all (finally) in bed.
When The Cowboy and JohnnyRed returned they were exhausted and stinky, as well as renewed in spirit. They shared stories of dangerous trails, snow and freezing rain, horses/mules going over cliffs, grizzly bears (four), and wolves…and oh yeah…the two elk they saw. Sounds wonderful right?! Luckily The Cowboy took his camera and I thought I'd share his pictures. Looking at the vast untouched landscape of the Wyoming mountains makes me understand why The Cowboy returns year after year but, the pictures of the bear make me glad to stay home and hang out with the Cowkids and SweetN'Slim!
Headed into the Thorofare Valley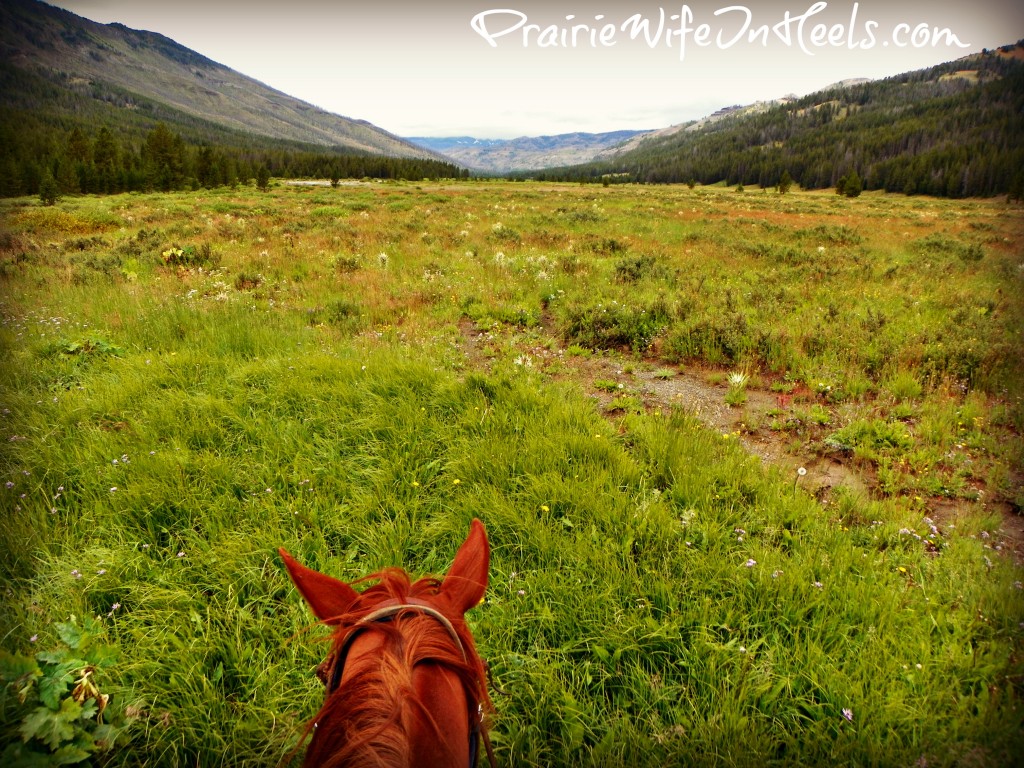 All together The Cowboy and JohnnyRed saw eight wolves, here is one as she heads up the mountain to meet the rest of the pack.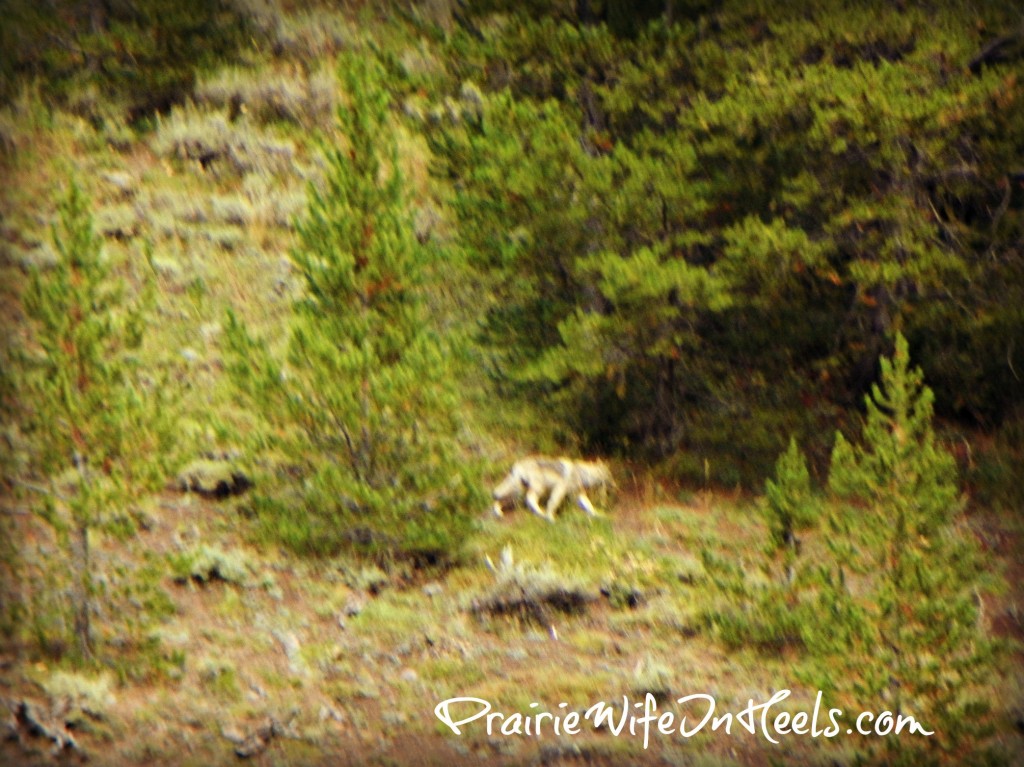 Deer Creek (you have to say it Crick) Falls.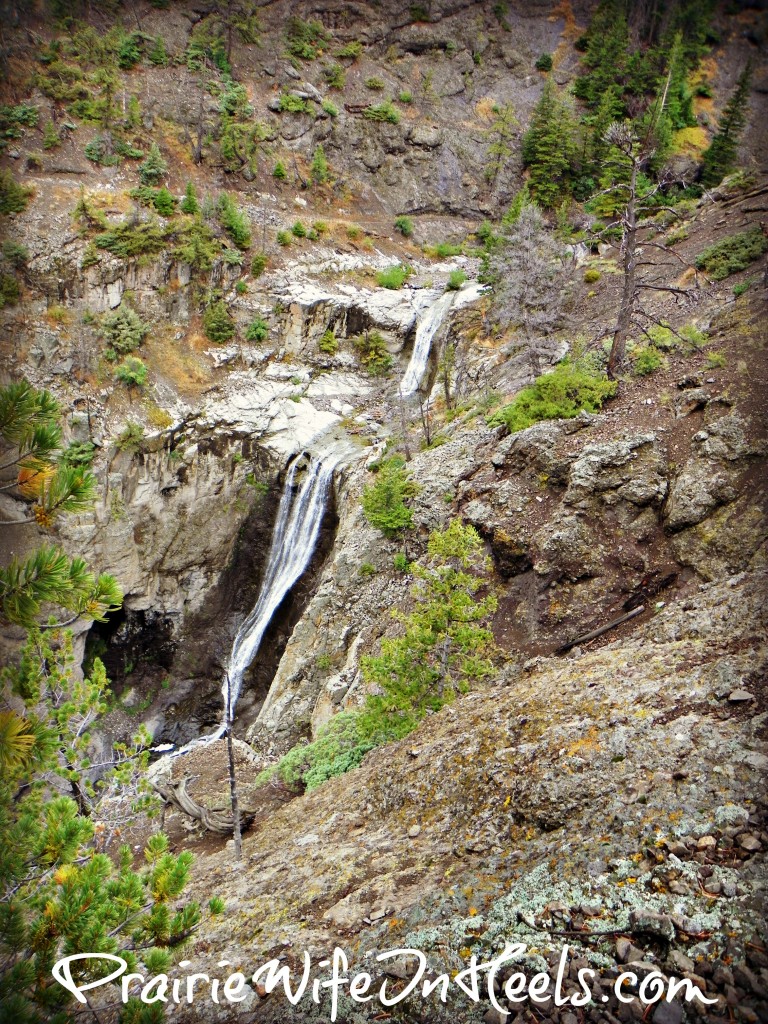 Taking some time to warm up by the fire!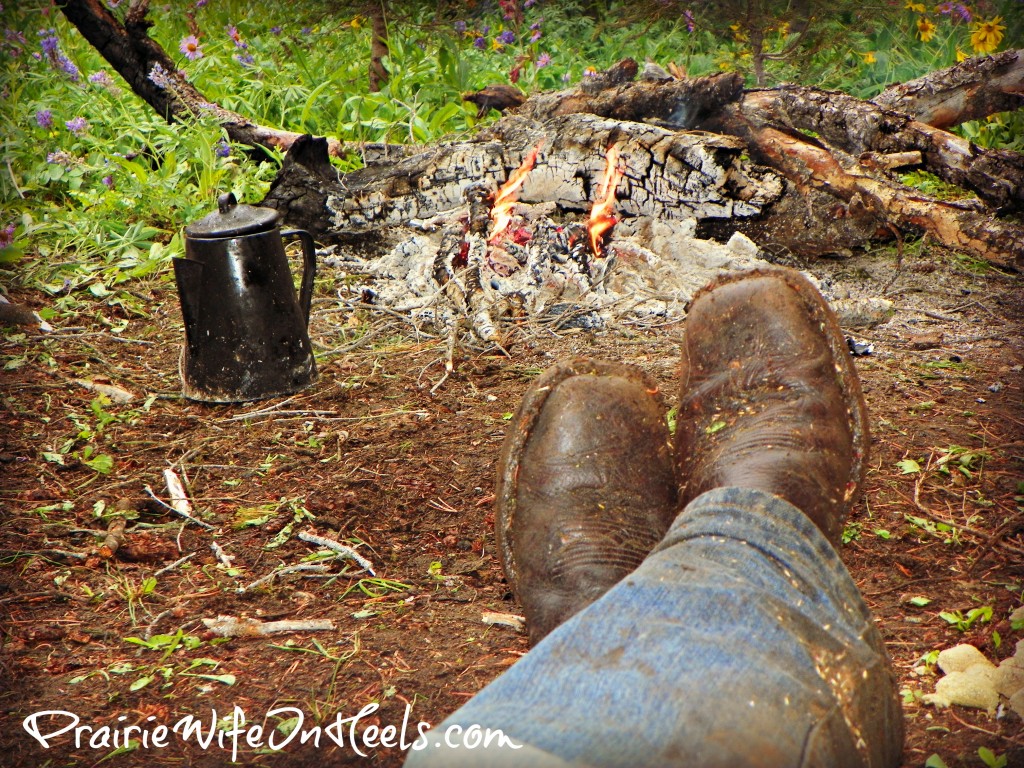 When JohnnyRed first saw this Grizzly bear he thought is was a Moose…that's how big it was!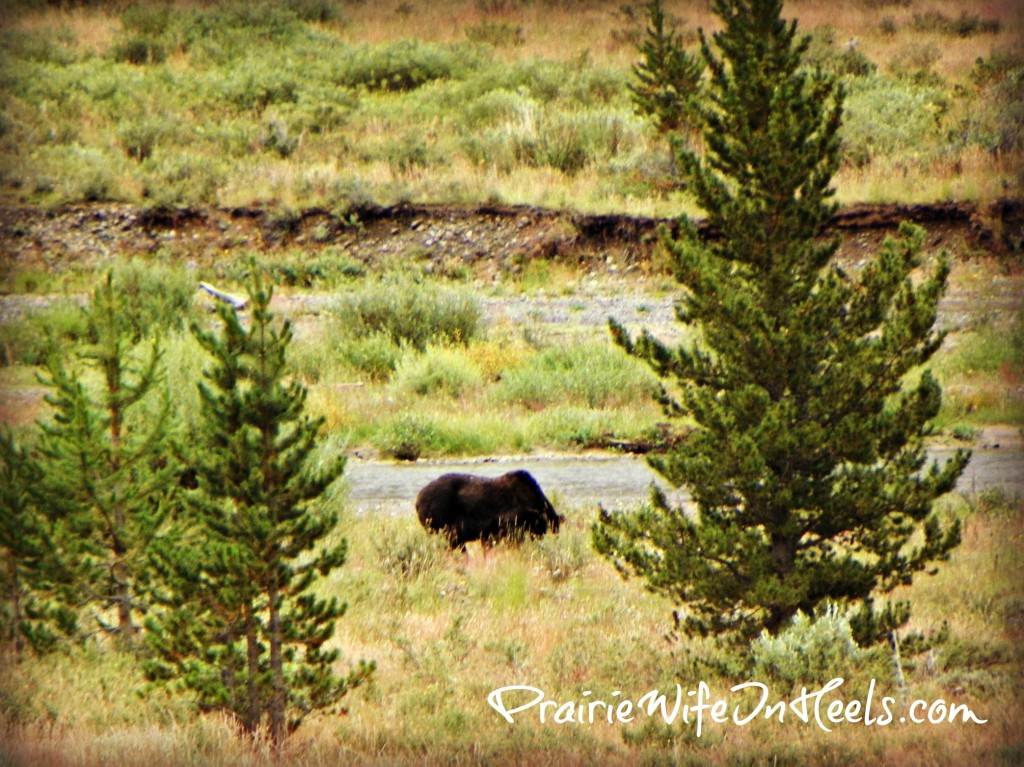 When a Grizzly Bear looks at you like this it's time to go!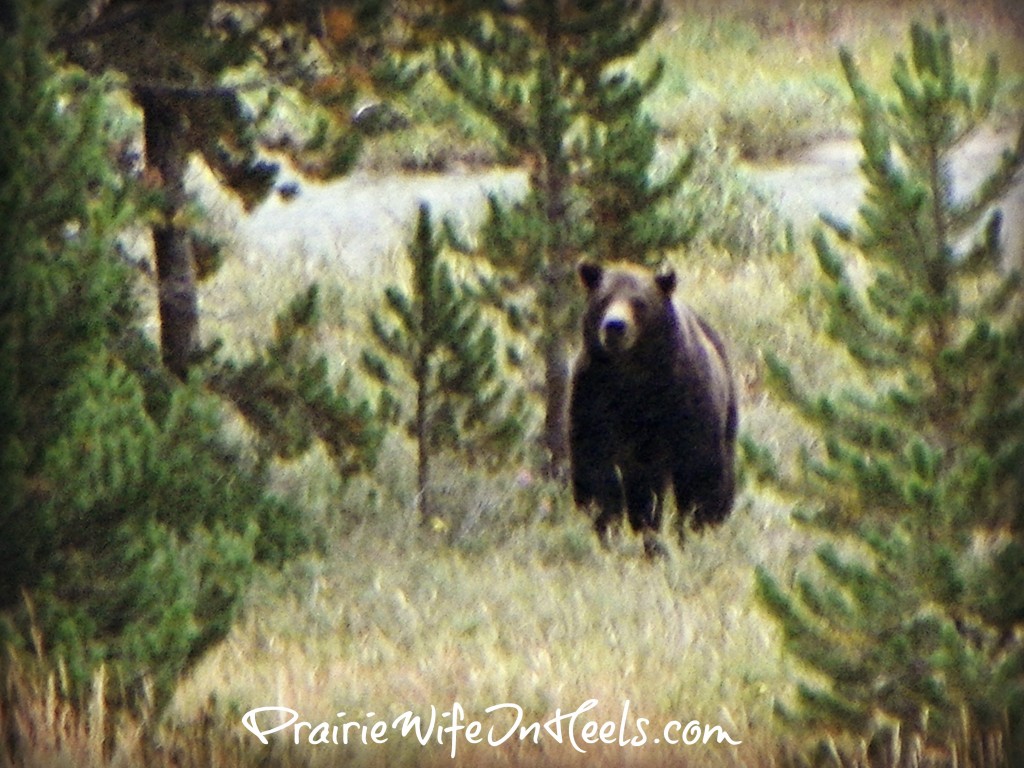 This is a lovely shot of Thorofare Butte, though it looks a little cold to me.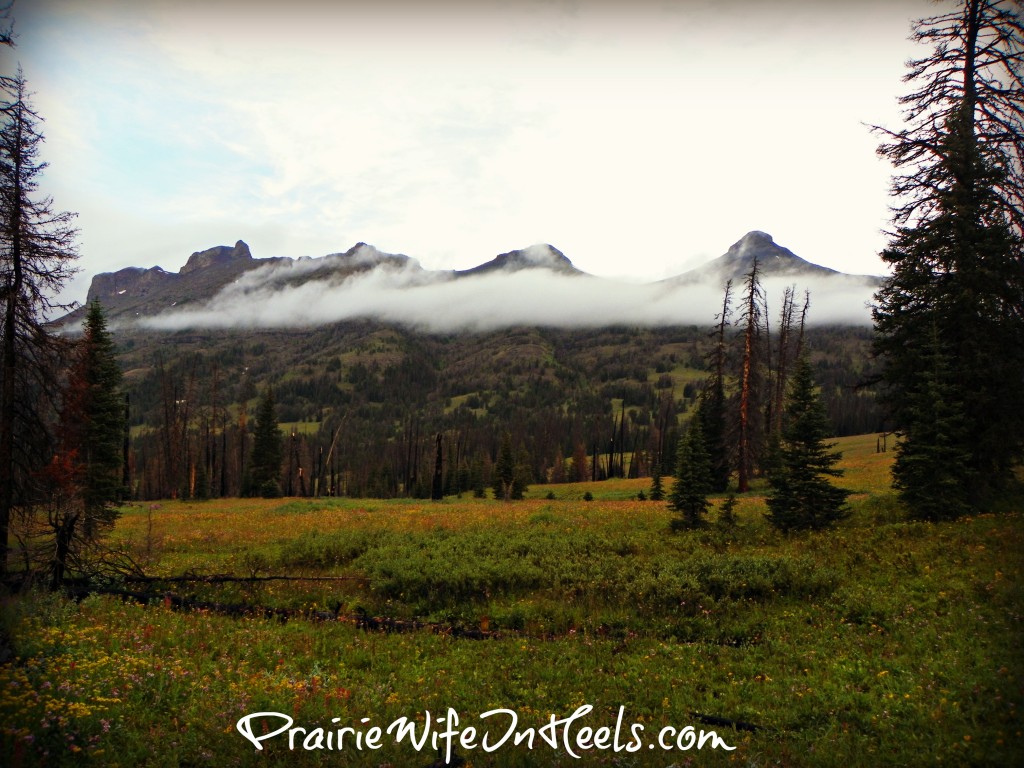 What picture is your favorite?
Categories: Life As It Happens
Tags: , bears, Elk hunting, horses, nature, pictures, Prairie Wife Life, The Cowboy, wolves, Wyoming Mountains