Prairie Poppers
Posted September 1, 2014 by Prairie Wife - 4 comments
One of my favorite things about pregnancy is cravings. Nothing tastes better then giving that baby belly what it wants. With Cowboy J it was bacon, popcorn shrimp and onions. Cowgirl G it was cookie dough blizzards, banana splits and Queso dip. Cowboy W was curry and chicken fried steak. Cowboy C was brats, grapefruit, and fresh tomatoes and mozzarella. This baby's cravings seem to be along the same lines as Cowgirl G…my current favorites are Snapple, skittles and Jalapeno poppers!
The Cowboy has been ecstatic about this because I normally can't handle mild salsa! Until this pregnancy, I had only bought Jalapeno's one time to cook with. Now every week finds the fridge full of fresh Jalapeno's and HOT salsa. He's keeping his fingers crossed that my new love of spicy hot food will stick but, based on past experience as soon as the baby is out I'll go back to being a big sissy. Over the last few months I have perfected my homemade Jalapeno poppers and renamed them Prairie Poppers. I've tried the recipe out on several of my friends, and they all immediately asked when I was posting it, so they could make their own. In truth the best part is the delicious filling, and I've found a few creative ways to use the extra in other recipes (you'll probably have some left overs with this recipe).  I highly suggest using it as a dip for tortilla chips (and I won't judge if you just eat it by the spoonful), putting it on top of your tacos or nachos, or mixing it up with some taco meat, veggies, cheese and tater tots for a spicy taco casserole!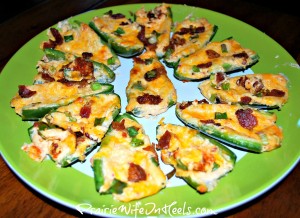 Prairie Poppers
Prep Time 15 min Cook Time 15 min
Serves 8
Ingredients
1/2 lb bacon
10 large Jalapeno peppers
2 8oz Packages of Creme Cheese
1 cup shredded Mexican cheese (plus extra for sprinkling on top)
1/2 small onion
1 clove garlic
1/4 cup salsa (pick mild, medium, or hot based on your preferences)
1 green onion chopped for a topping
few drops of lime juice
Sour cream for dipping if desired
1. Cut up the bacon into small pieces and start frying it in a pan on the stove, set oven temp to 375.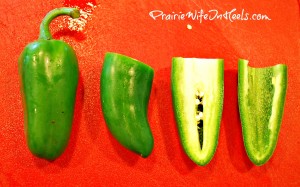 2. While the bacon is frying cut the Jalapeno peppers. First cut off the tops, then slice them long ways down the middle. Then using your fingers or a spoon, clean out the seeds. Place them on a cookie sheet lightly sprayed with non-stick spray. Please remember to wash your hands afterwards and don't touch your face, eyes, or kids until you have!
3. Once bacon is done drain off grease and set half aside for toppings.
4. Place bacon (remember half is for toppings), cream cheese, shredded cheese, onion, garlic and salsa into a food processor or blender. Blend until smooth.
5. Using a large spoon scoop out the filling and fill empty raw peppers.
6. Top peppers with shredded cheese, bacon, and green onions.
7. Place in oven and cook until cheese is bubbling (15 min) and serve hot!
The Cowboy likes to grill them, and I have to admit they are pretty tasty this way too!
What pregnancy cravings have you had?
Categories: This and That
Tags: , Appetizers, Jalapeno poppers, mexican food, On the Side, recipe, spicy food