Zesty Chicken and Ranch Taquitos
Posted May 21, 2018 by Prairie Wife - 2 comments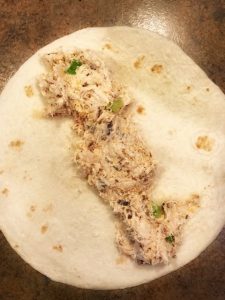 It seems like the weather went from Winter to Summer without much of a Spring!
Suddenly, my yummy crockpot soups no longer seem appealing, and I find myself wanting to make sandwiches and cold pasta dishes. This is fine with The Cowkids and me, but The Cowboy prefers his meals with a bit more substance. This recipe is the perfect dish for warmer weather! It's filling but not too heavy, the zesty flavor will please everyone in the family, and the leftovers work perfectly as a no-fuss school lunch (because I know I'm not the only one that's counting down the days to Summer break). This recipe was enough to feed our family of 7, and we still had 3 Taquitos left over, but I said it serves 6-8 because adults will probably eat two Taquitos.
Note: Feel free to add sweet peppers, green chili peppers, salsa, or regular onions for a bit more of a bite.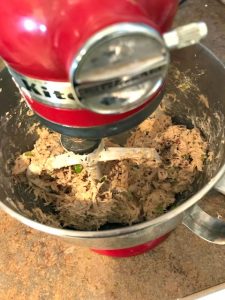 Zesty Chicken Ranch Taquitos
Prep Time: 15 min Bake Time: Chicken 20-30min Taquitos 15min
Serves 6-8
Ingredients
3 large thawed Chicken Breasts
12 Tortillas
1/2 Bacon
1 8oz Block of Cream Cheese (room temp)
4 green onions
1/4 cup Ranch Powder
1 cup Shredded Cheddar or Mexican Cheese (plus a bit more to sprinkle on top).
Place Chicken Breast in a glass dish and put in oven at 375 degrees for 20-30 minutes or until no pink remains.
While chicken is cooking, cut bacon into small slices with kitchen scissors and fry until crispy.
Cut/chop green onions into small pieces.
Take baked chicken out of the oven and set the oven to 425 degrees.
Put all the ingredients (leave a bit of shredded cheese out for topping) in a large stand-up mixer bowl and combine. If you don't have a stand-up mixer, combine in a large bowl and use a hand mixer.
Spray a 3 Quart rectangular glass baking dish with non-stick cooking spray.
Take approx. 1/4 cup of mixture and spread evenly in a line down the center of a tortilla. Tightly roll each tortilla and place it in a glass baking dish. Repeat until all the mixture is gone.
Sprinkle remaining shredded cheese on top and place in the oven for 15 minutes or until the edges are a deep golden brown.
Serve hot with sour cream for dipping.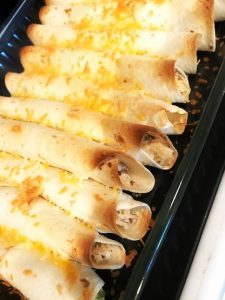 Categories: Recipes, This and That
Tags: , chicken, chicken and ranch, Main Meal, recipe, taquitos, warm weather food