Natural and Chemical Free Cleaning for Your Home
Posted May 23, 2018 by Guest Poster - 8 comments
Hi Prairie Wife readers, this is Lindsey here for my monthly guest post about all things natural!
Today I'm going to talk about using ALL things natural and chemical free to help you clean your home. 
Have you ever stopped to think about ALL the chemicals that are present in your home??
I realized that even though I thought I was choosing the most natural cleaners, there were still hidden chemicals in them.  I have learned that we need to be conscious of what's in our house. What we introduce into our homes every day can create a really toxic environment, and many of us are completely unaware of what we are doing.  When I first heard this, I began a mission to reduce the amount of chemicals that are present in my home.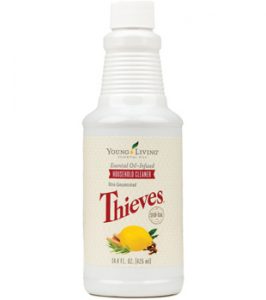 This is why I am totally obsessed with Thieves Cleaner from Young Living. 
It smells like the combination of fresh citrus and Christmas in a bottle.   Under my cabinet is now one bottle that I can use to clean everything in my house.  Thieves Cleaner from Young Living is safe for my entire family, and I feel comfortable allowing my kids to use it to help me clean (win). From sanitizing my kitchen countertops, to cleaning the bathroom, making a sink of water to clean my floors, cleaning glass and dusting. I use Thieves Cleaner to clean every part of my home.
 Here are a few ways you can use Thieves Cleaner in your home
Put 2 capfuls in a large bowl of hot water and soak essential oil roller and dropper bottles for a good cleaning between uses
Use undiluted on stuck on adhesives as a natural way to remove goo
Dab onto stubborn laundry stains as a pre wash stain remover
Dilute a capful in water and soak extra-smelly sports equipment and activewear
Use to remove stains and cloudiness on plastic food storage containers
Keep solution fairly concentrated to remove hard water build-up and soap scum
Dilute and spray on plants suffering from pests and/or mold
Remove fingerprints and streaks on glass and stainless steel
Lightly mist on filter of vacuum to remove smells
Sanitize cutting boards and porous cooking surfaces
Use diluted to remove carpet stains and spills
Neutralize smells from pet and kid accidents
Sanitize dishwasher between uses by running 1 capful of thieves through an empty cycle
Put 2 caps full in a sink of hot water to soak pots and pans with tough stuck on food
Washing machine smell musty? Spray inside of barrel and run a capful of Thieves concentrate through a cycle
Make a soft scrub with Thieves cleaner, water and baking soda: scrub grout, bath tubs, inside of sink, cook tops, inside of oven etc.
Clean and safely sanitize kid's toys by spraying with thieves and wiping down. Thoroughly clean bath toys by soaking in warm water with 2 capfuls of Thieves Cleaner
Put half a capful in a small spray bottle with water and keep in your purse or diaper bag. Spray down restaurant tables, shopping cart handles, gym equipment, toilet seats, public restroom changing tables all-the-germy-things
Clean your car – interior and exterior/ windows/ tires/ dashboard you name it!
Refresh and clean wood cabinets and wood floors. Add a couple of drops of orange or lemon essential oil to make your wood glow!
Young Living Thieves Cleaner is highly concentrated and you can usually get about 15 glass spray bottles out of a single bottle of Thieves Cleaner.
Catch Prairie Wife and I on FaceBook LIVE later this month where we will cover more ways you can create a natural chemical free home!
Enter to win $50 of chemical free natural cleaning essential oil goodies below!
All you HAVE to do is tell us what use for Thieves Cleaner is your favorite. You can earn more points towards the giveaway by using the Rafflecopter form below.
Categories: #GiveAways, Health and Wellness, This and That
Tags: , chemical free cleaning, essential oils, house cleaning, natural cleaning, thieves cleaner, young living