Prosciutto, Ham and Cheese Baked Sliders with Aioli Sauce
Posted April 13, 2018 by Prairie Wife - 1 comment
Last month when The Cowboy and I went on our monthly date night  and had some ham and cheese sliders as an appetizer…and they were divine! We couldn't stop raving about them and I decided to try and whip them up myself, including some home made aioli sauce. This has quickly become a family favorite and it's one of those meals that can be made for those busy sports event nights. I love that it works with left over ham (like we had from Easter) and IF there are any leftovers they make a perfect cold lunch for the Cowkids the next day. Some of us like onion on ours, some of us don't, so I usually only make half of them with onions. I also make some of the Aioli Sauce spicy and some not, that way I keep everyone happy…which is always a win! Instead of spreading the sauce on each roll, we plop a big spoonful on our plates and dip away…YUMMY!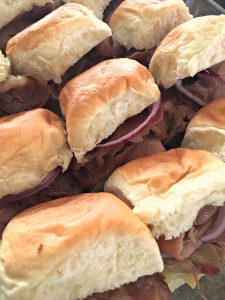 Prosciutto, Ham and Cheese Baked Sliders with Aioli Sauce
Total Time: About 30 min Serves: 8
Ingredients
Hawaiian Sweet Rolls (16)
Fully Cooked Ham cut into small pieces (lunch meat is fine)
Prosciutto 6oz
16 small slices of soft white cheese (Gouda is our favorite)
1/2 cup mayonnaise
2 tbsp of deli mustard (adults like horseradish mustard the Cowkids prefer honey mustard)
2 cloves of garlic minced
Thinly sliced onion if desired
salt and pepper to taste
Turn oven on to 375 degrees

Take Ham and warm it up in a pan on the stove for about 5 minutes. If it begins to look dry, pour a bit of water into the pan. If you are using lunch meat skip this step.

Using a knife, slice Hawaiian Rolls open and place into 9 x 13 glass baking dish sprayed with non-stick spray.

Put one slice of cheese in each roll, two if you like them extra cheesy.

Remove Ham from pan and place some in each roll on top of the cheese.

Take the Prosciutto and quickly fry it up in the same pan you used to heat the ham.

Place Prosciutto on top of ham, repeat for each roll.

If desired add onion to each roll on top of Prosciutto.

Place baking dish in oven and set timer for 5 minutes.

Make Aioli sauce by mixing mayonnaise, mustard and garlic in a bowl and add salt and pepper to taste.

Take sandwiches out of the oven when the cheese is melted and the tops are a dark golden brown and serve warm.

 
Categories: Recipes, This and That
Tags: , aioli sauce, baked sliders, ham and cheese sliders, Main Meal, Prosciutto Ham and Cheese Baked Sliders, quick dinners, recipe