"Read" more with Audible
Posted April 16, 2018 by Prairie Wife - 2 comments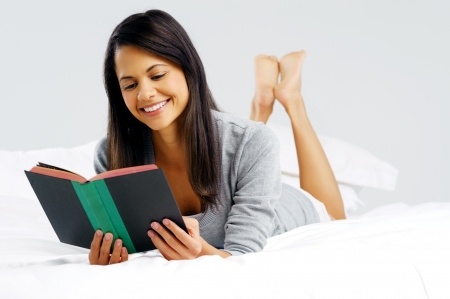 I'm an avid reader.
Back in the pre blog days I would consistently read 3 or more books a week. It's how I escaped the stress of every day living.
A deep dive into a good book can soothe my soul instantly, and the positive effects can last for days.
Yet recently, with my busy schedule of sports events, blogging deadlines, and TV and weekly radio segments I've noticed that I'm only reading one book a week…if that.
Add to that a renewed commitment to going to bed before 10:30 (thank you Guru Joe and yes, I am noticing a positive difference) and my reading time has diminished to less than an hour a day.
I was noticing that while more sleep was helping with my energy, I was missing my book time. My time to delve deep in the imaginary world of happy endings and problems I didn't have to solve.
As I was perusing my Kindle Unlimited wish list I saw that several of the books I wanted to read had free Audible so I thought I'd give it a try. I downloaded a trashy romance novel, charged up my headphones and went for a hike…and loved it.
I actually ended up hiking a bit farther than I planned because I didn't want to stop listening. And while this is embarrassing to admit, I even kept on listening while I took a shower!
Talk about having your cake and eating it too…I had both the exercise endorphin high and the high from indulging in a good story.
I still like to listen to my fast paced music on runs, but for all my winter hikes and solo snowshoeing I've used Audible.
The books I've listened to are probably OK for the Cowkids to hear (well one of them maybe not) but telling them shhhhh and hush kind of takes the zen out of the experience, so I save my Audible time for when I'm alone.
So far I have listened to two Romance novels (Roomies by Christina Lauren and Crazy Little Thing by Tracy Brogan) and The Magnolia Story. The Magnolia Story was extra awesome because it was read by Chip and Joanna Gains so it was really fun to listen to…not to mention I highly recommend it as a moving and inspirational read!
Currently I'm listening to a historical fiction novel about Elizabeth Hamilton (the wife of Alexander Hamilton), honestly I'm not loving it. It started out strong but is getting a bit slow and between you and me I'm a bit over the "perfect wife" thing Ms. Hamilton has going on. And here is the problem with listening to books…you can't skim and skip to get done with a mediocre book quickly. After investing three hours of listening time before deciding I'm not a fan of the authors portrayal I'm not giving up….I have to finish this. I understand other people would say just give it up and move on, but it makes me sick to even think about it.
After 32 years of being a reader, last year I finally learned to power through the guilt and stop reading a book that sucks…perhaps I'll eventually get there with audiobooks?
Do any of you love "reading" with audiobooks?
If so, throw out a few recommendations!
Categories: Book Reviews, Product Reviews, Reviews
Tags: , audible, audio books, Book Review, books, books on tape, busy schedule, reading