Are You Willing to RISK Being Happy?
Posted June 30, 2017 by Guest Poster - 4 comments
If you feel stuck in a rut and your routine is always the same, this post is for you.
How would you finish the sentence that begins, "Someday I want to…"
…get in better shape?"
…have a better relationship with my spouse?"
…learn to take more calculated risks?"
WebMD cites a study in Germany which found that "people who enjoyed taking risks were more content with their lives".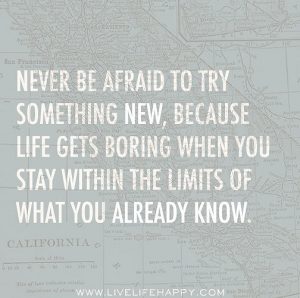 The word risk usually scares people. RISK = FEAR, BAD, NO WAY!
Trying something new and not being good at it can feel risky.
Letting your daughter date that smooth talking popular guy can be risky too.
There are lots of risks in our world.
But, I promise there are many benefits to taking a smart risk and changing something about yourself or your habits.
I believe taking smart risks will cause increased self-esteem and happiness.
So, shake it up and try something new!
VISION
Sometimes the problem is not the desire to make a change, but what change to make. In this instance, my tactic is to "be still" and focus on a vision of what you want.
Once we quiet the noise of a busy life we can really connect with our heart and take some time to answer some questions.

What makes you happy?
When have you felt like you were making a difference?

Write your thoughts down if you are a writer. Speak it into the voice memo app on your phone if that works best for you…but make a note of your answers.
While you are there alone, envision how you will be AFTER you have changed whatever it is you want to change… and focus on that.

For example, I envision looking good in a bikini again (And want to rock it like Prairie Wife! – see her post Women Can't Win). I will, and I know I can because I have seen it in my mind's-eye.
INVESTIGATION
Before you decide to make a change, you must first do some research into what you are going to try. Determine what is possible for you now.
There are many ways to research – online, through friends, and books. The key is to ensure that you know what it is going to take to achieve this goal.

If you start small and your change is something like driving a different route to work, your investigation stage will be quick.
If your risk is taking a class, ask others who have enrolled what to expect in advance.
Give yourself some GRACE too if others are more advanced… we ALL start somewhere!
ACTION
Nike says it best, "Just do it".
Once you have done the research, and you can see what you are trying to achieve, the next step is to go for it!
Depending on what you are going for, it may feel scary.

I like having friends who "opt-in" with me so that I won't chicken out!

If you try to take on a big change, it may feel too daunting.

If you start small and achieve your goal, the next goal may not feel so scary.

Whatever you choose, I encourage you to do it and don't give up! Put one foot in front of the other.
Keep your action positive.

For example: If your goal is changing your self-talk when we look in the mirror.
Make a decision and say, "I am beautiful"
If that is too hard, start with, "I look great for having kids, or for being ___ number of years old. Way to go, _______ (fill in your name)!"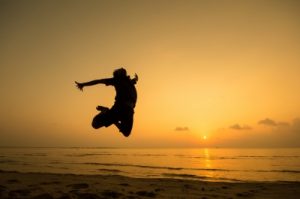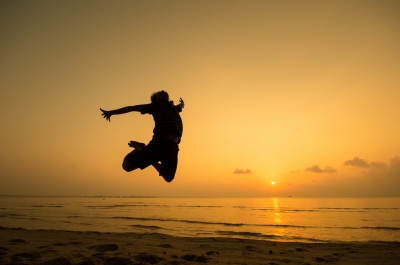 I encourage you to use these tools and let's shake it up this summer!
Take a risk.
Choose the road less traveled and get out of your comfort zone.
Big or small, in anything in life… make a change. I believe that self-confidence and happiness will be your reward.
I am willing to risk being happy… are YOU?
I'd love to hear what risks you'd like to take. I'll be checking comments and here to offer help and support!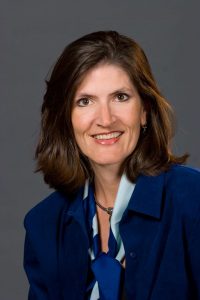 This guest post comes from Anne Fish: Best selling author, motivational speaker and risk taker extraordinaire! Stop by her website AnneFish.net to learn more. You can also follow her on Facebook, Twitter and Instagram
Categories: Health and Wellness, This and That
Tags: , action plan, advice, anne fish, health, life changes, motivation, risks, self help, support