What We're Wearing Right Now: Fall 2017
Posted October 6, 2017 by Prairie Wife - 6 comments
It's officially Fall here in Wyoming. I know this because I'm hard and heavy into Midget Football Season (hence only two posts this week) and it has already snowed twice. Add to that the beautiful golden leaves and an absent husband (I'm a hunting widow for the next week) and I know it's time to say goodbye to my flowy Summer dresses and cute shorts. Take a second to see what my big sis TexasTwoSteppin' and BFF TallGirlJ and I are wearing this Fall. Let us know in the comments what items you can't live without…we're always on the lookout for new clothes 😉 Don't forget to follow us on Pinterest for fashion inspiration and head over to Instagram to see our #shopyourcloset pics where we copy looks we find on Pinterest with items we already have in our closet!
TexasTwoSteppin' is a 40 something Grandma of 5 and a business woman extraordinaire who travels all over the US every week.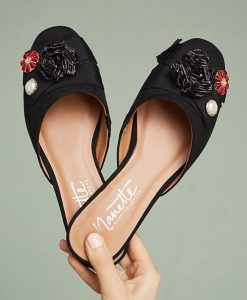 Slides
Who says flats can't be fabulous? Every magazine and street style expert has been saying backless flats are the big new trend in Fall footwear. When I saw these beauties (Nanette Lepore Esther Slides from Anthroplogie) I knew I HAD to have them! With a micro heal and no back they have a casual feel but, the bling and bow make them memorable. They have a padded footbed so I feel like I'm wearing my slippers but look chic and put together. With my whirlwind lifestyle you can't beat that combo of footwear that is professional and comfortable! I love how they look with black slacks and they elevate jeans and a t-shirt to a whole new level of cool.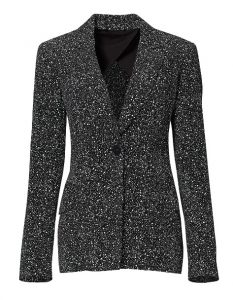 Jacket/Blazer
For any professional woman a good jacket/blazer is a must! This DVF Splatter Dot Blazer is perfect for Fall because it's light and unstructured. These two things combine to make it perfect for layering. I can roll up the sleeves if it's warm (like Fall in my TX home state) or put it over a light sweater if it's chilly. The splatter print is totally on trend with it's 80's vibe, which also keeps it from being boring. The length covers the booty which means I can wear it with leggings and it looks put together and perfect with a pencil skirt or dress pants.
TallGirlJ is a 30 something  mom of three active kids. Not only is she my partner in crime but, she works as an accountant part time and spends as much of her free time as she can riding horses with her family.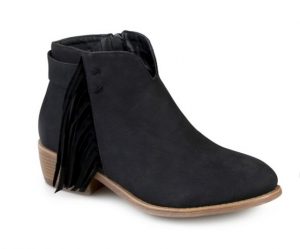 Booties
Booties are all the rage and I'm proud to say that I've found the perfect pair! These fringe booties from Target are one of my most worn items in my closet. As a 5'11" woman I don't need a heel and these low heeled botties are not only comfy but, the fringe adds a bit of sass and style. I can wear them all day to run errands or slip them on to rush kids to and from school while squeezing in time working at the office. They elevate my skinny jeans and t shirt looks to a whole new level of hot!
Moto Leggings
When I opened my Stitch Fix Box and pulled out a pair of "leather" motto leggings I couldn't stop laughing…me in "leather" pants?! But, I tried them on and I have to admit they have become my jam! Mine have a mix of stretch material and leather and are similar to the Spanx pair in the pic. I love the moto detail! They offer a more refined look and are a step up from regular black leggings. Dress them up with a cute blouse and booties or rock them with a t shirt and cute sneakers!
Prairie Wife here… busy mom of 5 and blogger with too many other side gigs to name them all!
Blush Sneakers
TallGirlJ has a fab pair of dusty rose pink sneakers that I've been lusting after for months. When I came across this satin pair at Target I knew they had to be mine. When I found myself wearing them two days in a row because they were so SO comfy I went back and bought a white pair. These are perfect for Fall because they keep your feet covered and warm but, still look cute. I wear them with skinny jeans, leggings and even a few of my more casual dresses. My fav look for them is boyfriend jeans, a v neck gray t shirt and a cool moto style black leather jacket. I think these sneakers send the message "I'm busy but still effortlessly cool with a bit of sass" 😉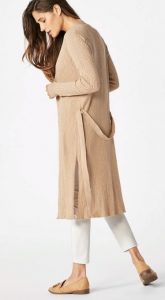 Long Cardigan
Ever since my mastectomy I have found I simply can't handle the cold. After finding myself tired of wearing hoodies all the time I have discovered the joys of cardigans. I love the longer length because I can wrap it around me for an extra bit of cozy warmth. Not to mention the longer length means I can wear it with not only jeans and slacks but leggings too. I find that I wear my solid colored cardigans more than ones with a pattern but, I think my Aztec print one looks fab with jeans and cowgirl boots! Head over to our Instagram page to see how I used this belted cardigan from JustFab to #shopyourcloset and copied a Pinterest outfit I found.
I'd be remiss if I didn't mention two beauty products I can't live without this fall. One is the CliniqueFIT line of makeup. Several readers have purchased it because of our video and they all have said they love the light feel and the healthy glow it gives their skin. Also, with all these late football nights I've found that I'm relying more and more on dry shampoo to keep me looking somewhat put together! There are a ton of products out there but, take a look at this post from reviews.com they tested 54 dry shampoos and picked the top 5. I have to agree with their choices (wish I would have seen this last year, it would have saved me a ton of $ and time) and you can probably find most of them at your local salon.
What are you loving this Fall?! Let us know in the comments, and keep tagging us in your #shopyourcloset pics we LOVE to see them!
Categories: Life As It Happens
Tags: , blazers, blush sneakers, fall 2017 fashion, Fall Fashion, fashion over 30, fashion over 40, fringe booties, long cardigans, moto leggings, slides