Diary of a Hunting Widow: Year 13
Posted October 9, 2017 by Prairie Wife - 6 comments
Lucky number 13…
13 years of being abandon by my husband for the mountains and Elk.
By now I've got the hunting widow routine down! I know exactly what I need to do to stay sane and not spend all my time watching weather patterns as they move across Wyoming and worrying about The Cowboy. I scheduled a day to send the littlest Cowkids to the sitter, booked time with friends and planned a few household chores to keep us busy on the weekend. One of the chores was sorting out all of our winter gear and putting it in the correct cubbies and baskets. This was perfect timing! As I am typing this, I am gazing at a winter wonderland! We had a heavy wet Fall snow last night and have temperatures in the 20's with about 4 inches of snow.
This year The Cowboy planned to be gone for only a week. After taking two weeks off work to hunt in Africa this Spring he didn't have the usual 10 days available. I have to be honest, I wasn't too upset about that 😉
The Cowboy returned two days earlier than planned. Luckily I already had the house cleaned from top to bottom so he came home to a happy relaxed family. Below are some pics that he and his friend Rodger took while up hunting. Seeing the beautiful scenery makes me almost want to go up with him…almost…
There was a lot of snow (over two feet in some areas) on the way into camp. You can see there were also Grizzly Bears. This is one of many tracks The Cowboy and Rodger came across. Next to it is The Cowboy's size 12 boot print.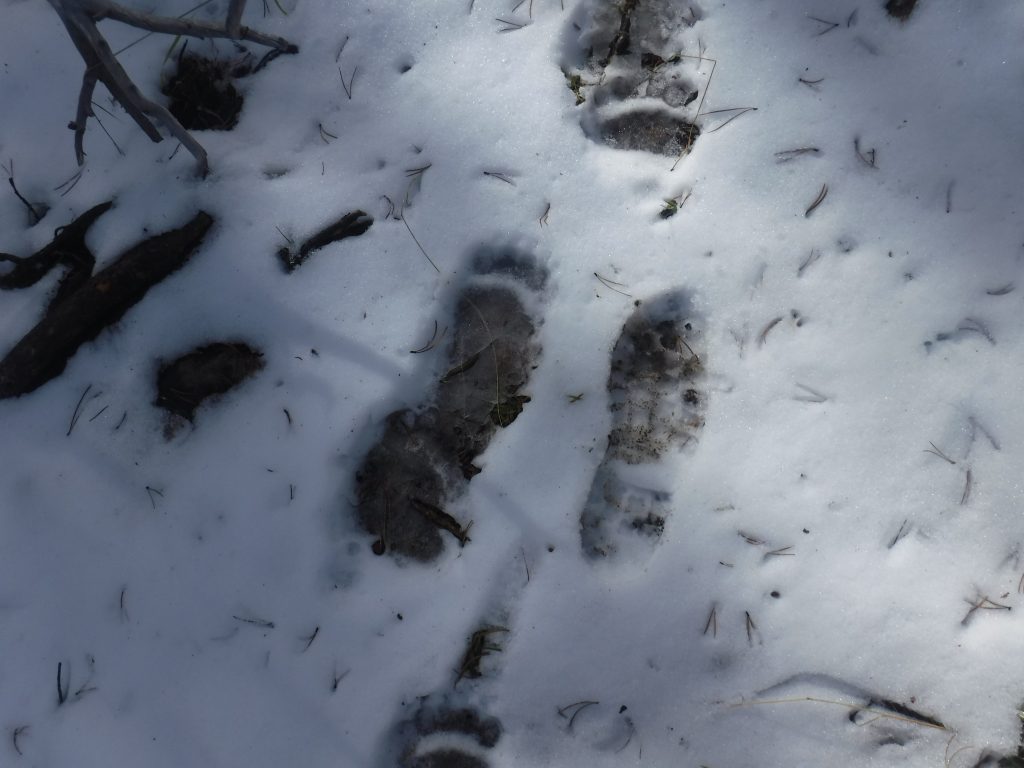 Zip the Wonder Dog came along to help guard camp against Bears and The Cowboy said that he did a great job keeping up.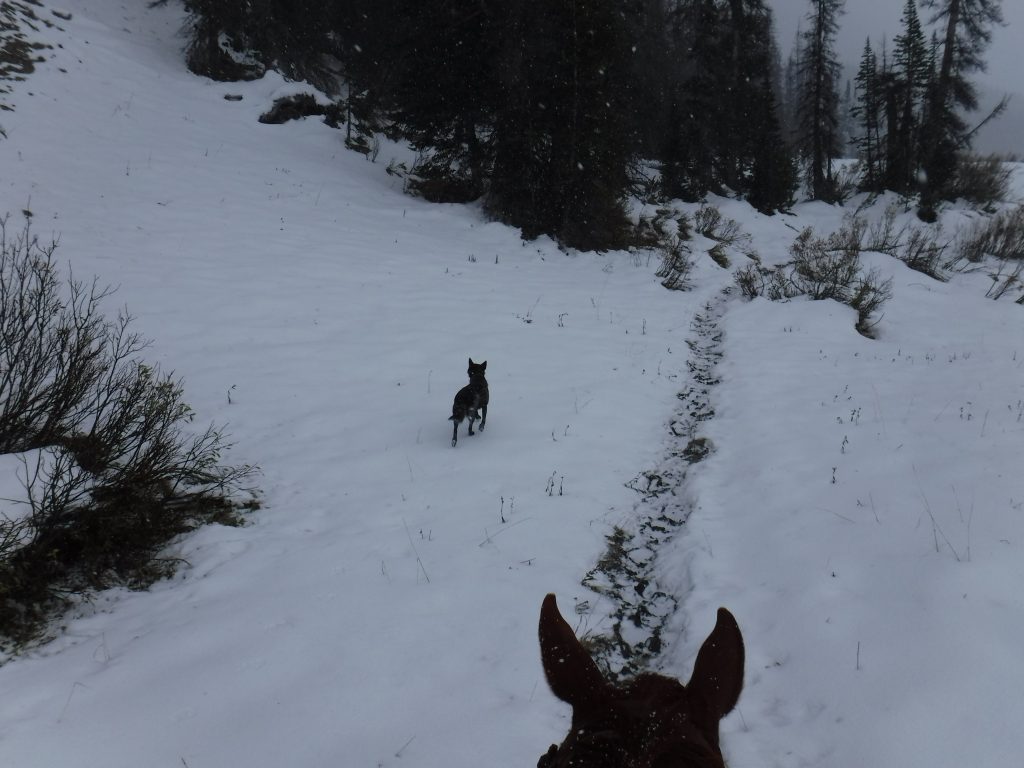 They averaged over 12 miles a day so when Zip made it to camp he snuggled up in his little doggy bed and rested. The Cowboy was super sweet (shh don't tell anyone) and covered him up with an extra blanket to keep him warm. PS Do you think Cottonelle would use this as an ad for their disposable wipes?! "They go everywhere and anywhere, so you can too!"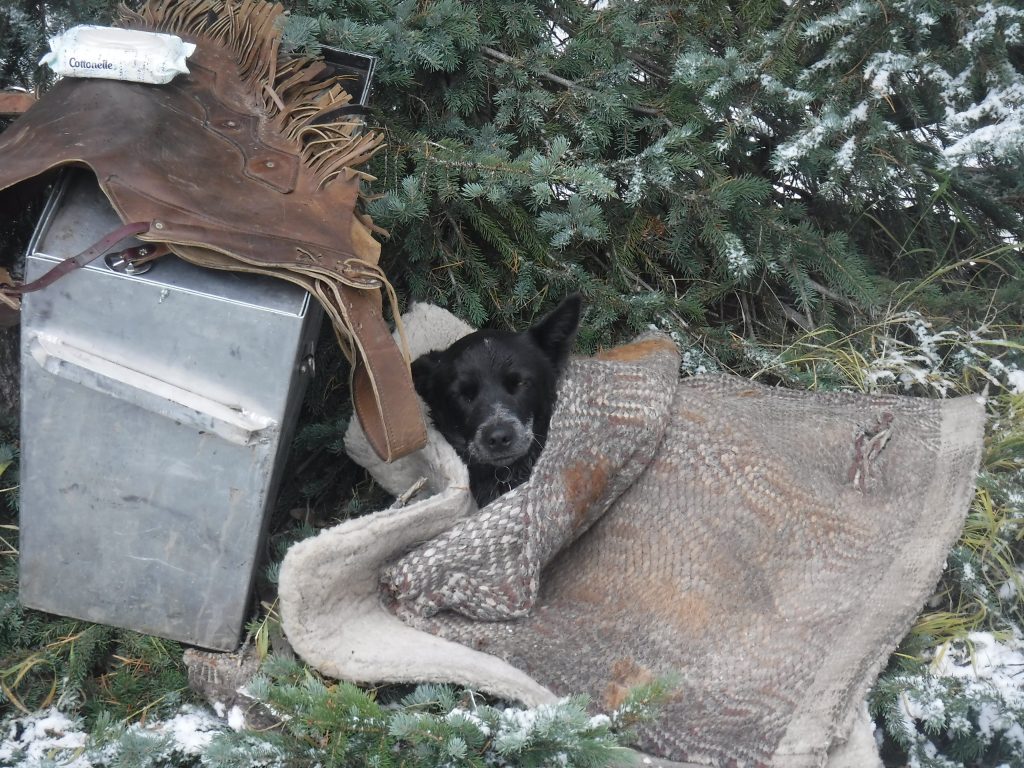 The Cowboy packs everything they need for camp (food, bedrolls, guns etc.) on the horses and also uses them to pack out his elk. They carefully weigh and balance the loads so the horses are safe and comfortable on the steep mountain trails.
Home sweet home for The Cowboy and Rodger was this cozy teepee.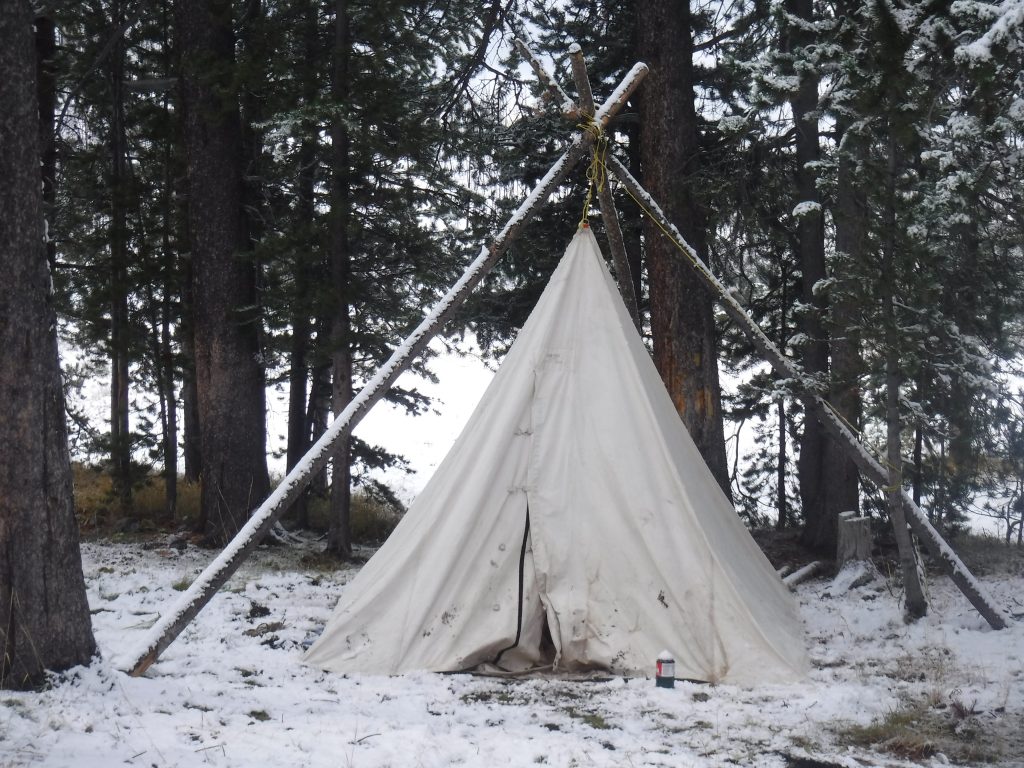 The weather warmed up a bit after the first few days and the horses loved rolling in the mountain grass after a hard day's work.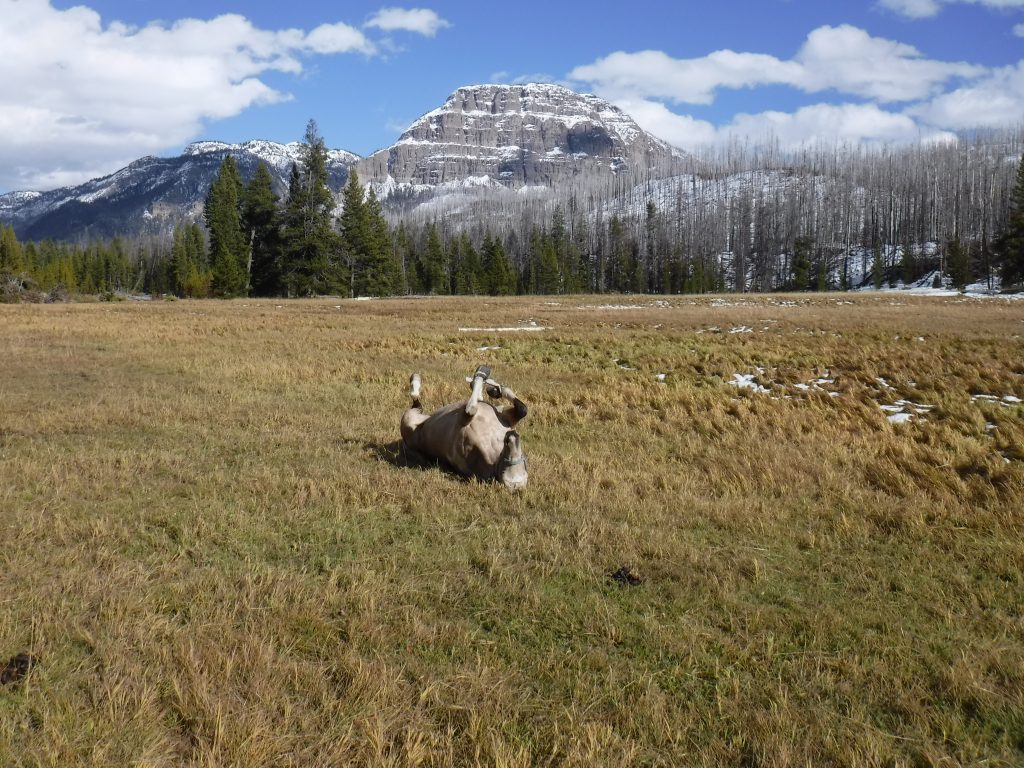 The Cowboy shot himself a nice 6 point Elk. It was hiding in the bushes and it wasn't until after he shot it that he noticed it was a unicorn Elk. Turns out the big guy must have been fighting and broke off one of his antlers. Thankfully we are all about the meat and not the mount!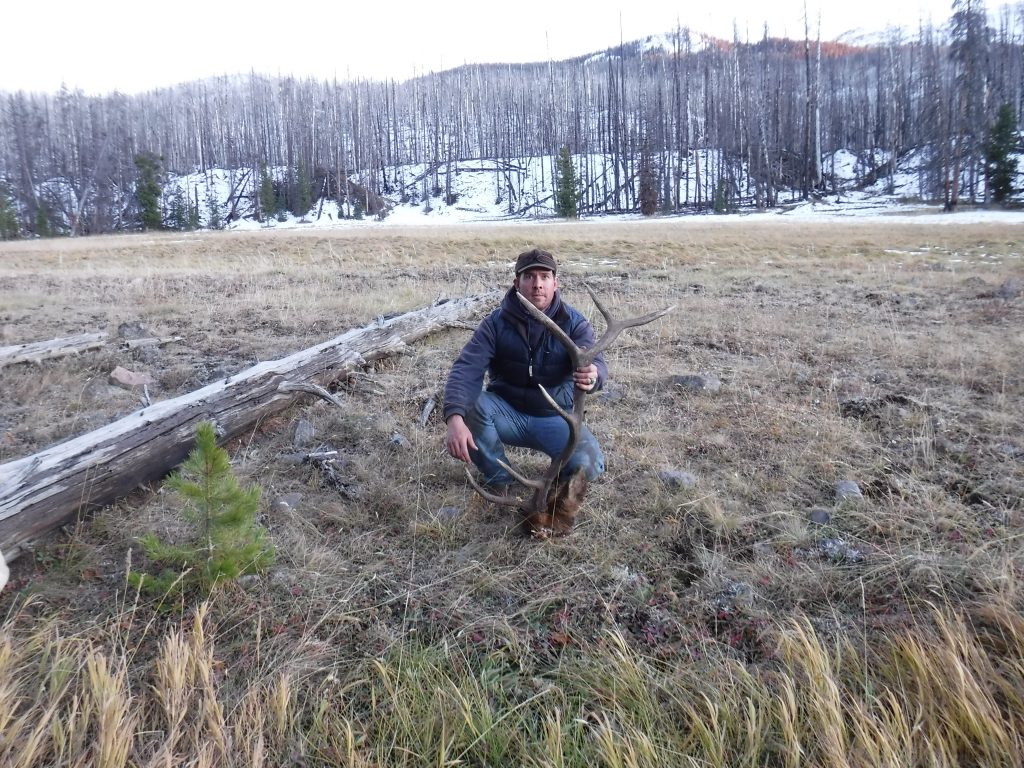 The rivers were full and cold but you can't beat the views!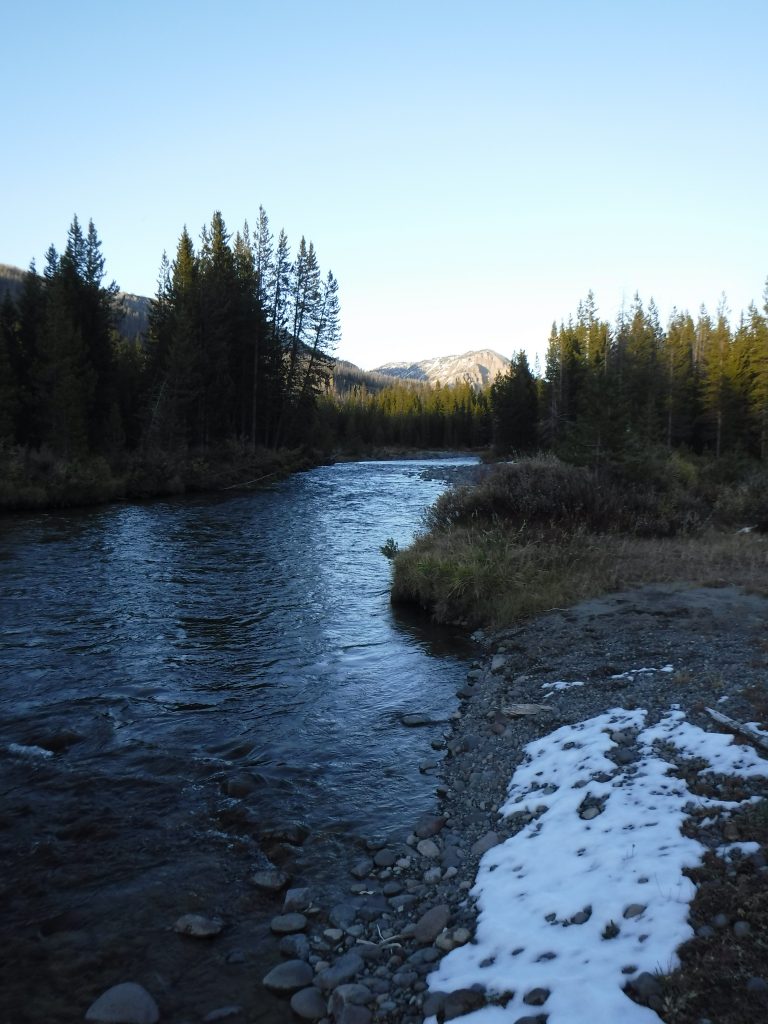 The Cowboy and Rodger had a nice easy hunt with plenty of time to ride around and enjoy the majestic beauty of Wyoming. I'm thrilled to have a full freezer to look forward to, and glad my husband is back safe and sound!
What do you think? Does a Wyoming Elk hunt look like something you would like to do?!
Categories: Life As It Happens, Prairie Life
Tags: , elk, Elk hunting, horses, Hunting, hunting in wyoming, Hunting Season, hunting widow, packing in to hunt, rocky mountian elk