Wanting Wantable
Posted April 16, 2014 by Texas Two Steppin' - 2 comments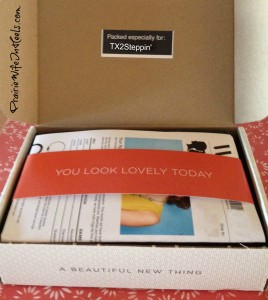 Note: If you haven't read Prairie Wife's Wantable post, please take a second and read it. Done? Well, I was NOT financially reimbursed in any way for this review. Unlike Prairie Wife I purchased my Wantable box with my hard earned money-LOL!
First, let me start by saying that while I am intrigued with the concept of subscription-based style boxes and think they would rev up my wardrobe, I haven't taken the plunge for a few reasons. First and foremost, I am the sister that inherited all of the German and Scotch frugality. Now, Prairie Wife is not a shopaholic or designer label-obsessed and we both love to talk about our latest steals and deals. But unlike Prairie Wife I had to be pushed into online shopping by The Texan, who frequently complains that I should spend more on myself and get over feeling guilty when I shell out more than $25 on anything. Seriously, the few designer pieces I own are because of him! I usually only purchase an item if I absolutely love it and will have it for decades. Plus, I hate dealing with returns, so if I received something I didn't like I would feel compelled to wear/use it, hate every single moment and have to listen to my inner voice complain about my bad style day.
So I was way out of my comfort zone when I visited Wantable to sign up for an accessories box. But the quiz used to determine my style profile was very intuitive and actually fun. I also liked the fact that I could choose a one-time box or enroll in the subscription service, but this was an agonizing decision for me (I took a leap of faith and did subscription). I was working late at the office all week, so when the box arrived I set it aside until Saturday morning because I wanted to savor the experience and take photos as I decided if they got my style right.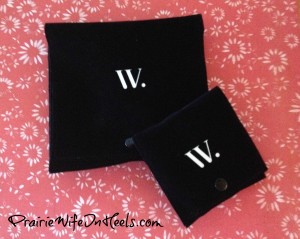 It really was fun opening up the box, and I was surprised to find the items were in black velvet bags with snap closures. Wow, now I don't have to put my jewelry in an old cardboard box when I travel! I was also impressed with how substantial the bags felt–this was quality stuff and on par with what I purchase at Nordstrom Rack or Loft.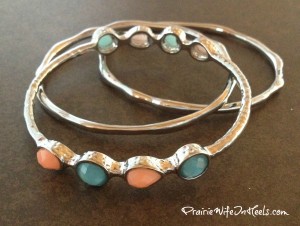 I took a deep breath and opened the smaller of the two bags. The bangles were "Springy" and actually go perfectly with the dress I had purchased the day before. I hadn't been able to find any jewelry I liked at the store, and while I usually tend to grab gold rather than silver, these bracelets are versatile and fit my style. What a relief!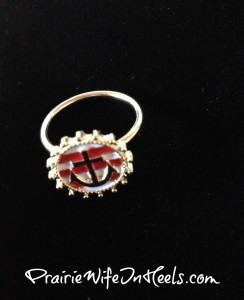 When I pulled the ring out of the bag, I couldn't believe it. I am sorta, kinda still obsessed with anchors and nautical items. Somehow Wantable had picked a ring with red and white stripes and an anchor! I know I hadn't been given special treatment by someone who reads the blog because I purposely placed the order using my real name, not my blogging alias (yup, the label shown here was edited to conceal my true identity).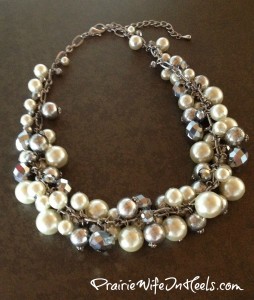 OK, they were 2 for 3–no way could they get my style 100% correct. But they did! I have been looking for a statement necklace, and while I couldn't bring myself to buy an investment piece, I didn't want anything that looked cheap. Yes, I am cheap, but I don't want to look like I'm cheap-LOL. The photo doesn't do it justice, but the necklace really does live up to their description, "…a gorgeous collection of pearls, faceted beads, and metallic details in a variety of shapes and sizes for a beautiful spin on the traditional pearl necklace." I also love that the clasp can be adjusted and that there is a little extra charm at the end–nice, unexpected details.
Try out Wantable.com–I agree with Prairie Wife that you gotta have these boxes. I really am happy I signed up for the subscription service–$36 got me a box with a retail value of $70! Click on our handy links (located in the upper right side of our site) to go directly to the site, and tell them that PrairieWifeInHeels.com sent you!
Categories: Reviews
Tags: , bangle, Beauty box, jewelry, online shopping, pearl, ring, trend, Wantable