Our New Look
Posted April 15, 2014 by Prairie Wife - 2 comments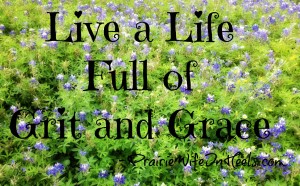 Some of you may have noticed we have a bit of a new look on our PrairieWifeInHeels.com site. We created this blog to offer support to other women (and their families) through humorous, honest and heartfelt blog posts about our experiences. We want to encourage others to lead their lives with grit and grace so they can discover the "Prairie Wife" within. While Texas Two Steppin' and I love blogging just for the sake of blogging, it has taken a little bit of money. Between getting our new site up and running, and all our amazing giveaways we have had to spend some of our hard earned cash to keep things going.
This month I have been given the amazing opportunity to be a contributing author to mommyhotspot.com! Twice a month (today is the first day) a post written by me exclusively for mommyhotspot.com will be posted on their site. Please take some time and visit and read my posts.  When you go to our PrairieWifeInHeels.com site and look to the right of any page (or at the bottom if you are on your phone) you can see a picture that says "Vote for me @ mommyhotspot.com". The more votes I have the higher the chances I will get paid (in amazon.com gift cards but hey, that counts). You can stop by our site every 24 hours and click on the picture to vote for me daily. It's just a way to let them know you like what I've been doing both here at PrairieWifeInHeels.com, and on their site.
I'm sure you've also noticed our new links to Wantable.com located on the right side of every page (or at the bottom of the page if you are on your phone). We have been given the opportunity to help support our blog through a Wantable.com affiliation. After trying the products ourselves we felt comfortable that Wantable.com fit in well with our site and our guarantee. Anytime you click on the link and make a purchase PrairieWifeInHeels.com will be given credit…so if you're thinking about subscribing to their amazing makeup, accessories, or intimates box please use our links! We would also appreciate you directing your friends this way as well!
Things have been going wonderfully with our blog, and we are so proud that we have been able to stay focused and true to our mission. The comments from readers on the blog, Facebook, Twitter, Pinterest, and even in person have been more rewarding to us than we ever imagined. Thanks for stopping by and we hope to continue to see you around, don't forget to tell all your friends to stop on by!
Categories: Life As It Happens
Tags: , affiliates, help, new site, PrairiWifeInHeels.com, vote