The Southern Education of a Jersey Girl By Jaime Primak Sullivan
Posted August 15, 2016 by Prairie Wife - 2 comments
It's not often I stay up until 1am reading a book.
I've learned the hard way that it just don't pay to get less than 4 hours of sleep when you have 5 Cowkids that are up at 6:00 am (or in the case of LittleMissH 3, 4 and 5:30).
But this book, well I just couldn't put it down.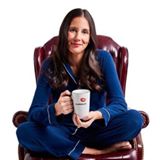 Many of you may know Jaime Primak Sullivan from her TV show on Bravo called Jersey Belle. I first came across her when I shared her post about being the "meanest mom ever" on our Facebook page. I was cheering her along as she explained how she disciplined her children for being ungrateful by taking away their ice cream cones, and throwing them in the trash.
When I asked readers to nominate women they admired for future Prairie Wives of the Week, one of our favorite fans Bennie nominated Jaime Primak Sullivan. I did a bit of research (aka online stalking) and not only did I fall in love with her daily inspirational/motivational/real/hilarious #cawfeetawk videos but, I saw that she was releasing a book in a few weeks. I order mine and excitedly waited for it to come to my door. That's right, I ordered a real book rather than one on my Kindle.
The full title of Jaime's book is The Southern Education of a Jersey Girl, Adventures in Life and Love in the Heart of Dixie. Our regular readers know that I'm usually a fiction fan, and that autobiographies are pretty low on my list of must reads. But I COULD NOT put this book down! It starts out with Jaime's childhood in Jersey, the big hair, cut off shirts, neon everything, Bruce lovin' Jersery of the 80's. I don't want to share too much, but this self described runner and wanderer had more than a few stories to share about her 20's that are both thrilling and at times heart breaking.
My favorite part is the love story between her and Michael. Though I knew how the story ended (happily married with 3 beautiful kids) the courtship read like a romance novel from the 1800's! There was a year between their first meeting and first date and more than 8 months between their first date and first kiss. That's right folks, she and Michael didn't kiss until they had been dating for more than 8 months! I found myself brought to tears as she talked about how many times she felt like giving up on their relationship, and kept on reading long into the night just to see how it ended.
As Jaime talked about the struggle to find her place in the South I was nodding along with her. As a city girl gone country, the parallels between her story and mine were many! She shares her life as a mother, including candid talk about the ups and downs and the utter lack of balance between her roles as a woman, wife and mother.
The book is well organized with little tidbits of #cawfeetawk or Southern wisdom at the end of each chapter. As soon as I finished it, I immediately handed it off to another friend who I knew just HAD to read it.
Jaime Primak Sullivan has a story that needed to be shared, and has to be heard.
It's the story of a Jersey girl gone southern all for the love of a gentleman…and one that I know you can learn from.
Make sure you stop by the blog in September to read our Prairie Wife of the Week Interview with Jaime Primak Sullivan!
Categories: Reviews
Tags: , autobiography, Book Review, cawfeetawk, jaime Primak Sullivan, jersey belle, the sourthern education of a jersey girl