The Smiling Moose Deli #giveaway
Posted November 4, 2016 by Prairie Wife - 7 comments
I love Wyoming, and after living here for over 17 years (oh my) it's become part of who I am.
That being said, one of the main things I miss about living in the city is the variety of restaurants. Here in Wyoming we just don't have a large enough population to allow for a wide variety of food experiences.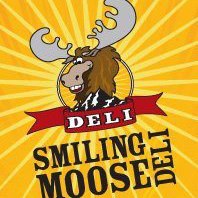 Last month the folks at the Smiling Moose Rocky Mountain Deli in Gillette, Wyoming approached us about doing a review of their restaurant. For those of you that aren't familiar with Wyoming geography, Gillette is located in the north eastern part of the state, while we live just about in the middle.
I pride myself on supporting Wyoming businesses (and was super excited to try a new place to eat) but, had to explain that I didn't think I could write a review. I'm pretty strict about making sure one of my trusted Prairie Wives or I are the ones trying the products. It's written clearly in our Prairie Wife Guarantee that we won't share something on the blog we wouldn't use ourselves. We usually don't visit that part of the state, and I with all my trips back and forth to Denver for doctors appointments I couldn't justify a trip up there just for the blog!
But, as luck would have it TallGirlJ had a birthday this month.
Her awesome husband came up with the fabulous idea of The Cowboy and I joining them for a kid free weekend in Deadwood, South Dakota. I don't want to get into too much detail but if you follow us on Instagram you saw that we had a pretty good time!
Fortunately we were able to pass through Gillette, Wyoming on the way back home from Deadwood just in time for lunch at the Smiling Moose!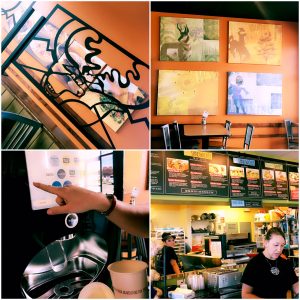 I was immediately impressed with their easy to access location of the Smiling Moose Deli, as well as it's large parking lot. When we walked into the deli we were greeted by delicious smells, a smiling staff, and an impeccably clean restaurant with super cute décor!
If I'm being honest, I expected it to be like a fancy Subway…I couldn't have been more off base!
Looking at their menu you can see that they have so much more to offer than your traditional sub sandwich. The Cowboy ordered the Original Mo and after taking a bite of his I know what I'm getting next time! The beef was fresh and the amazing cheese sauce was wonderful!
TallGirlJ ordered a Mac N Cheese skillet (so good AND filling) and her husband had one of their hot and hearty sandwiches. He couldn't stop raving about their pesto mayo and the specialty "Cowboy Pickles" trust us, you need to try them.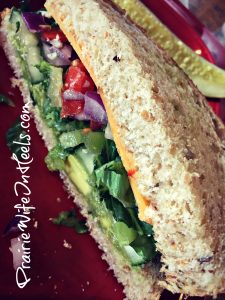 I had the Hippie Chick P. sandwich. Everyone knows that a sandwich place is only as good as their vegetables (especially their avocado) and I wanted to see if they were as fresh as they looked. I'm pleased to say that not only was my sandwich flavorful, it was filling too. No skimping on the ingredients at the Smiling Moose! Even though we didn't have the Cowkids with us on this trip, I took the time to check out their kids menu and was surprised at the variety of great choices. They also serve breakfast ALL day and I know Cowboy J would LOVE that option!
Just to show how small town we are…I have to add we were all super excited to see that they had one of those soda fountains with a  touch screen and extra flavors you can add!
Our meal was well priced for what we received and I was really jealous to learn that they cater AND deliver their tasty food. How nice would it be to have Smiling Moose Sandwiches at our next blogging get together?!
If you're up in the Gillette, Wyoming area or near one of there other stores throughout the Western US, make sure you stop by The Smiling Moose Rocky Mountain Deli for a great meal…with Fall here I bet one of their soups would be perfect for a healthy warm lunch.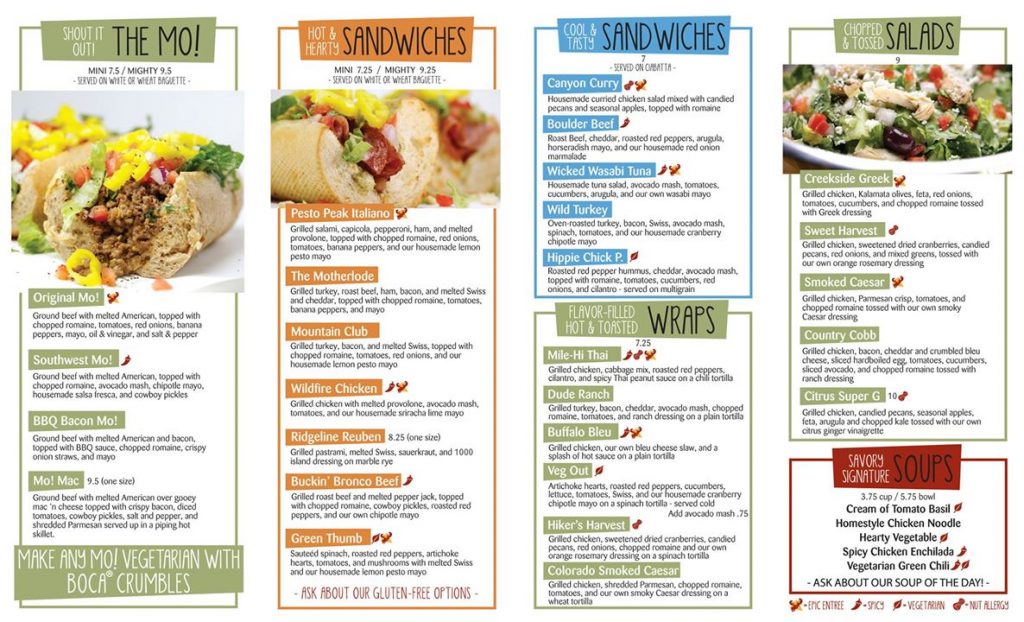 The kind folks at The Smiling Moose Rocky Mountain Deli have offered to give one lucky reader a $25 dollar gift card! All you have to do is take a look at their menu and comment below with what sandwich looks the best to you!
You can earn more points by following us on social media! PLEASE be honest we will be checking.
Categories: #GiveAways, Reviews
Tags: , food, Giveaway, restaurant review, Rocky Mountain Smiling Moose Deli, sandwiches, Smiling Moose Deli