Dia&Co First Unboxing with Tall Girl J
Posted November 2, 2016 by TallGirlJ - 2 comments
Hey all!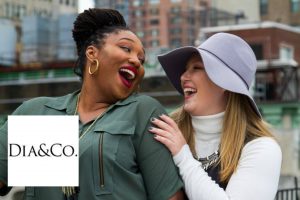 So, after my last Stitch Fix video, I had several of our awesome readers suggest I try Dia&Co. I learned about this subscription box right after my first Stitch Fix video and had been kicking around the idea for a few weeks. My only concern was that they would send me what I consider the dreaded "Plus Size Style".
What I mean by "Plus Size Style" is clothing that reminds me of maternity wear. I totally acknowledge that this is MY hang up. I see lots of beautiful woman wearing amazing tops with an empire waist and/or flowy cut, and rocking it.
But, I just can't do it. It doesn't flatter my build and the way I carry my weight.
I am right on the edge of "normal" size and "plus size" and  excuse me while I rant for a moment…I get very frustrated shopping in stores and online. I never know what section of a store I belong in, or where I'll have the best shot at finding clothes that both fit and flatter me. PS I don't dig that there are separate sections anyways, but that a whole new rant…
Anyway, back to the vlog!
Dia&CO defiantly surprised me and I can not wait to give them another shot!
Also I am including a link just for you. If you use it to sign up for your Dia&Co box, you will get $20 off your order (which will cover your entire style fee)!!
BONUS!
Let me know what you think of the goodies they sent me!
xoxo
Categories: Prairie Wife Style
Tags: , accessories, dia&co, Fashion, plus size fashion, plus size style, style, subscription boxes, TallGirlJ, vlog